MUMBAI: The Mumbai University On Tuesday, he posted a question paper for first-year LLB exams and then withdrew it minutes after the exam began at 11, after realizing it was last year's paper. In many colleges, the questionnaire was distributed and then resumed, and students were asked to return for the exam at noon. Finally, after an hour late, they received a new question sheet.
Lot 2021-22 first-year law students, whose term was delayed for six months due to late admissions, allegedly took second-semester exams on Tuesday. The constitutional law document was supposed to start at 11:00. In the electronic delivery mechanism, the university uploads the question sheet and colleges are expected to download and print copies. "A few minutes after the papers were distributed to the students, the university realized that the question sheet for the last exam had been issued. They advised the colleges to abruptly stop the exam and wait for the new paper. The students had already started rehearsing the paper and they were annoyed when we had to get it back, "a principal said, adding that it was complete chaos as they had over 300 students scattered around the classrooms.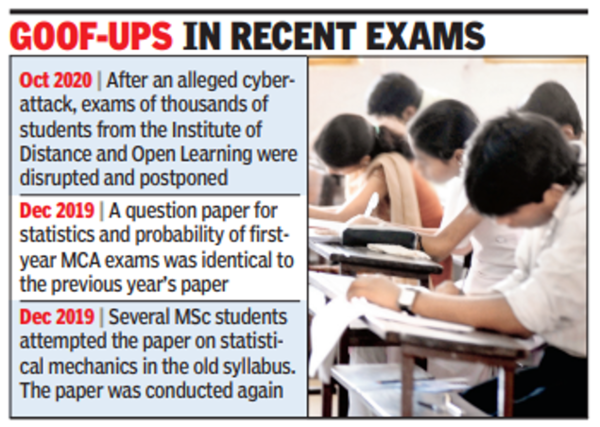 At another college, question sheets were sent to classrooms but still had to be distributed.
"Students were allowed until 2pm to write the exam. Because of this, in some colleges, the five-year LLB exam scheduled for the afternoon was delayed," said one teacher.
TimesView
With the University of Mumbai returning to centralized offline exams after two years of a pandemic, the authorities must act and close all loopholes. The main exams, taken by more than 50,000 students, have yet to begin and a similar problem could cause disruption to a wider section of students. Application documents should be carefully monitored before submitting them to colleges. Officials responsible for glitches should be penalized
In some colleges, students waited in their respective classrooms. As these students were taking a "delayed" summer exam, the University of Mumbai followed the paper-based April-May exam scheme, which included 50% multiple choice and 50% descriptive questions.
A spokesman for the University of Mumbai said that "for some technical reason, the previous year's document was sent to the colleges by mistake." He added: "After realizing the matter, the new constitutional law document was immediately sent to the colleges. The revised document was delivered to the students around 12 and the students were given extra time."
Former Senate member Pradeep Sawant, of Yuva Sena, said the university does not have a full-time official in any of the senior posts, from the director (exams and assessments), to the chancellor, vice chancellor and vice chancellor. "Who's going to take responsibility for this nonsense? It's just the start of exam season and major exams have yet to begin," Sawant said.