The pound edged higher against the dollar ahead of a key statement from the new chancellor tasked with sorting out the fallout from the government's mini-budget.
The pound fell to a record low against the dollar in late September after then-Chancellor Kwasi Kwarteng unveiled the biggest tax cut package in 50 years.
Mr. Kwarteng, who was sacked on Friday after just 38 days on the job, was the victim of a mini-budget that called into question the government's economic credibility in financial markets.
The mini-budget has not only led to a collapse in the value of the pound, it has also caused borrowing costs to soar – forcing a unprecedented intervention by the Bank of England (BoE).
However, following the Prime Minister's announcement on Friday that Mr Kwarteng had been sacked and that corporate tax would rise to 25% from April next year, instead of being held at 19%, there was a partial recovery in UK currency and bond yields.
Mr. Kwarteng's replacement, former foreign and health secretary Jeremy Hunt, has since promised to regain the confidence of financial markets by taking full account of the government's tax and spending plans.
The pound gained 0.8% to hit $1.1261 on Monday in Asian trade when the Treasury revealed Mr Hunt would deliver key elements of a medium-term budget plan later Monday in support of "fiscal sustainability".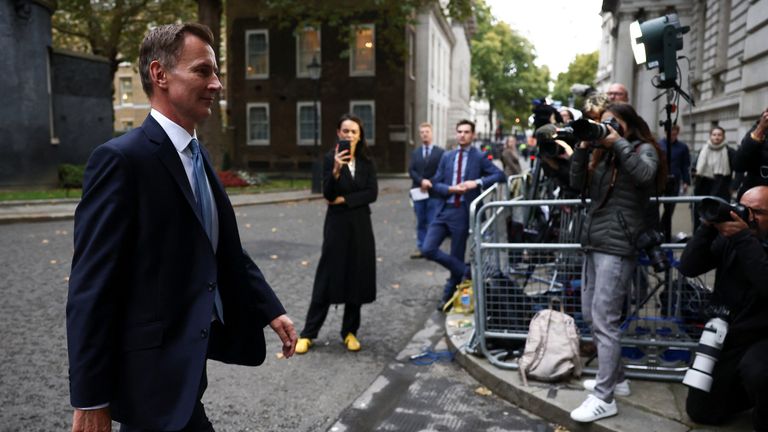 The statement added that Mr Hunt met with the BoE governor and the head of the debt management office on Sunday evening to brief them on the plans – advanced measures of the medium-term fiscal plan due to be revealed on October 31.
The first measures would first be revealed in a press release on Monday morning before being presented to MPs, the Treasury said.
All eyes are now on how the UK government bond market will trade, following the The BoE concluded its emergency support for the gilt market on Friday..
Any increase in government borrowing costs, through a rise in government bond yields, would reflect lingering concern.
However, there is more likely to be a downside, as Mr Hunt appears to be moving quickly to address investor concerns.
Can Truss stay PM?
The Conservative Party is now on its fifth Chancellor in the past three years – Mr Hunt, Mr Kwarteng, Nadhim Zahawi, Rishi Sunak and Sajid Javid.
Read more:
Pound falls to record low against dollar – as PM and Chancellor defend mini budget
Bank of England 'won't hesitate to change interest rates if necessary' after pound plunge
Mr Hunt is the seventh Tory chancellor in 12 years.
There is now renewed attention on whether Ms Truss can stay at work.
A Tory MP told Sky News: "The idea that the Prime Minister can just scapegoat his Chancellor and move on is a delusion.
"It's her vision. She approved every detail and she stood up for it."