Climate activists in Norway attempted to glue themselves to Edvard Munch's 1893 painting "The Scream" in a museum in Oslo on Friday.
Police in Norway said two people tried to glue themselves to the famous painting while a third person filmed them. "The Scream" was in a frame protected by glass, preventing damage from being done.
While the painting remained unharmed, residues of glue could be seen on the glass support.
The video of people trying to glue themselves to the glass frame shows a person shouting "Scream for the people who die".
THE CLIMATE ACTIVIST GLUES THE HEAD TO THE PAINTING "THE GIRL WITH A PEARL EARRING" AT THE HAGUE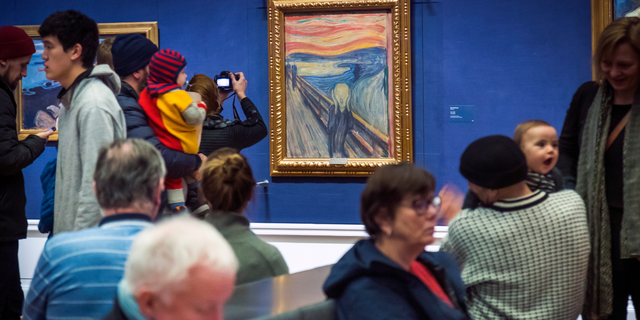 "I scream when lawmakers ignore science," shouted another person.
The individuals come from the Norwegian group "Stopp oljeletinga", which stands for Stop Oil Exploration, and said they "want to pressure lawmakers to stop oil exploration."
This isn't the first time climate activists have tried to stick their hands on the paintings.
On November 5, climate activists in Spain went to the Prado Museum in Madrid and attempted to glue their hands on several paintings by Francisco de Goya.
German climate change activists spray mashed potatoes on monet's paint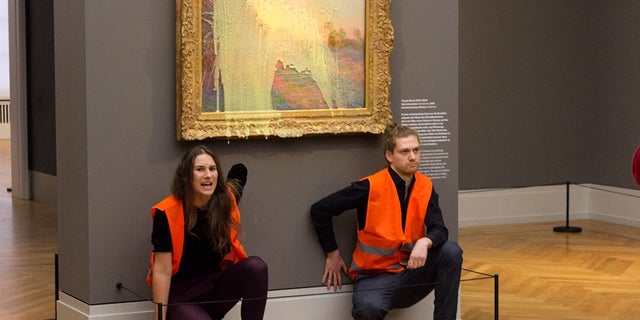 Activists glued their hands to the paintings and painted "+1.5 C" on the museum wall.
In a statement, the museum said the paintings were not damaged and condemned the activity.
ACTIVISTS FOR THE RADICAL CLIMATE CARE ABOUT ART WITHOUT PRICE BUT EXPERTS ALERT VANDALS ONLY INJURING THEIR CAUSE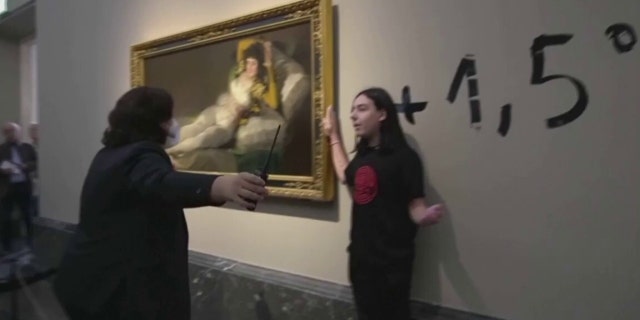 "We condemn the use of the museum as a place to make a political protest of any kind," the statement read.
On October 23, activists from Letzte Generation (Last Generation) threw mashed potatoes at a $ 110 million painting by Monet in a Potsdam museum.
The group said they threw mashed potatoes at the painting to raise awareness of the dangers of fossil fuels.
"Let's make this #Monet the state and the public the public," the group tweeted. "If it takes a painting – with # Mashed Potatoes or # Tomato Soup thrown at it – to remind society that the fossil fuel course is killing us all: then we'll give you # Mashed Potatoes on a painting!"
Sally Hickson, who is an art historian at the University of Guelph in Canada, previously told Fox News Digital that she wonders if activism will really change her mind.
CLICK HERE TO GET THE FOX NEWS APP
"Does it convince people? It is very difficult to convince people when people are blind to what is happening all over the planet. I don't know if it would convince any of those people," Hickson said. "I mean, I just think we live in this moment in a time period where people have very ingrained ideas about things.
Julia Musto and Bradford Betz of Associated Press and Fox News contributed to this report.