An Iranian chess player who competed without a hijab arrived in Spain after being warned not to return home, according to a source close to her.
Sara Khadem, 25, took part in a tournament in the Kazakh city of Almaty last week and was in the photo without the headgearwhich is required in Iran.
A source close to Ms Khadem, who did not want to be named, said she had received several phone calls warning her not to return home.
Other calls told her she should go home and promised to "solve her problem".
The chess player's family also received threats, the source said, adding that she landed in Spain on Tuesday.
Other Iranian sportsmen have also appeared without hijab in recent months, like mountaineer Elnaz Rekabi.
The gestures were widely interpreted as a protest against Iran's radical leaders after the death in custody of Mahsa Aminiwho was detained for not wearing her hijab properly.
Newspapers including Spain's El Pais reported last week that Ms Khadem was planning to move to the country.
Tournament organizers reportedly arranged for four bodyguards to stand outside Ms Khadem's hotel room when photos of her uncovered hair surfaced in the media.
Another Iranian player at the event, Atousa Pourkashiyan, was also pictured without a hijab.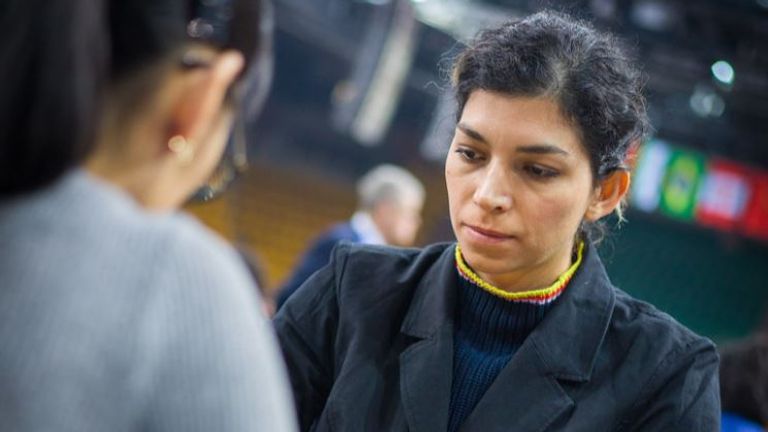 Last month, Iran's men's soccer team did not sing the national anthem in their first World Cup game in apparent protest. However, they sang it in their other matches.
Ali Daei, the retired Iranian soccer captain, who has also expressed support for the protesters, said last week that his family had been prevented from leaving the country.
Daei said their plane was hijacked en route to Dubai.
Protests over Ms Amini's death began late last year in one of the most vocal challenges to Iran's strict religious leaders in decades.
Hundreds of people were reportedly killed by police and security services trying to suppress dissent.