Iranian footballer Amir Nasr-Azadani has been sentenced to 16 years in prison for taking part in nationwide protests, local media reported.
According to the Islamic Revolutionary Guard Corps-affiliated Tasnim news agency, the 26-year-old was found guilty of "participating in enmity against God" in connection with the murder of three security guards in the city ​​of Isfahan on November 16. (IRGC).
Local reports suggested his confession was coerced, with his family members ordered to remain silent.
Three other protesters were sentenced to death in the same trial, which human rights groups called a sham.
Decisions are preliminary and may be appealed to the Supreme Court.
A former teammate of Nasr-Azadani has previously said the court's decision was absurd.
"Knowing Amir's character, he would go to a protest… he and his friends, would stand up for basic rights, for women's rights of course because he's the kind of person who cares about others. But I don't. don't see a war against God or anything," said Sebastian Strandvall.
The captain of the top flight VPS Vaasa said that while his friend may have participated in the protests, he does not believe he would commit a violent act.
Iran executes four people during protests
He comes after Iran executed two men convicted of allegedly killing a paramilitary volunteer during a protest, bringing the total number of executions since protests began in September to four.
Demonstrations across the country have erupted over the death in custody of Mahsa Amini, a 22-year-old who was arrested by Iranian vice police for allegedly breaking the Islamic Republic's strict dress code.
Many women attended the protests, often without the mandatory hijab head covering in reference to Ms Amini's death.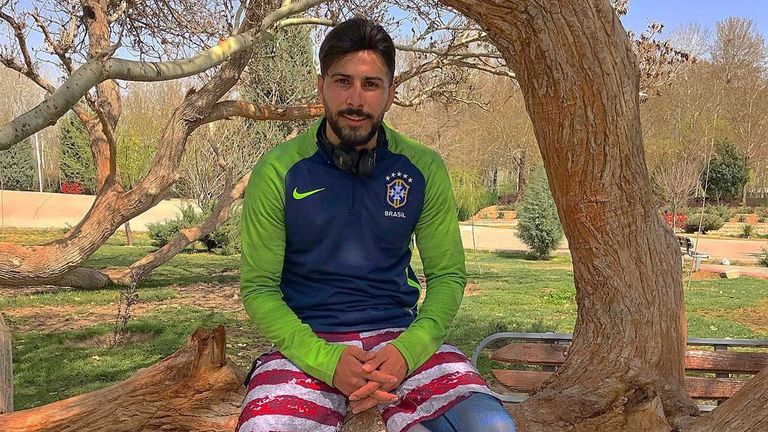 Courts strongly criticized
The courts of those accused of having taken part in the demonstrations have been strongly criticized. They don't allow people on trial to choose their own lawyers or even see the evidence against them.
Amnesty International said the trials "didn't resemble a real judicial process".
Two other men were executed in December after being charged with crimes related to the protests.
Death row inmates are usually hanged from construction cranes in public.
At least 517 protesters were killed and more than 19,200 arrested on Friday, the human rights group Human Rights Activist in Iran said. Iranian authorities have not provided an official tally of those killed or detained.