All flights across the United States were grounded due to a problem with the Federal Aviation Administration's computer system this morning.
All outbound flights were grounded until 9:00 a.m. Eastern time (1400 GMT) as the FAA works to restore its Notice to Air Missions (NOTAM) system, which alerts pilots to potential hazards along a flight route.
He said the delay "would allow the agency to validate the integrity of the flight safety information".
Some 1,230 flights within, to or from the United States were delayed today, according to flight tracker FlightAware.com, while 108 were canceled.
Most of the delays were concentrated along the East Coast.
Sky News correspondent Mark Stone, who was at Ronald Reagan Airport in Virginia, said: "Well, an almighty mess for the aviation industry in the United States.
"All flights from this morning have been grounded, although from the noise I just heard overhead and the sights I just saw they now appear to have started to take off again. from here to Washington Reagan airport DCA.
"As of this morning, we have been told that the NOTAM system is down, which is part of the air traffic control system. It is essential for flights to be able to take off safely. Therefore, the airspace the busiest in the world, the airspace over the United States, did not open as it should have done this morning.
"Looking at flight tracking websites, it was very clear that you could see flights clustered around many cities in the United States and none of them were taking off. Chaos for passengers, as you can imagine ."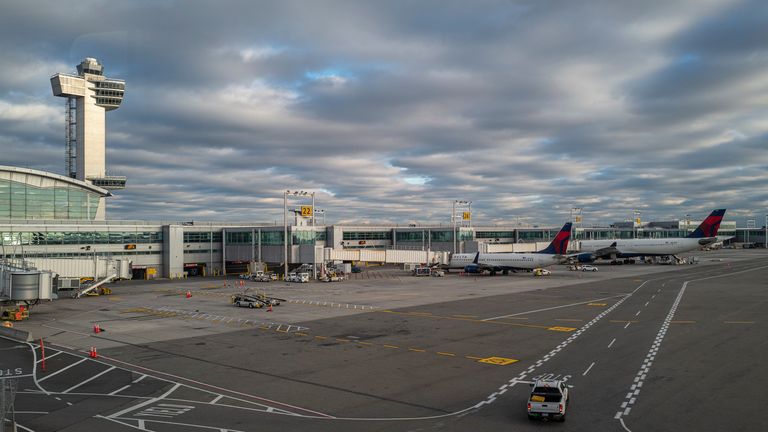 "The FAA is working to restore its air mission advisory system," the agency said.
"We are performing final validation checks and reloading the system now. Operations across the national airspace system are affected.
"We will provide frequent updates as we progress."
In a later update, the agency said it was "still working to fully restore" the NOTAM system.
"As some functions begin to come back online, National Airspace System operations remain limited."
United Airlines said it temporarily delayed all domestic flights.
Several people tweeted to say they had been grounded due to the outage, with a passenger at Paris Charles de Gaulle airport saying no flights were flying to the United States.
A total of 21,464 flights were scheduled to take off from US airports today, according to aviation analysis firm Cirium.
Nearly 2.9 million seats are available on these departures.