The drums, flags and trumpets made it sound and look like a carnival but this was no celebratory party.
Hundreds of striking nurses, joined by doctors and other health worker colleagues, gathered outside Euston's University College Hospital ahead of a march to the prime minister's door.
The mood of many here matched the icy cold bitterness of mid-winter. I marched alongside Bert Roman, a haematology nurse from central London.
Can the NHS survive? Be in the audience for a live debate
He told me he has worked in the NHS for over 20 years, but the relentless pressure had made him cut his hours and rethink his future.
"The overwhelming consensus was that we have to do this in order to secure safe patient care within 5-10 years, otherwise our service will decline much further and we have nothing left," Bert said as we walked down Tottenham Court Road, our conversation drowned out by honking drivers keen to show their support.
Bert and his colleagues are really angry with the government, obviously about refusing to budge on pay negotiations but also with the way "they are attempting to control the messaging around patient safety and delays to care".
If there is a shift in public mood away from supporting the nurses it certainly was not evident along the few miles we marched through central London.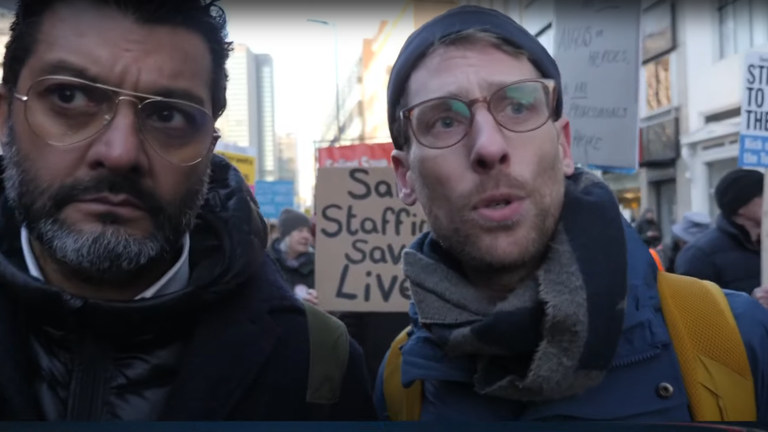 Read more:
Health Secretary Steve Barclay says 10% pay rise for nurses 'not affordable'
Ambulance strikes: GMB union announce six further dates for action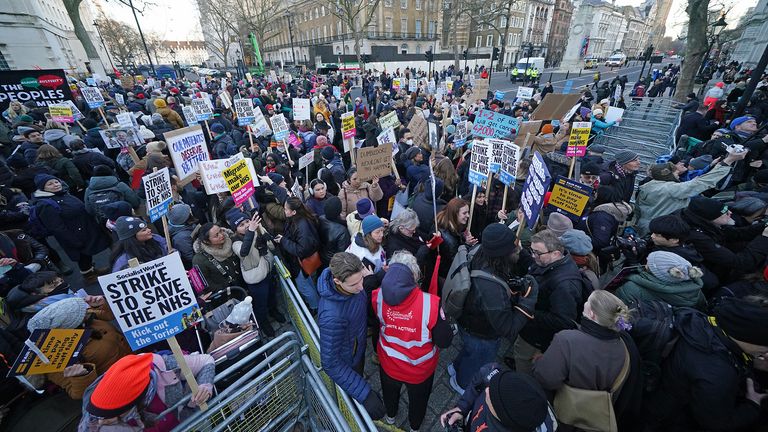 In fact, remove the opposite.
Lined up on pavements, the people we passed shouted their support and clapped their hands.
But as many placards carried aloft pointed out, clapping for the NHS does not pay the bills.
As the light faded the slogans and chanting turned to jeers and boos. We had arrived at Downing Street.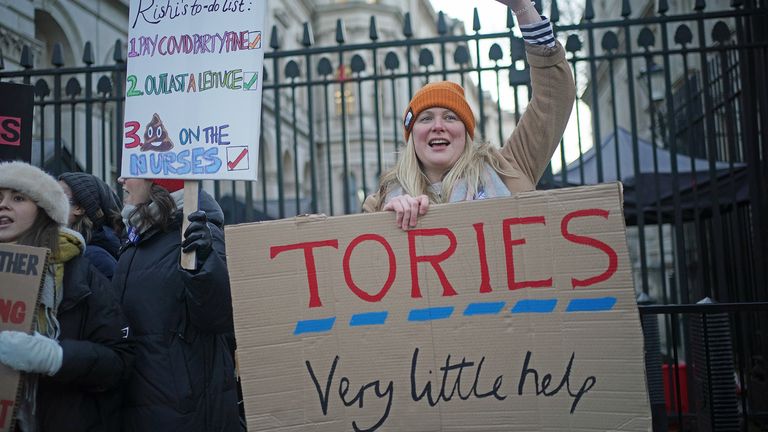 Here waving her closet and shouting her disgust I met Maria Fernandes, an emergency nurse from London.
Maria's voice faltered when we spoke, her accent a blend of her native Spanish and adopted Scottish. She said her patients de ella often remarked on it.
Maria painted a vivid picture of her hellish shifts on A&E with patients on trolleys, ambulances stacked up unable to offload their patients and people waiting up to 30 hours to be seen.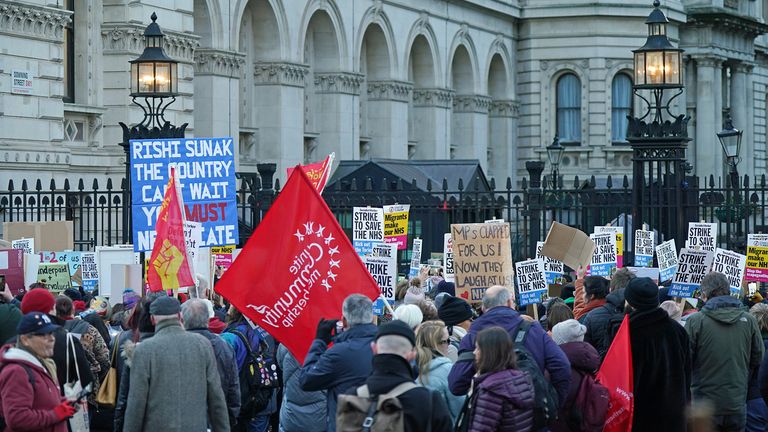 This is what Maria brought to Rishi Sunak's door. I asked her if she thought he was listening to them.
"He has to," she said, more in hope than anything else.
If you are an NHS worker and would like to share your experiences with us anonymously, please email [email protected]