Kosovar Prime Minister Albin Kurti has called on Western powers not to pressure his small Balkan country into agreeing to a controversial partnership of five Serb-majority municipalities that is heightening tensions between Kosovo and Serbia.
Kurti told the Associated Press that the goal should instead be to make Serbia more democratic and get rid of what he called Belgrade's hopes for regional leadership.
Kurti said in Sunday's interview that the Serbian government should recognize Kosovo's independence to "deal with the past". He also stressed that Belgrade should lean more towards the European Union and NATO than towards Russia.
SERBIA SCAMS TROOPS FOR 'COMBAT READYNESS' AT KOSOVO BORDER
The prime minister said that if Belgrade abandons the idea that Kosovo still belongs to Serbia, "they will be much more democratic, European".
The dispute between Serbia and its former province of Kosovo remained a source of instability in the Balkans even after the 1998-99 war, which ended with a NATO intervention that forced Serbia to withdraw from the territory.
Kosovo in 2008 declared independence from Serbia, which Belgrade refused to recognize, supported by Russia and China. The US and most EU nations have recognized Kosovo.
In recent weeks, US and EU envoys have visited Pristina and Belgrade to encourage them to accept a new proposal to normalize relations and boost their EU membership bids.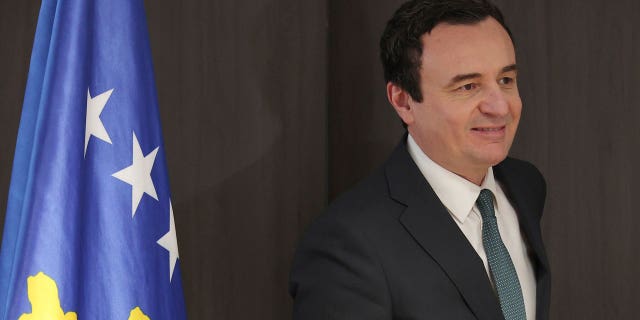 An EU-mediated Kosovo-Serbia dialogue has been ongoing since 2011, but few of the 33 agreements signed have been implemented.
Kurti said of the negotiations so far that "each solution has become more and more complicated, less and less feasible and the public has lost interest." He considered the new proposal "a good framework and platform for moving forward … which bodes well for the prospects for future talks and an agreement."
Details of the proposal have not yet been made public.
US Ambassador to Pristina Jeffrey M. Hovenier told the Associated Press that the proposal "is an interim step, which … would regularize relations in very significant ways and would be of enormous benefit to both Kosovo and the Serbia".
"It is in both countries' interests to enter a different position in their relations with each other," he said.
The United States has increased pressure on Pristina to implement a 2013 agreement to establish the Association of Serb-majority Municipalities in ethnic Serb-dominated North Kosovo, which would coordinate work on education, health care, spatial planning and economic development at local level. In 2015, Kosovo's Constitutional Court declared part of the plan unconstitutional as it did not include other ethnicities and could involve the use of executive powers.
Kurti says the creation of the association is not his priority, and last week he set conditions saying it can only be formed as part of a comprehensive deal on normalizing relations, which Serbia has rejected in the past. Kosovo authorities fear that it would eventually undermine the country's state with Belgrade's help.
KOSOVO GIVES TRUMP FREEDOM ORDER FOR HIS ROLE IN SECURING DEAL WITH SERBIA
Western powers should learn from the example of the Serb-run ministate Republica Srpska of Bosnia, fearing the creation of a ministate in Kosovo, he said, adding that Belgrade used the creation of the association "as a weapon against our independence" .
"If we introduce the idea of ​​an ethnic association of municipalities into the Western Balkans, this is a recipe for new conflicts," Kurti said.
Western powers should not put pressure on smaller countries like Kosovo, he said. The problems between Kosovo and Serbia might be small and nagging, but the West should pay attention to what is happening in the region because "any kind of wrong solution in the Balkans can and will be used elsewhere."
The situation remains tense in northern Kosovo after Western powers helped resolve a tense situation in December when Serbs erected barricades on main roads to protest the arrest of a former Serbian policeman.
Lars-Gunnar Wigemark, head of the EU's rule of law mission in Kosovo, called the incident "a very tense standoff with barricades" and "the most serious crisis Kosovo faces… in the last ten years".
CLICK HERE TO GET THE FOX NEWS APP
Another senior Western diplomat, speaking on condition of anonymity due to the sensitivity of the matter, said the mediators "are working very hard" to avoid anything that could lead to demonstrations or violence.