A footballer whose quick-wittedness potentially saved the life of a seriously injured opponent has been rewarded by FIFA.
Georgian defender Luka Lochoshvili sprinted towards Georg Teigl as he passed out during a Austrian Bundesliga game between Austria Wien and Wolfsberger AC in February last year.
Austria Wien right-back Teigl, 32, suffered a head injury after colliding with an opponent's knee during a challenge.
As the match continued briefly, Lochoshvili, 24, noticed the seriousness of the situation and sprinted towards Teigl.
Realizing Teigl was in danger of choking, Lochohvili put his hand in his mouth and appeared to pull his tongue out of his throat, just as team medics arrived to help him.
Teigl, who suffered a fractured skull as well as a fractured cheekbone and jaw in the incident, later thanked Lochoshvili in an Instagram post, saying, "Thank you, Luka Lochoshvili for your quick reactions.
"Your intervention may well have saved my life."
On Monday, Lochoshvili, who now plays for Italian side Cremonese, was honored with the Fifa Fair Play Award at The Best FIFA Football Awards.
Lochoshvili, speaking via video link at the awards ceremony in Paris, said: "It's a huge honor for me, I would like to thank you for this award.
"I'm very happy about that, but even happier that I was able to save Georg's life. The most important things in football are fair play and respect."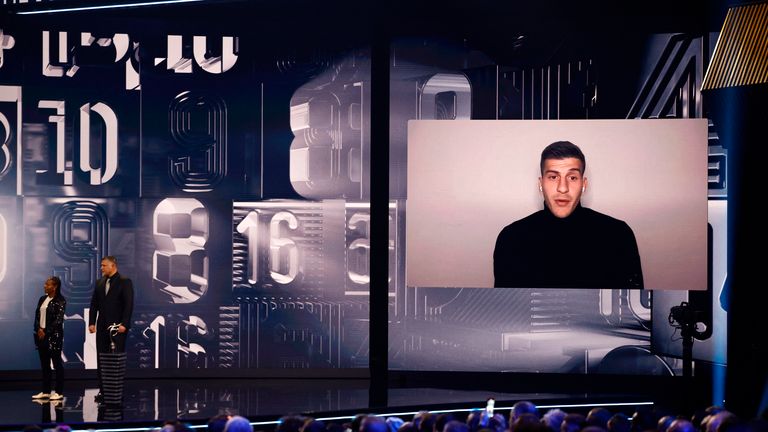 The incident happened on February 27 last year as the game was coming to an end.
After the final whistle, players from both sides ran to thank and congratulate Lochoshvili for his response to the incident.
Read more from Sky News:
Footballer wins historic maternity pay
A new regulator to oversee the financial stability of English football
Speaking afterwards, Wolfsberger AC coach Robin Dutt said: "It was an incredible achievement from Luca.
"In all honesty, I think that was the most important moment on the pitch today."
Austria Wien boss Manfred Schmid also praised Lochoshvili, saying: "It was a very dramatic moment.
"We can only congratulate and thank Lochoshvili for what he has done. Even if you have the right training, it's not always easy to step up a gear when such a situation arises."
Teigl has since recovered and returned to football with the Austrian club.