The House Select Subcommittee on the Coronavirus Pandemic announced Wednesday that it will hold its first hearing on the origins of the coronavirus, following FBI Director Christopher Wray's admission that the virus "most likely" originated from a Chinese lab.
"On March 8, we'll hold our first hearing on COVID origins. At the hearing, we will gather facts about the origin of the virus that has claimed nearly seven million lives globally," the House Select Subcommittee on the Coronavirus Pandemic said in a post on Twitter.
REPUBLICANS CALL FOR 'FULL TRANSPARENCY' AFTER FBI DIRECTOR SAYS COVID 'MOST LIKELY' ORIGINATED IN CHINESE LAB
The committee's chairman, Rep. Brad Wenstrup, R-Ohio, said in a statement that Americans "deserve real answers" on the origins of the virus that killed millions of people worldwide, and the government policies related to it.
"This investigation must begin with where and how this virus came about so that we can attempt to 'predict, prepare, protect, or prevent' it from happening again. Government scientists and government funded researchers have so far been less-than-forthcoming in their knowledge and actions, including work with the Wuhan Institute of Virology and potential pandemic pathogens," Wenstrup said.
Witnesses will include: Former Centers for Disease Control and Prevention (CDC) Director Dr. Robert Redfield, Dr. Jamie Metzl, senior fellow at the Atlantic Council and Nicholas Wade, former health and science editor. The subcommittee noted that additional witnesses may be added.
FBI DIRECTOR SAYS COVID PANDEMIC 'MOST LIKELY' ORIGINATED FROM CHINESE LAB
The Wenstrup-led subcommittee sent a series of letters last month seeking more information on COVID origins from Dr. Anthony Fauci, Health and Human Services Secretary Xavier Becerra, Director of National Intelligence Avril Haines, White House Acting Science Adviser to the President Dr. Francis Collins and EcoHealth Alliance President Peter Daszak.
Fauci was also asked to sit for a transcribed interview.
"We can't accept more years of stonewalling; the Select Subcommittee on the Coronavirus Pandemic is committed to conducting a proper investigation that the American people have demanded. We look forward to hearing from our esteemed witnesses next week about their research on this topic, " he added.
Scrutiny over the initial rejection of the lab-leak theory has grown following Wray's admission to Fox News on Tuesday, in which he also said the Chinese government had "been doing its best to thwart and obfuscate" the FBI's efforts to investigate.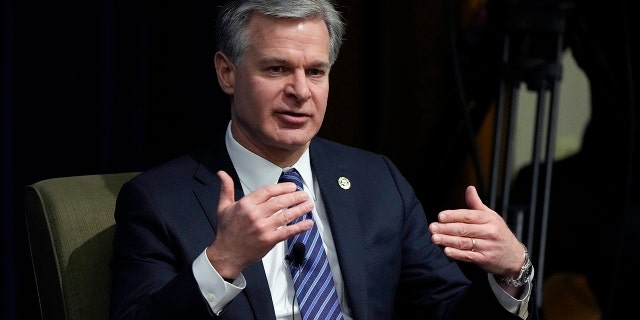 Subcommittee ranking member Rep. Raul Ruiz, D-Calif., also provided a statement to Fox News Digital expressing the importance of getting to the bottom of the coronavirus' origin.
"Understanding the root causes of the COVID-19 pandemic is vital to our nation's public health and our ability to respond to future threats. This is a question that must be answered by those who are best suited to answer it: our expert intelligence and scientific communities who are already hard at work on this front," he said.
Ruiz praised what he said was President Biden's "sweeping action" on getting to the bottom of the virus's origins, despite the president previously dismissing the lab-leak theory.
CLICK HERE TO GET THE FOX NEWS APP
"This must be done without politicization, extreme partisan rhetoric, and conspiratorial accusations that vilify our nation's public health experts. It is my hope that during next week's hearing, my Republican colleagues will join Select Subcommittee Democrats in letting the science and facts lead the way for the sake of our nation and the American people," he added.