EXCLUSIVE: The National Republican Senatorial Committee (NRSC) launched nominee funds Thursday with the goal of providing GOP candidates in key Senate races with a "war chest" once they begin fighting general election races.
Targeting races in Montana, Ohio and West Virginia, the nominee funds will "ensure the nominee in each state will have a war chest at the ready as soon as they win their primary," the NRSC said in a press release shared first with Fox News . The three states are key pickup opportunities for Republicans as they need to flip at least two seats in 2024 to win back Senate control.
"We will not be able to take back the Senate if our candidates get swamped by the Democrats' money machine again. That's why I'm proud to be leading the Republican effort to fight back," said South Carolina Republican Sen. Lindsey Graham, who is leading the fund effort.
The NRSC's announcement comes after a bruising 2022 midterm election cycle in which the GOP saw its majority shrink in the US Senate in what many predicted would be a "red wave" election. Republican candidates were frequently outspent last year and for the last several election cycles.
GOP ATTACKS VULNERABLE 2024 SENATE DEMOCRATS FOR PUTTING MEDICARE, SOCIAL SECURITY 'AT RISK'
The fundraising platform splits donations four ways between the NRSC and three funds that will be ready for whatever candidate wins the GOP Senate primary in Montana, Ohio and West Virginia next year.
"If every Republican voter chips in five or ten bucks to Senate24.com, our nominees in top battleground races will have the resources they need to fight back against the Democrats as soon as they win their primary."
The aim of the nominee funds is to steer funding directly to candidate campaigns, which get a far better advertising rate than political action committees. In 2022 for instance, one Republican super PAC in Nevada paid $150,000 for ad time during a football game in the Las Vegas market. The campaign of the Democratic opponent, Sen. Catherine Cortez Masto, paid $21,000 for the same amount of ad time during the same game.
INCOMING SENATE GOP CAMPAIGN CHAIR DAINES PLEDGES TO 'DO WHATEVER IT TAKES TO WIN'
Many Republican candidates in the 2022 midterm elections were reliant on super PACs outside their campaign to purchase and fill ad time, forcing them to pay the premium rates. Federal law, however, mandates that candidates themselves are charged the lowest rate in media buys.
The three states where the NRSC is launching nominee funds are prime pickup targets, which have incumbent Democrat senators up for reelection in states that former President Donald Trump won in 2020.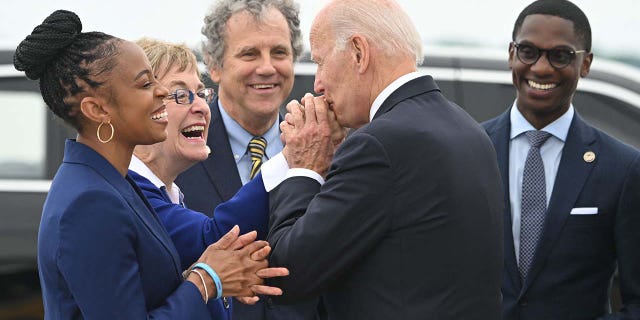 In Ohio, Democrat Sen. Sherrod Brown announced his reelection campaign days after the 2022 midterm elections. Montana Democrat Sen. Jon Tester announced last week that he would run as well.
West Virginia Sen. Joe Manchin, a moderate senator, has not announced whether he will run for reelection.
CLICK HERE TO GET THE FOX NEWS APP