The arrival this week in Rio de Janeiro of two Iranian warships that the Brazilian government has authorized to dock has prompted rebukes from both Israel and the United States
"Israel views the docking of Iranian warships in Brazil a few days ago as a dangerous and regrettable development," Israel Ministry of Foreign Relations spokesman Lior Haiat wrote on Twitter on Thursday. "Brazil should not give any rewards to a malicious state."
Haiat's comments were followed by others the day before by US State Department spokesman Ned Price. In response to a reporter's question about ships reaching Brazil, Price said Washington was discussing the matter with Brazilian partners and wanted to make sure Iran "is not able to gain a foothold, is not able to take advantage of others in our hemisphere."
'Warning signal': IRAN MILITARY SEND WARSHIP TO BRAZIL, PANAMA CANAL IN CHALLENGE TO US
"It is certainly not the case that the Brazilian government, the Brazilian people want to do something that helps, helps a government, a regime that is responsible for a brutal repression and violent repression against its own people," he added. .
On Thursday, one of the two vessels was spotted off Rio's popular southern beaches, while the other was docked downtown. Vessels IRIS Makran and IRIS Dena are authorized to remain in Rio until 4 March.
The U.S. Treasury Department's Office of Foreign Assets Control designated both vessels for sanctions last month.
Brazil's foreign ministry did not immediately respond to an Associated Press request for comment on the statements by Israeli and American officials.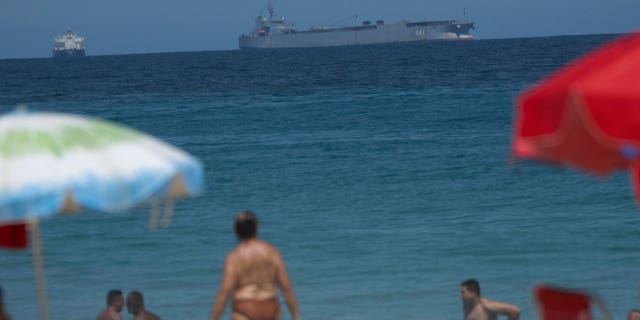 The Iranian navy trip comes amid rising tensions between Tehran and the West over the breakdown of its 2015 nuclear deal with world powers and as the Islamic Republic enriches uranium closer than ever to military-grade levels.
Iranian officials described the trip as a challenge to America's influence in its own backyard – long a moot point as Tehran continually criticizes the presence of the US Navy's 5th Fleet in the region, which patrols the Persian Gulf and its narrow mouth, the strategic Strait of Hormuz.
The state-run IRNA news agency quoted Iranian navy commander Rear Admiral Shahram Irani in January as saying that "the Islamic Republic is not present in two strategic straits on the planet, but in the current year the Iranians intend to have a presence in one of them, which is the Panama Canal." State media described the trip as a challenge to American "hegemony".
Iran is also facing nationwide outcry and anger following the September death of Masha Amini, a woman who died after being arrested by the country's morality police. In the time since those demonstrations, Tehran has tried to use its military elsewhere as well. Tehran has supplied drones to Russia that have killed Ukrainian civilians, conducted exercises in a border region with Azerbaijan and bombed Kurdish positions in Iraq.
BIDEN, CLIMATE ENVISAGE, KERRY MEETS BRAZILIAN SOCIALIST LEADERSHIP
Brazilian President Luiz Inácio Lula da Silva made international diplomacy a feature of his second presidential term, which ended in 2010. This included trying to broker a nuclear deal between the United States and Iran during his second presidential term that same year, also if the talks stalled.
Elected in October to return to the presidency, Lula made a quick trip to Washington last month to demonstrate his alignment with President Joe Biden. Biden's special climate envoy John Kerry was also in Brazil's capital this week to discuss working together to protect the Amazon rainforest.
In a statement on Tuesday, US Senator Ted Cruz noted that the United States has already sanctioned the two Iranian warships and that the port of Rio de Janeiro and all Brazilian service providers are now at risk of sanctions.
CLICK HERE TO GET THE FOX NEWS APP
"The Biden administration is obligated to impose relevant sanctions, reevaluate Brazil's cooperation with U.S. counterterrorism efforts, and review whether Brazil is maintaining effective counterterrorism measures in its ports," Cruz wrote.