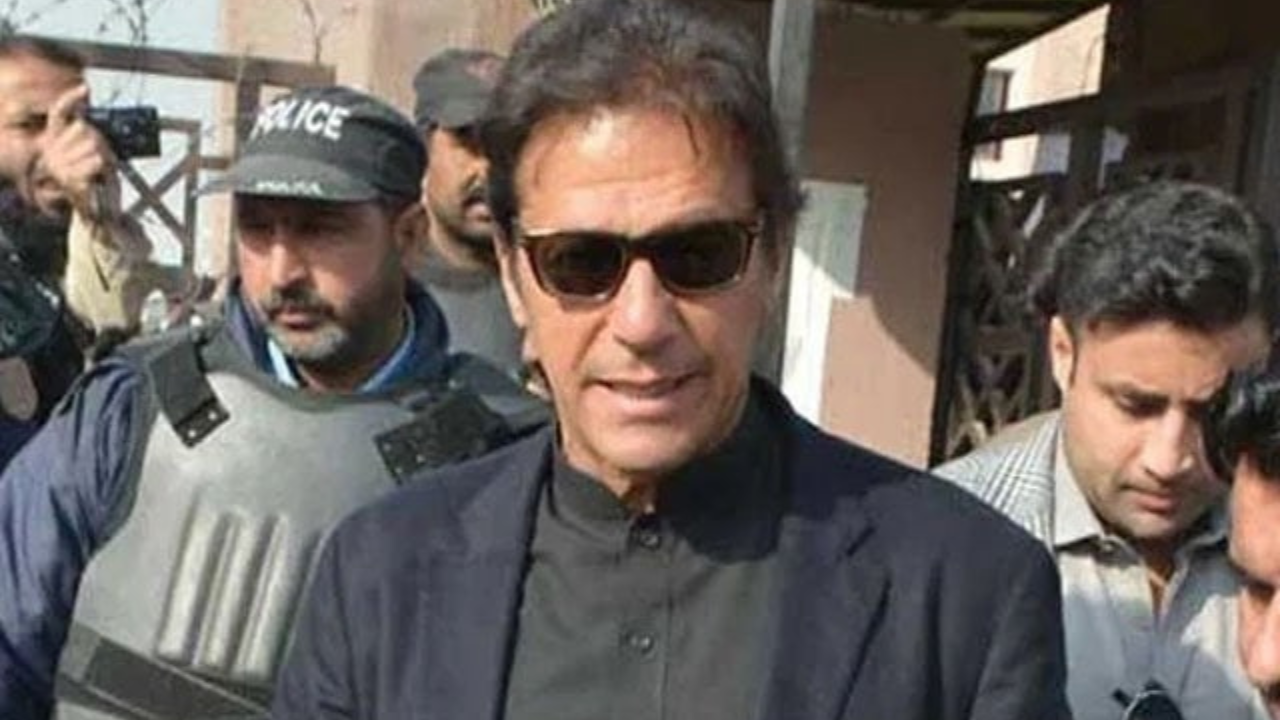 NEW DELHI: Former Pakistani Prime Minister Imran Khan appears to have escaped arrest on Sunday after a posse from Islamabad police reached his Lahore residence to detain him in connection with the Toshakhana case.
عمران خان گرفتاری سے گریزاں ہیں۔ ایس پی صاحب کمرے میں گئے ہیں مگر وہاں عمران خان موجود نہیں۔ ٹیم عمران خان کی گرفتاری کےلیے پہنچی ہے۔

— Islamabad Police (@ICT_Police) 1678003610000
The team arrived at Khan's residence to arrest him but he was not in his room, according to a Twitter post by Islamabad police.
The former cricketer turned politician has been targeted for buying gifts including an expensive Graff wristwatch he had received as premier at a discounted price from the state depot called Toshakhana and for selling them for profit.
Pakistan's 70-year-old chief Tehreek-e-Insaf (PTI), who was recovering from a gunshot wound during an assassination attempt in Wazirabad last year, he missed arraignment hearings in an Islamabad court three times in the case.
In a series of other tweets, the Islamabad police said that "all operations are being completed with the cooperation of the Lahore police" and that "legal action will be taken against those who obstruct the execution of court orders" .
Hundreds of PTI supporters had gathered at Khan's residence and initially prevented police from entering the house.
A Pakistani court had issued an arrest warrant against Khan on February 28 in connection with the case.
عمران خ█ کی گرفت█ کوئ بھی کوشش کوشش کوشش ح█ کو شدید خر خر کر ، میں میں میں س ن ن OFT ھ ور ور پ█ دشمن کو کو خبرد خبردار کر کر کر کر … https://t.co/ojwbtCVUS

— Ch Fawad Hussain (@fawadchaudhry) 1678001456000
Meanwhile, the leader of the PTI Fawad Chaudhry he said that any attempt to arrest Imran Khan would seriously worsen the situation. "I want to warn this incompetent and anti-Pakistani government not to push Pakistan into further crisis and to act sensibly, workers should reach out Zaman Park", he wrote on Twitter.
Imran Khan was ousted from power in April 2022 after losing a vote of no confidence in his leadership, which he said was part of a US-led conspiracy targeting him over his independent foreign policy decisions on Russia , China and Afghanistan.
(With contributions from agencies)