A woman performing the colorful "Voladores" ritual has died after falling from a 30-metre-high pole, authorities in central Mexico's Puebla state confirmed on Sunday.
The municipal government of the city of Huauchinango has announced the cancellation of the remaining celebrations as a sign of mourning.
The performers apparently came from a troupe of mainly female "voladores". They were performing at the city's Flower Festival when the incident occurred on Saturday night.
BODIES FROM GREECE TRAIN CLASH THAT DEAD 57 RETURNED TO FAMILIES IN CLOSED HOUSES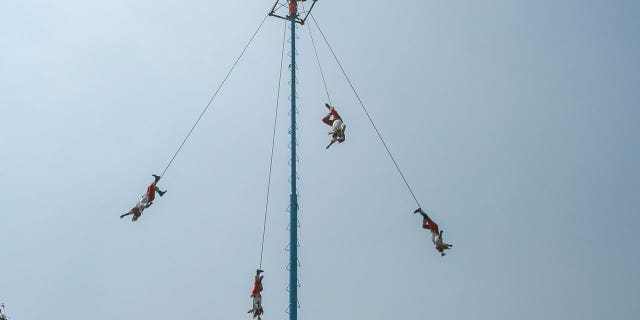 CLICK TO GET THE FOX NEWS APP
The cause of the crash is under investigation.
Voladores, or flyers in English, are generally four performers who climb the pole and tie themselves to ropes twisted around the pole; then they leap outward and descend into the air, moving in a circle as the rope unwinds.
While the best-known voladores come from Papantla, in the neighboring state of Veracruz, the act, which began as a spiritual observance, is also performed in Puebla.