The home secretary has promised her new Illegal Migration Bill will ensure anyone who arrives illegally in the UK is "detained and swiftly removed".
Suella Braverman says the legislation will "stop the boats" – after more than 45,000 people risked their lives to cross the Channel last year.
But with the Home Office backlog of more than 160,000 immigration cases and only a small number of countries available to which the government can send failed asylum seekers – many have branded the bill "unworkable".
Here Sky News looks at how the new measures might work.
Home secretary unveils new bill

28-day detention – with no bail or judicial review – 'not realistic'
The home secretary's outline of the bill states that if you arrive illegally in the UK "you will be detained with no recourse to immigration bail or judicial review within the first 28 days".
It adds: "We can maintain detention thereafter so long as we have a reasonable prospect of removal."
People in immigration detention in the UK are housed at immigration removal centers, residential short-term holding facilities or holding rooms at ports and airports.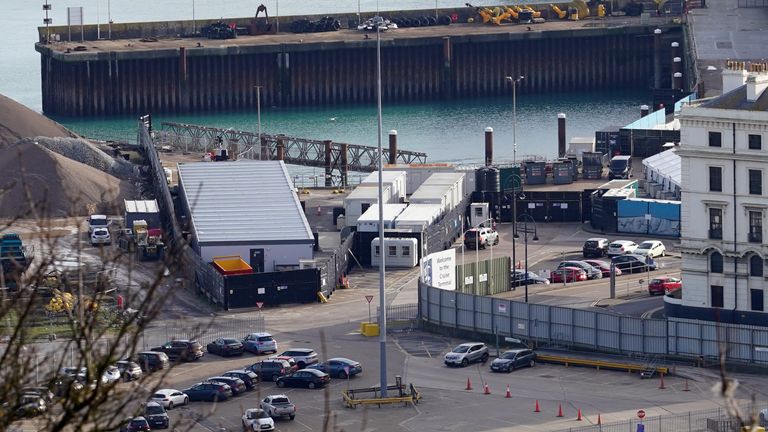 Previously there were two disused army barracks – Napier in Kent and Criminally in Wales – that housed illegal migrants, but they were both shut down.
The government also routinely houses refugees in hotels and hostels but the Prime Minister said in December this will stop and "disused holiday parks, surplus military sites and university halls" will be used instead.
The latest Home Office data shows that there were more than 50,000 asylum claims submitted in 2021 – with 77% of them ending in permission to remain in the UK.
Matilda Bryce, policy advisor at Freedom from Torture, tells Sky News: "We know the majority of asylum seekers that arrive by small boat are granted refugee status by the UK government.
"The UK detention estate is not big enough – and should never be big enough – to detain the numbers coming in small boats. Detention is not a fair and humane response to refugee arrivals and the government should not be pursuing a policy of mass expansion. "
Read more:
Sunak says small boat crossings 'cannot go on'
Freedom from Torture estimates there is only currently capacity for around 2,500 more people when 65,000 are projected to cross the Channel this year.
Immigration solicitor Sophie Lucas, of Duncan Lewis Solicitors, adds that the estate would have to expand around "four-fold" to be able to house the numbers that would be detained – with each 28-day stay costing around £3,000 per person according to Home Office statistics.
She adds: "It is difficult to see any realistic prospect of removing people who have crossed the Channel seeking asylum.
"They can't legally detain someone indefinitely where there is simply no prospect of removing them. So what will they do after the 28 days? Release them, and leave them dismissed in the street? They can't do that either."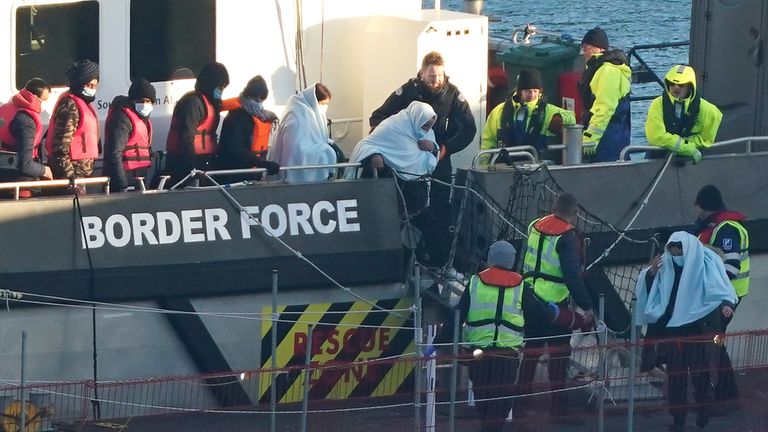 'Legal duty' to remove illegal migrants lacking key agreements
The government says that anyone who arrives illegally in the UK – on small boats or otherwise – will be removed – either to their country of origin or a "safe third country".
Last year most people who arrived in small boats were Albanian, Afghan, Iranian, Iraqi, Syrian, Eritrean or Sudanese.
In December Prime Minister Rishi Sunak announced Albania would no longer be deemed an "unsafe" country by the Home Office – and thousands of Albanians would be returned there.
Under the UN Convention on refugees, a person cannot be returned to their home country if their life is at risk there.
This means authorities would likely be unable to return most small boat arrivals – to the likes of Afghanistan, Iran and Iraq.
Read more:
What is the PM's five-point plan on immigration?
Is there a safe route to the UK?
Smuggler reveals how dangerous trade really works
To be able to remove someone to a different country, the UK must have a return agreement with them.
Currently, these are only in place with Albania, Serbia, Nigeria, India, Pakistan and Rwanda – as part of the new Rwanda scheme.
Ms Bryce says: "The UK doesn't have extensive removal agreements in place and therefore knows this isn't a sustainable solution.
"The new legislation will increase the already huge asylum backlog: the government can't remove people without a return agreement so all these inadmissible cases will just linger at risk of destitution, homelessness and exploitation."
'Risky' approach to removals and limiting appeals
The bill aims to "limit the circumstances in which legal challenges will prevent someone from being removed from the UK".
In a letter to MPs outlining the bill, Ms Braverman said that "only those under-18, medically unfit to fly, or at real risk of serious and irreversible harm in the country we are removing them to, will be able to delay their removal ".
The Rwanda scheme has been unable to get off the ground after being repeatedly challenged in the courts on human rights grounds.
But the government says that under the new legislation "human rights claims, including the right to private or family life, cannot suspend removal".
The bill includes a Section 19 (1)(b) clause, which states the government does not have the "requisite level of confidence" it normally would that it complies with the Human Rights Act.
But Ms Braverman has told the House of Commons: "The government nevertheless wishes the House to proceed with the bill."
Tory MP Robert Buckland says the government has given him 'assurances' it is 'not seeking to break international law'

Ms Bryce says her organization Freedom from Torture "would hope any government wouldn't consider opting out of its human rights obligations".
"The right to appeal in protection (refugee) cases are a critical safety net to making sure people's lives aren't put at risk by returning them to a country where their life and freedoms are threatened."
"I would anticipate this being challenged in the courts because we're talking about potentially very serious consequences for already vulnerable people – the majority of which have a right to asylum in the UK under international human rights and refugee laws."
The bill adds that "most legal challenges will be considered when someone has been successfully removed from the UK".
Ms Bryce describes this as "inherently risky and unsafe" as the UK has a duty to ensure asylum seekers are not incorrectly removed back to a country where they may face persecution.
Why 'inadmissible' claims won't solve Home Office workload
Similarly to the Nationality and Borders Act passed last year, this bill states that: "People who come here illegally will have their asylum claims deemed inadmissible."
This means the Home Office will not be forced to process their asylum claims.
It will still, however, have to go through the process of removing them – adding to its workload.
Government data shows the current backlog of immigration cases is more than 160,000 – with some taking two years.
A leaked document recently revealed to 'fast-track' questionnaire is being sent to 12,000 asylum seekers to help reduce the build-up.
Read more political news:
Senior Tory Sir Graham Brady to stand down as MP
Dwindling ammunition supplies 'a risk to UK security'
Tories divided on Sue Gray as ministers question Labor move
'Nonsense' promise on 'safe and legal routes'
The government says that "once it stops the boats" it will expand current "safe and legal routes" to resettlement in the UK.
These are different to asylum claims and are, at present, largely made up of nationality-specific schemes for Afghanistan, Ukraine and Hong Kong.
But immigration solicitor Ms Lucas warns: "The idea that you will create safe and legal routes once you stop the boats is a nonsense. The numbers crossing in boats would not be so high if there were safe and legal routes.
"There is a reason a large number of Afghan nationals are now being forced to travel via small boats, the Afghan resettlement schemes were an unmitigated disaster."
'We must stop the boats'
The Labor party also criticized the government's bill today, with shadow home secretary Yvette Cooper telling the Commons the Tories had presided over immigration "chaos" and the government's plan risks making things worse.
Labour's Yvette Cooper responds to Suella Braverman's statement

But Ms Braverman defended the measures, telling MPs: "We must stop the boats.
"It is completely unfair that people who travel through a string of safe countries then come to the UK illegally and abuse our asylum laws to avoid removal.
"It has to stop. By bringing in new laws, I am making it absolutely clear that the only route to the UK is a safe and legal route. If you come here illegally, you won't be able to claim asylum or build a life here.
"You will not be allowed to stay. You will be returned home if safe, or to a safe third country like Rwanda.
"It's the only way to prevent people risking their lives and paying criminals thousands of pounds to get here."