A gunman who killed two Israeli brothers "in cold blood" has been "killed", according to Prime Minister Benjamin Netanyahu.
Its security forces attacked the Palestinian city of Jenin and killed at least six people in clashes with suspected terrorists.
It is understood that they were acting on intelligence that located the attacker wanted for the deadly shooting of the brothers in the west bank Huwara town 10 days ago.
Mr Netanyahu said: "IDF soldiers, ISA agents and officers of Israel's National Counterterrorism Unit have eliminated the heinous terrorist who murdered the two wonderful brothers in cold blood. , Hallel and Yigal Yaniv.
"Our brave soldiers acted with surgical precision in the heart of the murderers' lair. I congratulate them and send my best wishes for a speedy recovery to our wounded.
"As I have said many times: whoever hurts us will pay the price."
A video circulating online shows a fierce gunfight as Israeli soldiers focused on a building in the city.
A little Israeli drone was also shot down by Palestinians during the operation.
In addition, three wanted Palestinians were arrested in the city of Nablus. It has been reported that they are the sons of the wanted terrorist.
Riots, threats and tensions since the killings
The murder of Yaniv Brothersaged 21 and 19, sparked violent riots when hundreds of settlers carried out revenge attacks on Huwara.
Cars and houses were set on fire and a Palestinian was killed.
The riot was described as "a pogrom" by a senior Israeli commander, Major General Yossi Fuchs.
But despite global condemnation, Israel's far-right finance minister Bezalel Smotrich said days later that Huwara should be 'annihilated'. He then offered a partial retraction.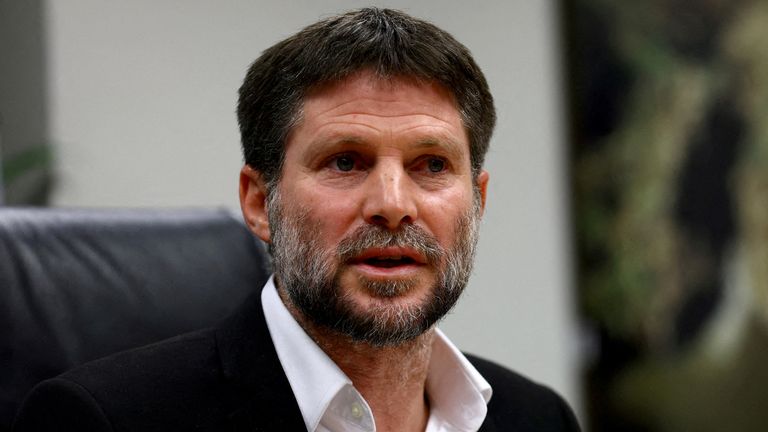 Settlers carried out further attacks on Huwara on Monday evening, throwing stones at shops and cars, including one that had a young family inside.
A video posted on social media showed Israeli soldiers dancing with settlers in the city.
Learn more:
Divisions deepen as six people die in six days in West Bank
Residents of Huwara reflect on a night of violence
Israeli minister says Palestinian town should be 'annihilated'
Today some shops started to reopen after the forced closure following the riots.
Palestinians fear new attacks
Although the town is once again occupied, there is considerable fear that further attacks will follow.
Palestinian residents have set up a nighttime neighborhood watch in Huwara to try to prevent further attacks. Many of them have been affected by the recent violence.
"I have a daughter at her house, and she called me. She was crying," Hassan Owda told Sky News.
"What happened, what's going on? I asked. She told me that the settlers were coming to the house. I was here [in the shop] and I told him to close the door, don't open the door, stay at the end of the room and before they get to you, we'll be there.
With the reopening of stores, life on the surface is getting back to a bit of normal. Israeli soldiers still patrol the city, but in fewer numbers, and Palestinians we spoke to said they were not protected by the army.
"Nobody feels safe here," said Mohammed Owda.
"There are about 600 shops in Huwara and they all come and start closing around 7am. We asked them why they were closing and they are sure it is not safe here. We cannot do business. "
Click to subscribe to Sky News Daily wherever you get your podcasts
The Palestinian city is surrounded by a number of Israeli settlements and has become a hotbed of violence.
US Secretary of State Antony Blinken has again raised concerns about the escalating violence, and it is expected to be a main talking point when US Secretary of Defense Lloyd Austin arrives in Israel for a visit later this week.