An anti-Kremlin activist jailed for social media posts criticizing the invasion of Ukraine has told Sky News that 'Russia is not Putin'.
Dmitry Ivanov, who founded an opposition Telegram channel for students at his university, was convicted by a Moscow court of spreading false information about the army.
Mr Ivanov, a 23-year-old Russian blogger, will now spend more than eight years in prison.
Ukrainian War – latest: Zelenskyy vows to hold Bakhmut as Russians close in
Last year, the Kremlin passed a law banning the publication of what it calls false information about its war in ukraine.
The legislation has been used to prosecute individuals who deviate from the official government line that this is "a special military operation".
Speaking before his sentencing, Mr Ivanov told Sky News: "You have to understand that Russia is not Putin.
"We didn't vote for him and he didn't ask us to start this war with our closest neighbours.
"I know that tens of millions of people here in Russia are against this criminal war. Many of us have friends and relatives in Ukraine and we feel their pain."
Mr Ivanov said the war was a "great tragedy for the Ukrainian people", but also a "tragedy for the Russians".
He called for peace, denouncing the "suffering under the dictatorship", and said today was "a dark moment in our history, but the darkest moment is always the first sunrise".
Mr Ivanov was charged over a number of social media posts on his Telegram channel that called Russia's campaign in Ukraine a "war" and spoke of Russian forces attacking civilians and civilian infrastructure in Ukraine.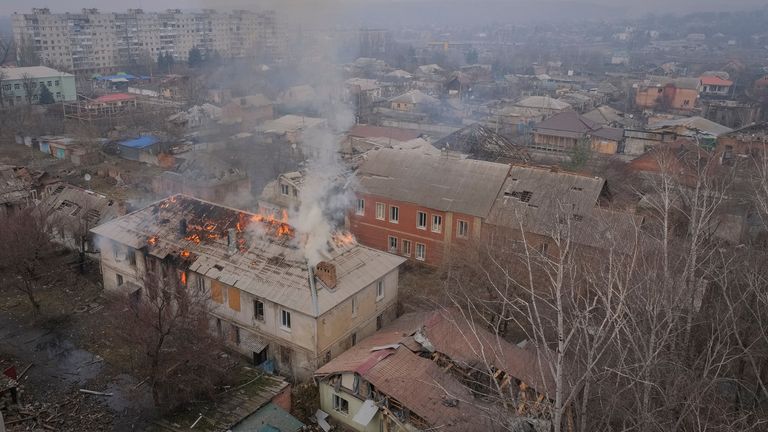 The posts also accused Russia of committing war crimes in the kyiv suburbs of Bucha and Irpin, and of targeting the Zaporizhzhia nuclear power plant. Most were reposts from other sources.
Mr Ivanov, a former student of Lomonosov Moscow State University, will also not be able to be present on the internet for four years after his release.
Amnesty International reported that he also posted a video message from Ukrainian President Volodymyr Zelenskyy and called for protests in Russia.
Pictures and videos on Telegram show Mr Ivanov shrugging his shoulders as the sentence is read, while smiling and laughing.
He had maintained his innocence and maintained his initial comments.
In his final speech to court last week, Mr Ivanov dismissed the charges against him as "sembling absurd" and said the crime he was being prosecuted for "should not exist at all".
Publicly "discrediting" the military in Russia can result in up to 15 years in prison.