Active service members and veterans have described in heartbreaking detail the carnage and death they witnessed during the chaotic U.S. withdrawal from Afghanistan.
Former US Marine Sergeant Tyler Vargas-Andrews was among those who testified to the House of Representatives Committee on Foreign Affairs examining the handling of the withdrawal.
Mr. Vargas-Andrews broke down in tears as he recounted the deadliest moment of the US evacuation in August 2021: a suicide bombing at Kabul airport that killed 170 Afghans and 13 US servicemen and women.
Afghan withdrawal "a catastrophe"

He told of the stench of human flesh beneath a large plume of smoke as the screams of children, women and men filled the space around the airport after two suicide bombers attacked crowds of Afghans hoping to flee the country in a plane.
He said Marines and others aiding in the evacuation operation were given descriptions of men believed to be planning an attack before it happened.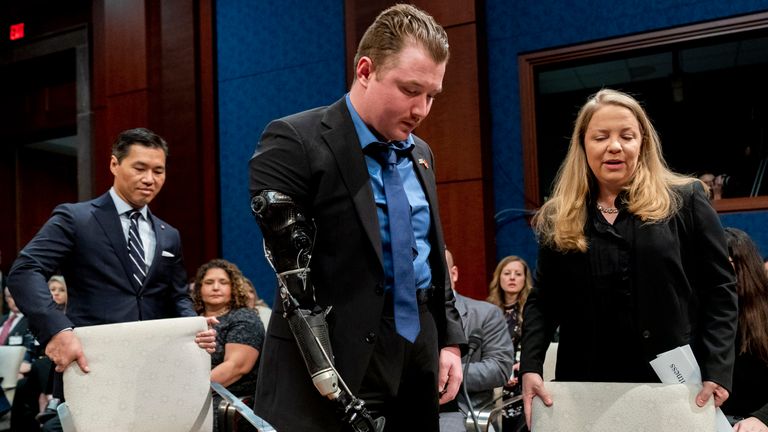 Mr Vargas-Andrews, who had to have his right arm and right leg amputated following the bombing, said he and others spotted two men who matched descriptions and behaved suspiciously, and eventually had them targeted, but never received an answer as to whether to take action.
"No one has been held accountable," he told the Vargas-Andrews commission. "Nobody was, and nobody is, to this day."
"The withdrawal was a catastrophe in my opinion."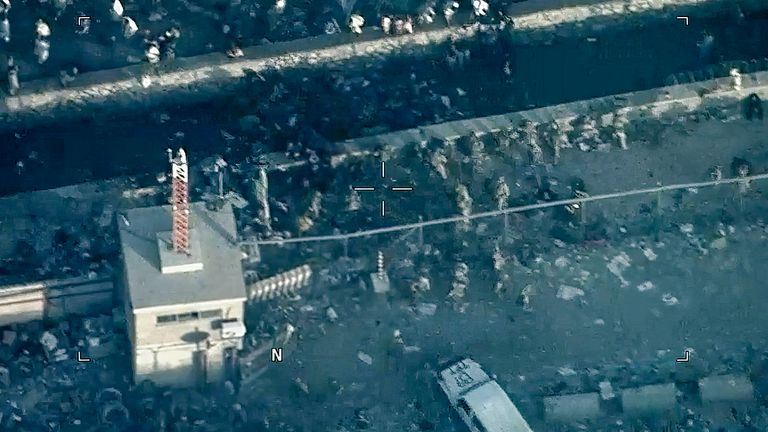 The withdrawal ended America's longest war, a 20-year campaign that saw tens of thousands of Afghans and more than 2,400 Americans die.
Thousands of Afghans rushed to Kabul's airport in August 2021 in hopes of escaping the new Taliban regime which had taken over the capital much faster than US intelligence predicted.
Witnesses at Wednesday's hearing recalled seeing mothers carrying dead babies and the Taliban shooting and brutally beating people at the airport. They described the desperate US attempt to rescue American citizens and Afghan allies, blaming inadequate planning and support.
"I see the faces of all those we couldn't save, those we left behind," said Aidan Gunderson, an army medic who was stationed at Abbey Gate, the area of ​​the airport where it exploded. the bomb.
"I wonder if our Afghan allies escaped to safety or were killed by the Taliban."
August 2021: Desperate attempts to escape from Kabul airport

President Biden followed through on Donald Trump's promise to leave Afghanistan – despite the fall of the Afghan capital.
Witnesses have called for action to help the many thousands of Afghan allies who have worked alongside US soldiers and who are now in limbo in the US or back in Afghanistan.
"Our veterans know something else this committee might do well to consider: We may be done with Afghanistan, but not us," retired Lt. Col. Scott Mann told the committee.
The Republican-led hearing is the first in what is expected to be a series that will look into the withdrawal.
Read more news from the United States:
TikTok "threat" is alarming Washington
Republicans slam Fox News host for calling Capitol riots 'peaceful gathering'
Bruce Willis: Thousands More Visitors to Alzheimer's Website
Defense Department spokesman Lt. Col. Rob Lodewick said Wednesday that the Pentagon's previous review of the airport attack did not involve advance identification of a possible attacker or any calls for "an escalation of existing rules of engagement" governing the use of force by U.S. troops.
Last month, a report by US Inspector General for Afghanistan John Sopko found actions taken by both trump AND Biden administrations were instrumental in the sudden collapse of the Afghan government and military.
The report blamed all US administrations since US forces invaded in 2001 for failing to build a capable and sustainable Afghan military before completing the withdrawal of US troops in August 2021.