A Palestinian man who entered a settlement in the occupied West Bank armed with knives and explosive devices was shot and killed by an Israeli settler on Friday, the Israeli military said. The shooting came hours after a Palestinian gunman shot and wounded Israelis in central Tel Aviv.
The new violence was the latest to grip Israel and the West Bank in one of the deadliest bouts of unrest between Israelis and Palestinians in years.
The Israeli military said the armed Palestinian slipped into a farm near the Karnei Shomron settlement in the northern West Bank and was fatally shot by an Israeli settler guarding the land.
Palestinian authorities identified the man as Abed al-Sheikh, 21. His father, Badaie al-Sheikh, said Israeli security forces searched his home, interrogated him and confiscated his son's phone in the nearby Palestinian village of Saniriya.
Hours earlier, Israeli security forces entered the Palestinian village of Naalin and prepared to demolish the family home of the Palestinian suspect in the Tel Aviv shooting on Thursday night. The shooter had opened fire near Dizengoff Street in a bustling area of ​​central Tel Aviv and wounded three Israelis, including one seriously, before being shot and killed.
ISRAEL, PALESTINIAN HAD SECRET TALKS FOR WEEKS: REPORT
The Hamas militant group has claimed the attacker, a 23-year-old former prisoner named Moataz Khawaja, as a member of the organisation's armed wing. Hamas said the shooting came in response to an Israeli military arrest raid that day that killed three gunmen in the northern village of Jaba, along with another raid earlier this week that killed seven Palestinians in the refugee camp. of Jenin's flashpoint, including a wanted assailant and a 14-year-old boy.
"This is proof of the equation that for every action there is a reaction," Mosher al-Masri, a Hamas official, told the Associated Press at a rally in support of the Tel Aviv shooting held in the city of in the northern Gaza Strip. Beit Lahiya. "Blood will be returned with blood, the killers will be killed, the bombers will be bombed."
Israeli police said on Friday they were continuing their investigation into the Tel Aviv attack and that two men from the Israeli town of Ramle, near Tel Aviv, and the Bedouin town of Kuseife in the Negev desert, had turned themselves in for the their alleged smuggling. of the gunman and other Palestinians from the occupied West Bank to Israel.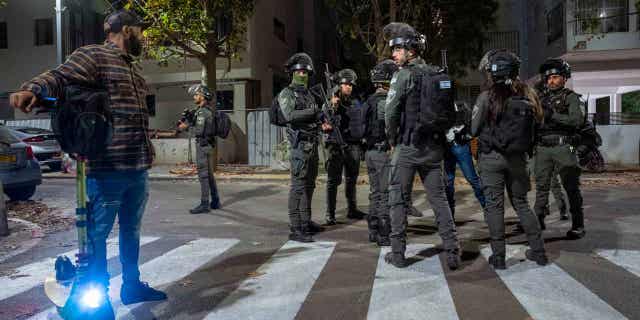 When Israeli forces raided Naalin and arrested two family members of the suspected attacker for questioning, they said they were met with a barrage of explosive devices, Molotov cocktails and stones. Israeli troops responded with gunfire, which they said hit at least one Palestinian. The person's condition was unclear.
Before being arrested, Khawaja's father Salah Khawaja said he felt proud of his son for carrying out the attack. Like many Palestinians who live in an environment where attacks against Israelis are celebrated and their perpetrators glorified, he expressed little sympathy for Israeli civilians and said he understood his son's desire for revenge.
ISRAEL ATTACKS IRANIAN TARGETS IN SYRIA AS SHADOW WAR BETWEEN THE TWO ADVERSITIES HEATS UP: REPORT
"Praise God, Moataz is loved by all," he told reporters. "Any young man who witnesses such massacres will naturally respond."
Further north, Israeli forces have entered the Palestinian city of Tulkarm, home to an emerging armed group that has attracted more and more young Palestinians angry at Israeli violence and disillusioned with their leadership.
Gunmen opened fire, hitting an Israeli military vehicle in the city, the army said. Others threw explosive devices and shot at Israeli forces from a passing car. The Israeli military said it responded with live fire. There were no immediate reports of casualties on either side.
Recent months have been marked by increased violence in the West Bank and East Jerusalem, which Israel captured along with the Gaza Strip in the 1967 Middle East war. Palestinians are seeking those territories for a future independent state.
CLICK HERE TO GET THE FOX NEWS APP
At least 75 Palestinians have been killed by Israeli fire in military stoppage raids and other clashes so far this year, according to a tally from the AP. During the same period, a series of attacks by Palestinians on Israelis has claimed the lives of at least 14 Israelis this year, all but one of them civilians.
The rise in deaths has raised fears of a possible major escalation under the most right-wing Israeli government in history, which has promised tough action against Palestinians.