The aftermath of two powerful earthquakes that shook Turkey and Syria have left many homeless and heightened the risk of a widespread food and nutrition crisis, charities say.
Many were forced to live in cars and temporary tents, without access to basic amenities such as showers or toilets, after the earthquake and its aftershocks last month destroyed or catastrophically damaged at least 156,000 buildings in Turkey and killed more than 50,000 people in Turkey and Syria.
Charities rushed to provide hot meals, loaves of bread and fresh water.
Among them, Action Against Hunger – which is supported by the Disaster Emergencies Committee – distributed ready-to-eat rations from nearby towns, including canned chickpeas, chicken, tuna, vegetables and fruits in sensitive areas of southeastern Turkey. In total, Action Against Hunger provided 2,500 kg of dry food and nearly 2,000 kg of fresh food.
But while the food baskets are essential to help survivors stay strong and healthy, they don't always contain the foods typically eaten by locals.
In the town of Beyoglu, near the southern town of Kahramanmaras and close to the epicenters of the tremors, Action Against Hunger has helped set up a kitchen to provide local dishes and fresh food at a community center next to a soccer field where people camp after losing their homes.
The kitchen also helps people rebuild their sense of community in times of crisis, says Ana Mora Segura, spokesperson for Action Against Hunger who has been in Turkey since the earthquake.
She told Sky News: "Places people have known all their lives are either damaged or gone which is very disruptive so being able to come together and act on their own to support themselves is the first step. community rebuilding."
The kitchen supplies 3,000 people a day with meals containing ingredients typical of the Mediterranean diet, including fresh foods and local dishes containing oil, olives, yogurts, fruits, vegetables and cereals.
It also reassures those who are still suffering from the disaster.
"For me, this community kitchen gives us security, because we know we get hot food at a certain time every day and we get help regularly," says a 20-year-old Turkish man who stayed in the tents. and have been using the kitchen since the earthquake.
"We also feel very safe in the tents because of the security forces in the area."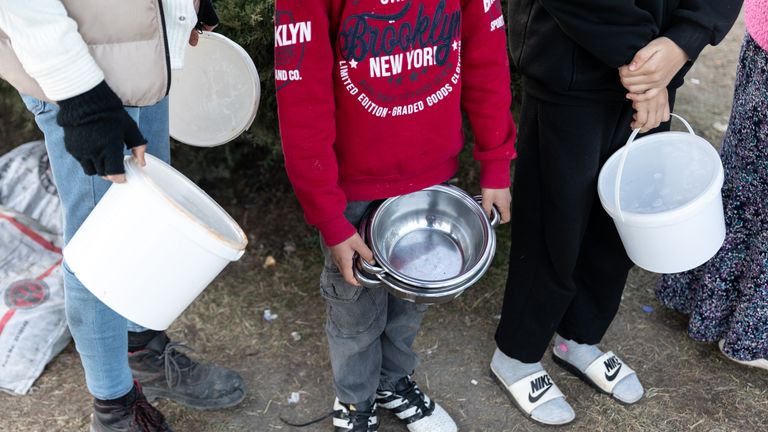 Providing local food gives people a sense of normalcy
While the foods found in a typical relief kit are highly valued by those affected by the emergency, providing local foods has helped give people a sense of normalcy, says Cristina Izquierdo, the team's nutrition and health coordinator. Action Against Hunger Emergency Response.
Learn more:
Heartbreaking images of the earthquake between Turkey and Syria
Is more aid sent to Turkey than to Syria?
"They are some of the most resilient people," she told Sky News. "Some people give everything they have to others… That feeling of supporting each other really brings hope.
"People are grateful to be alive and are ready to support their community."
The community center also supports displaced people in other ways, donating clothes, heaters and hygiene items such as sanitary napkins, soap, baby wipes and diapers.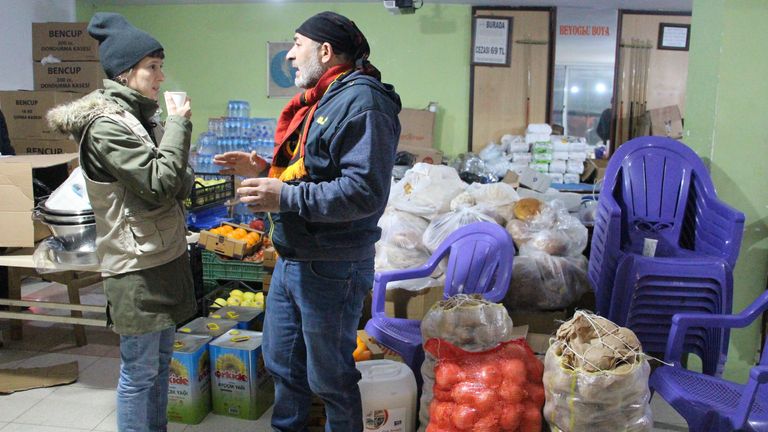 "I have work here"
One of the volunteers in the kitchen is Akif, who, as news of the disaster spread, heard that urgent help was needed in Beyoglu, where a large number of houses were destroyed.
Leaving his restaurant in Soke, a town on Turkey's Aegean coast, he traveled with his friends to help set up the community kitchen.
"My friends tell me to go home, but my family is safe, that's why I came," says Akif. "I have work to do here."
Akif and other volunteers also prepared parcels to distribute to nearby mountain villages and to families who remained near their collapsed homes.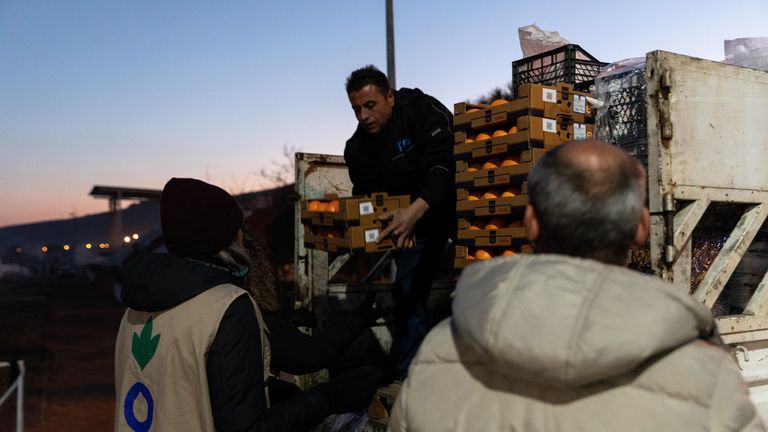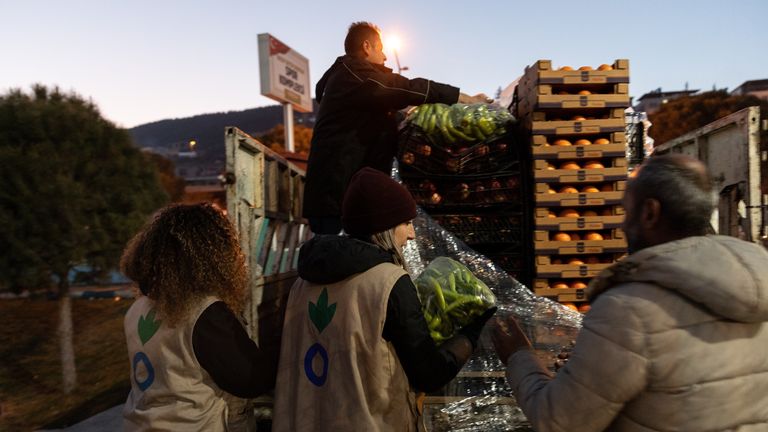 Rebuilding the sense of community in times of crisis
Ms Izquierdo says people were 'very humble' and initially only asked for rice, but were then asked about their local diet and what items they would like to see the charity help provide, including fresh food and vegetables, but also products for children such as yoghurt and other dairy products.
A range of dishes were served, such as Turkish rice with sehriye, a type of pasta similar to vermicelli, and chickpea and tomato soup.
But Action Against Hunger warns that the risk of widespread food insecurity has skyrocketed following the earthquake in Turkey and Syria, with access to food becoming even more difficult than it was before the disaster, as many people lost their homes, jobs and livelihoods. Syrians also have to deal with the continuing effects of the country's 12-year civil war, in addition to the damage caused by the earthquake.