The death toll from several attacks this week by extremist rebels in eastern Congo has risen to at least 45 people, local officials said on Friday.
Dozens were killed by rebels using machetes over two days when rebels from the Allied Democratic Forces, a militia with ties to the Islamic State group, killed civilians in several villages in North Kivu province, Saidi Balikwisha said, provincial deputy.
"Here not three or four days go by without deaths being recorded, the result of the barbarism of the ADF terrorists. peace," he said.
Little has been done to help others whose homes have been burned by rebels, he said.
AT LEAST 36 PEOPLE KILLED BY EXTREMISTS LINKED TO THE IS GROUP IN EASTERN CONGO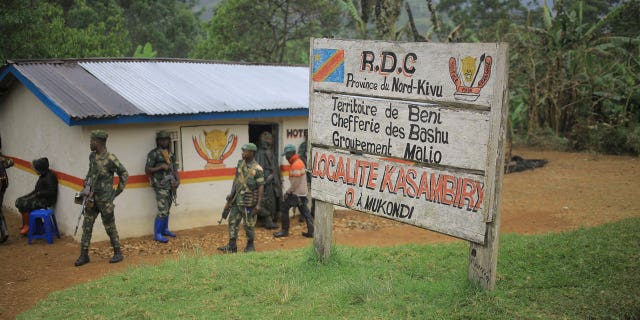 CLICK HERE TO GET THE FOX NEWS APP
Conflict has simmered in eastern Congo for decades as more than 120 armed groups battle for power, influence and resources, some to protect their communities. The ADF has been largely active in North Kivu province, but has recently expanded its operations into neighboring Ituri province and areas near the regional capital, Goma.
ADF rebels are accused by the United Nations and human rights groups of targeting, maiming, raping and abducting civilians, including children. Earlier this month, the United States offered a reward of up to $5 million for information that could lead to the capture of the group's leader, Seka Musa Baluku.
On Thursday, AP reporters saw the bodies lowered into a mass grave in Mukondi, where more than 30 people were killed by gunshots, knives and machetes, according to authorities. Community members shoveled dirt over the bodies against a backdrop of destroyed homes.
The United Nations peacekeeping mission in Congo has condemned the killings and is urging Congo authorities to investigate and bring those responsible to justice.