With Oscar glory and a possible economic boom on the line, a sense of anticipation gripped the island off the west coast of Ireland, where one of the Oscar heavyweight contenders was extensively filmed.
The Banshees of Inisherin, which has no fewer than nine nominations including Best Picture and Best Actor, may be set on the fictional island of Inisherin, but was actually filmed on Achill Island. and the island of Inis Mor in 2021.
The head of Achill Tourism told Sky News of a huge uptick in phone calls and inquiries from around the world as fans of the film plan to visit Achill's nine filming locations.
"It touched people emotionally in that they saw it on the big screen, and they may have thought about coming to Ireland, and that just rekindled the emotion," said Chris McCarthy. "They make the calls, they make the reservations and we are delighted with the success.
"Isn't Sky News here, what more can we ask for?" We've been on all kinds of media now, we're getting global traction. advertisement."
The advert appears certain to boost visitor numbers to what is Ireland's largest island, linked by bridge to mainland Co Mayo. Achill's 57 square miles include stunning cliffs, verdant mountains and pristine beaches.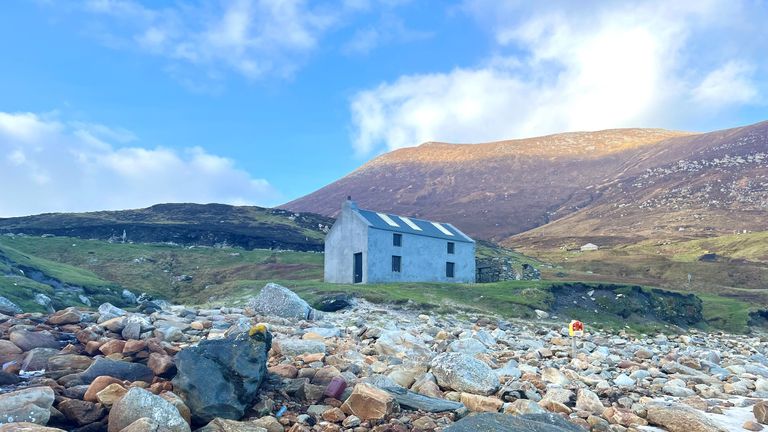 "Most of our office phone calls now start with the Banshees, or end with the Banshees. Some of the callers have asked our staff if the scenery is photoshopped, and we have to persuade them that no, it's real, and it's here.
"Of course, we hope for a [tourist] influx, but there are challenges – we have our environment to protect. This is our home, this is where we live. The beauty that [the film's director] Martin McDonagh saw here, we have to pass it on, to maintain that beauty so it can keep giving."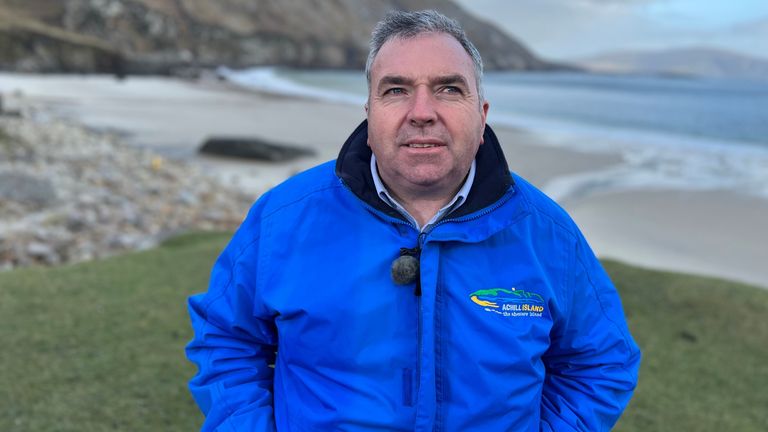 The critical acclaim that greeted The Banshees of Inisherin helped build a sense of pride and excitement in Achill and Inis Mor, but also surprised many – perhaps even the cast themselves.
Colin Farrell, who earned his first Best Actor Oscar nomination for his performance in Banshees, told Sky News he was "shocked" by the success.
"To make the movie, to be off the west coast of Ireland with the cast we had, the crew we had, find this guy [Brendan Gleeson]reuniting with Martin, I was happy," he said.
"And then Venice came [the Venice International Film Festival]and we were all shocked by the reaction he had in Venice, and it's been like a snowball ever since."
As the ultimate arbiter of critical adulation approaches, Achill locals will gather to watch the proceedings from Los Angeles in pubs like the atmospheric Lynott's in Bunacurry, on the east of the island.
Its owner Mick Lynch, originally from London but a lifelong islander, is the proud owner of the original shears that play such a central – and bloody – role in the film. The shears were given to him by a member of the production crew as they were leaving the island.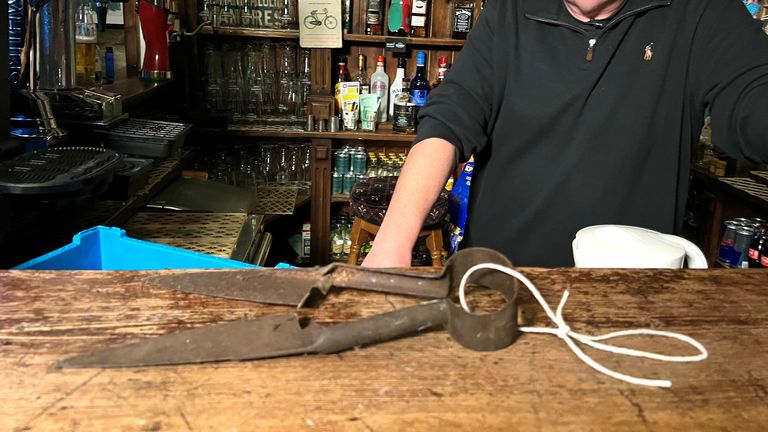 By taking them off the wall, he rejects the idea of ​​using them to control unruly gamblers.
Learn more:
Avatar: The Way Of Water – how gaming technology helped bring the Oscar nominee to life
Everything Everywhere All At Once directors 'the Daniels' on this year's craziest movie
"It would be interesting to see, wouldn't it, what would be left of it," he wonders. "No, we wouldn't, it's not cricket, is it?" We want customers to come back. If they come back without fingers, they won't be able to hold a pint, will they? »
Madeline Condell has a much less macabre memory of her involvement in the film. She holds a photo frame containing the back of a packet of cornflakes, signed by the actors, including Brendan Gleeson and Colin Farrell.
"He laughed and said that in all his years of signing autographs, he had never had to sign a box of cornflakes. So I was mortified of course, and thrilled at the same time , you know, to have a conversation with two Hollywood celebrities. And very approachable too, really nice people. They've integrated really well into the community here.
Madeline was one of the extras featured in the church scenes. Although there are several Catholic churches on Achill, the producers chose to use the only Church of Ireland (Protestant) church – St Thomas – which was to serve as a Catholic place of worship. This necessitated the installation of new confessionals, which were later removed, although the church was given a new heating system.
And Jenny? – the real scene stealer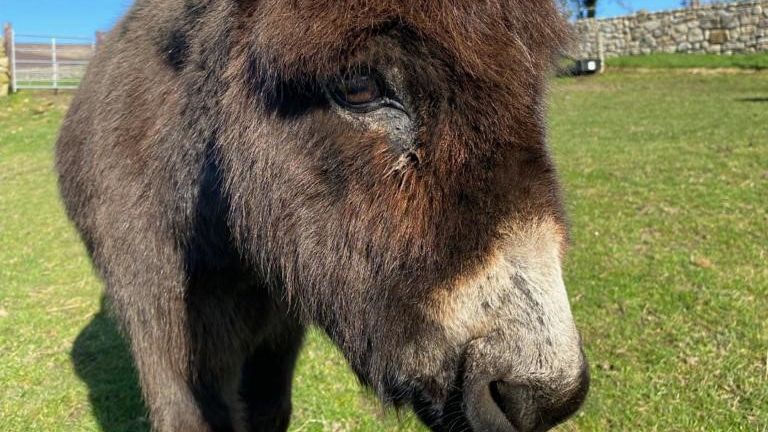 One movie star who won't be tuned into the Oscars is Jenny the Miniature Donkey. Described as the film's true scene-stealer, Jenny has won over a legion of fans as a constant companion to Colin Farrell's character, Padraic.
In the film, Jenny's story had a tragic ending, but in real life she "thriving" after Martin McDonagh insisted she retire from acting early. In fact, her current whereabouts are a closely guarded secret, but she lives with several other donkeys somewhere in the Irish Midlands.
Click to subscribe to Backstage wherever you get your podcasts
One of her original trainers, Rita Moloney, sent Sky News photos of Jenny from a few weeks ago, showing her looking healthy and in a full winter coat. "She rules the roost" in her new home, Rita said.
Jenny may have retreated from the limelight, but Achill Island could be thrust into the world stage in a big way if the Banshees pick up several statuettes at the Dolby Theater on Sunday night.
You can watch the Oscars on Sunday March 12 from 11 p.m. exclusively on Sky News and Sky Showcase. And for everything you need to know ahead of the ceremony, don't miss our special Backstage podcast, available now, and don't miss our special winners episode starting Monday morning.