We were worried about Serhiy Petrushenko, a 21-year-old boy we met guarding a bridge alone in central Kiev on the second day of the war.
He became an overnight sensation after our report, the interview has been watched over 50 million times on social media alone.
When we spoke to him, his fear was sincere, visceral and irresistible, and his concern for his family – whose village was already surrounded by Russian soldiers – was so alive, even on film.
Since then, we have been thinking of him.
Like so many people at the time, Serhiy thought the Russians were coming and he was going to die.
Hours after we aired, Sky News was inundated with people asking for more information.
Learn more:
Putin's defense minister 'sensitive' over comparison with Wagner boss
The war in Ukraine was a conflict like no other
Jailed Anti-Kremlin Telegram Blogger Tells Sky News 'Russia Isn't Putin'
And those messages of concern for the boy on the bridge, as we know him, continue today. So we asked the Ukrainian military if they could confirm he was alive and help us find him.
It took them more than two months to find him. To be fair, that's a tough question in the chaos of war, but at least they've confirmed he's alive.
This week I saw Serhiy again, he works as an army cook. We shook hands and later we kissed.
To this day, he really can't believe he has become so well known, that hundreds of people still write to him every day and that he receives invitations to visit them after the war… from Finland to Hawaii .
"Hundreds of people, hundreds of people on social media text me every day. Every day they ask me about my family, how I'm doing," he told me.
"I tried to reply to all the messages individually but in the end I couldn't."
We met in a field kitchen next to the woods in the Kyiv region as he prepared lunch for soldiers training for combat.
"The first time we met, I wasn't cooking then, but a few months ago I came to where I belong, to the kitchen. And, for months, I cooked for my soldiers in many places."
It's a little-known but incredibly important job – soldiers can't fight if they're hungry.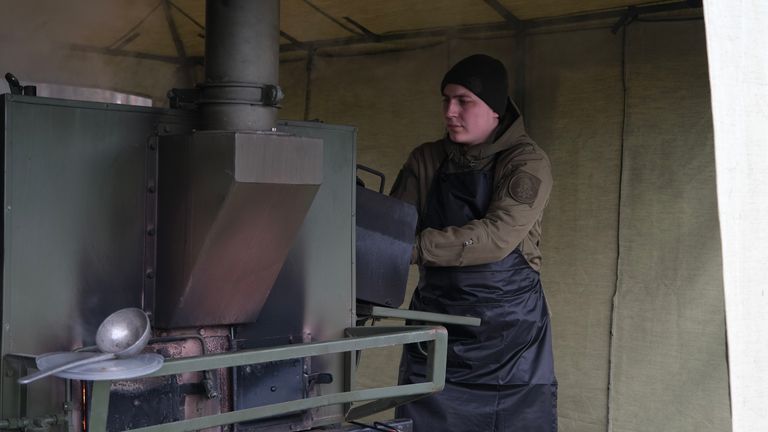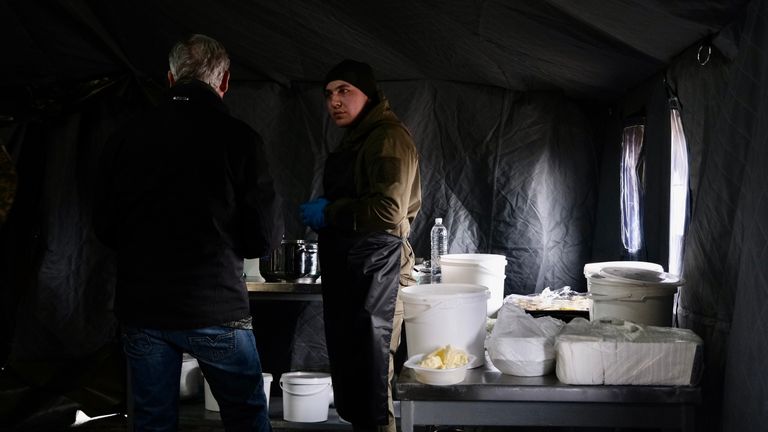 It also inspired him to dream. After the war, Serhiy wants to travel to Italy, experience cooking and maybe even train to become a professional chef.
He says he has grown rapidly over the past 12 months. "I feel older, and I look older since you met me," he said, smiling and laughing.
We met at the beginning of the war by chance, to be honest.
On a whim, we decided to film the many bridges that cross the heart of Kyiv, and the pedestrian bridge we spotted while passing was perfect.
With his rifle in his arms, Serhiy came towards us to ask us what we were doing. We explained ourselves and he said that we could film but that he had to stay and watch us.
He was a nice guy, and as we were wrapping up filming, I asked without any expectation of agreement if we could interview him.
We didn't talk long, but her story resonated around the world.
He seemed somewhat puzzled as to what use he could actually have, as he had only fired 16 rounds in his life.
That number is now between 50 and 60, he says. But he prefers to cook.
Serhiy's home village in the Sumy region was liberated by Ukrainian forces after being taken over by Russia, and he says his parents and grandparents are all doing well.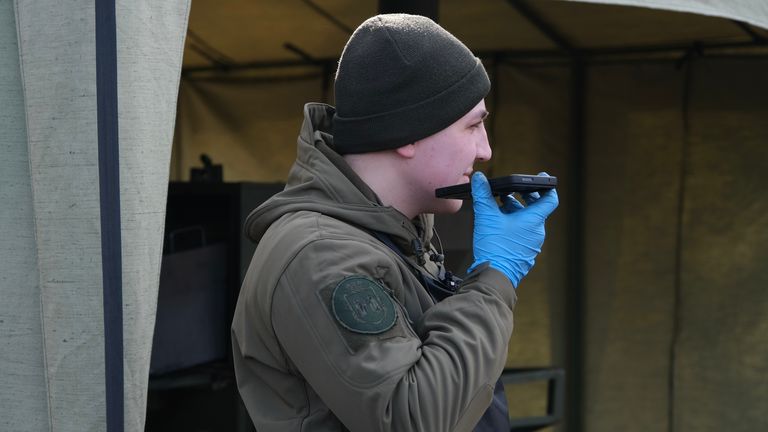 "I'm lucky that my family is fine. My parents, my friends, they are fine. But when they occupied my village, people were injured, others were killed."
Like many here, he is confident that Ukraine will win.
"People are very determined to defend the country…we will eventually push them [Russia] towards their borders, perhaps even forward. Yes, they will not win."
Words from Serhiy Petrushenko's mother – Lyudmyla Petrushenko
Sadly not everyone in Ukraine can watch Sky News, but my son's story was posted on Facebook and people were like 'Oh that's your Serhiy all over the internet!'
Like me, they were worried that he was there alone on watch.
We were worried then, and we still worry today, because nowadays a rocket can land anywhere.
When I hear stories of strikes, I start crying with concern for my son.
When we were under occupation at the beginning of the war, it was terrifying. We live very close to the border, and I understood that at 4 am the war had started.
At 8 am I went to the store where I worked and saw a lot of Russian military vehicles on the road. It was so strong and we were so scared. Tanks and armored personnel carriers – we couldn't believe our eyes.
We keep in touch with our son all the time because we care, and of course he cares about us too.
I miss him so much. You can't even imagine how much.
In truth, I never thought that Serhiy was really made for fighting and frankly, neither was he.
But he is no longer afraid and says he will continue to feed "his boys", as he calls the soldiers.
The boy on the bridge is a man now.