French President Emmanuel Macron insisted on raising the retirement age from 62 to 64 to make France's pension system financially viable in coming years, in a letter to workers' unions published on Friday.
The move comes after more than a million protesters marched in cities and towns across France this week as train and metro drivers, refinery workers and others went on indefinite strikes against the centrist government's plan.
Unions called for more protests on Saturday. They are calling for the withdrawal of the bill, which is under discussion this week in the French Senate.
According to the letter provided by the president's office, Macron said he had made the choice to "make the French work a little longer" because other options, which he rejected, would have involved "decreasing pensions, raising taxes or letting our children and grandchildren the financial burden.'
FRANCE PREPARES FOR FIFTH DAY OF NATIONAL PROTEST ON PENSION REFORM
Union leader Francois Hommeril of the CFE-CGC, which represents workers in the energy sector, among others, said on Friday that Macron's letter appears to be another "missed opportunity" for the president to press ahead with reforms by listening to workers worry.
The president "acts as if the social movement didn't exist," said Hommeril, French broadcaster BFM TV. He added: "I am very disappointed and concerned about (Macron's) response."
Opinion polls consistently show that a majority of French people oppose the change. Left-wing lawmakers argue that businesses and the wealthy should do more to fund the pension system.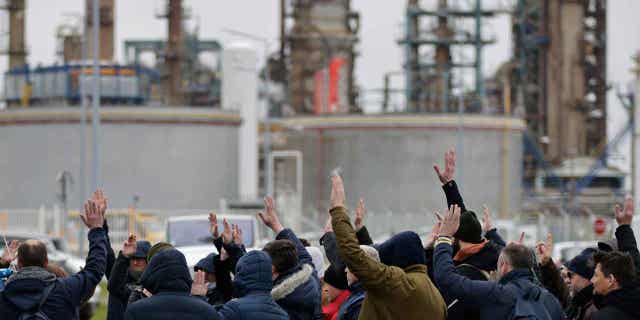 Macron also recalled that the measure was a key promise of his presidential campaign last year, adding that he made a concession by agreeing to set the age limit at 64, up from 65 originally planned.
FRENCH PROTESTERS TAKE TO STREETS IN COUNTRY-WIDE PROTEST AGAINST GOVERNMENT PENSION REFORM PLANS
"Strongly express your disagreement," Macron wrote to the unions. "I do not underestimate the discontent… as well as the anxiety expressed by many French people who fear they will never receive any pension".
Meanwhile, the government called on Friday for the implementation of a special procedure in the Senate to speed up the debate by organizing a single vote on the entire bill, rather than voting on each individual amendment and article.
The government's decision to push the bill through the Senate "will deepen the anger" among French workers, said Fabrice Coudour, leader of the influential union CGT Energy. On Saturday, he called on strikers and opponents of pension reform to take their grievances to the streets.
CLICK HERE TO GET THE FOX NEWS APP
The Senate, dominated by Republican party members, is expected to approve the bill. Conservative senators have been pushing for years to raise the minimum retirement age.
If the bill is approved by the Senate, it will continue to make its way through France's complex legislative process next week.