Karisma Kapoor topped the charts during the 90s when she formed a powerful partnership with stars like Govinda, Salman Khan and Shah Rukh Khan. Films like Raja Babu (1994), Coolie No. 1 (1995), Saajan Chale Sasural (1996) and Jeet (1996) established her stardom. Her association with Aamir Khan in Raja Hindustani (1996) and SRK in Dil To Pagal Hai (1997) cemented her place at the top. And then she followed up with a string of successes in the late 1990s, only to turn her career into a critical success with films like Fiza (2000) and Zubeidaa (2001) even winning her own awards. But then, just as quickly as her meteoric rise, Karisma gave up acting to take care of her children Samaira and Kiaan. She enjoyed her time away from the spotlight. In this week's Big Interview, Karisma looks back on her choice to quit frankly. She admits she had a breakdown and taking care of her family was very important to her. She also reveals why she hates the term 'comeback' and we begin the conversation by diving into her relationship and relationship with her sister Kareena Kapoor Khan, who in all honestly picked up where she Karisma left off from. Read on…
You just played a cop in an investigative thriller called Brown. Your sister Kareena Kapoor Khan should also play a policeman in a mystery with Hansal Mehta. Have you and Kareena always been on the same wavelength?

It's not a conscious decision, but I think it's nice to be able to have the likeness. I would say we're lucky to be able to bounce ideas and discuss scripts. That's how sisters are. Sometimes you may be talking to a friend and maybe he doesn't really understand where you are from. But I think Kareena and I are very lucky and fortunate that we can obviously talk about anything under the sun. Even when it comes to work, we understand each other.
Have you two always influenced each other in decisions, in real life or in your career?
That's how jokes go in the house. There's obviously the normal sister stuff going on — borrowing clothes, discussing movies, talking about motherhood, being a family — that's how Kareena and I can talk about anything under the sun. But it's true, Kareena and I obviously supported each other and pushed each other through every step of our lives. I think we've always helped each other to hopefully do the right thing. For me, that was the beauty of my relationship with her.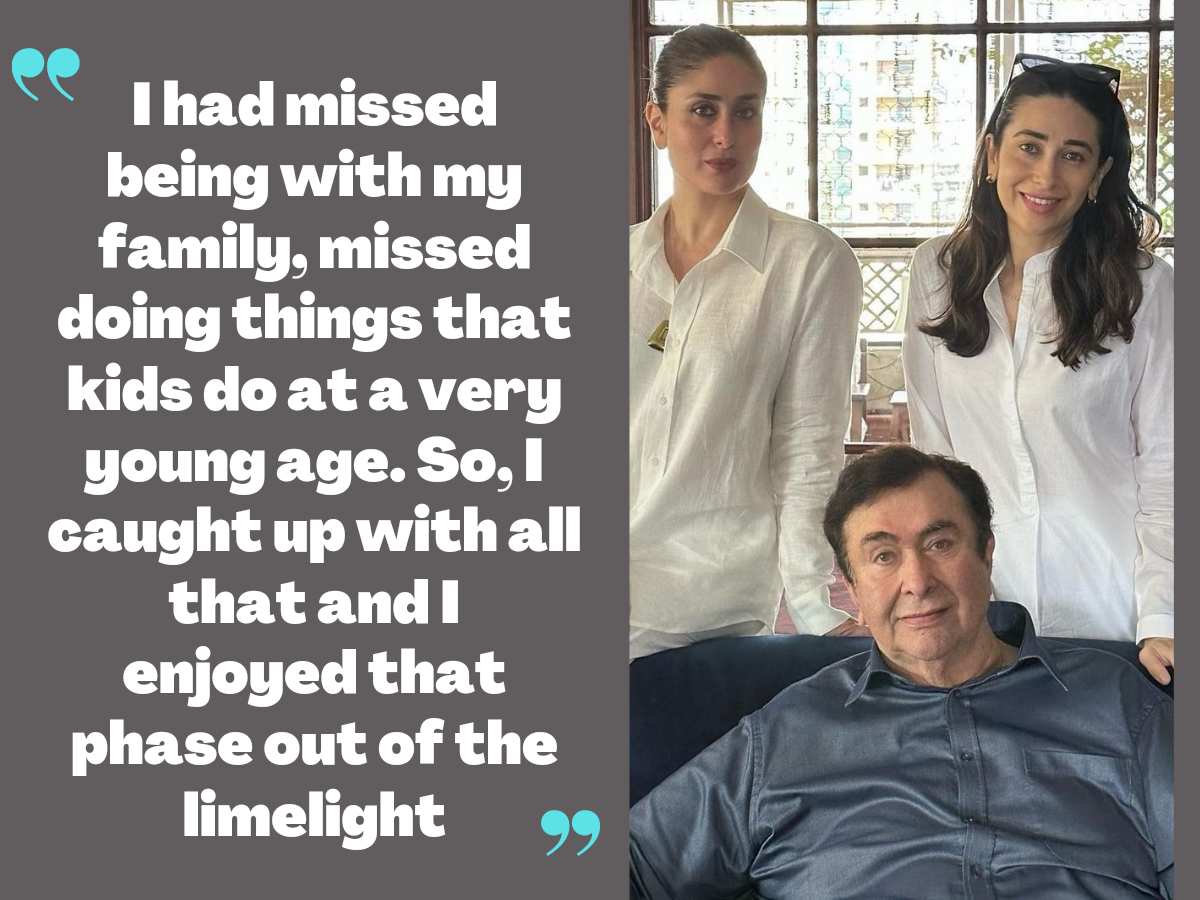 Has a movie or a character ever changed your life? Have you been forced to change your perspective?
Can I say something in a good mood? Back in the day, during the 90s and 2000s, life, perception and emotions changed every Friday. Whether you wanted it or not, Fridays had to change depending on the circumstances and the outcome of your releases. So, in a way, you had to get used to it. Today might be a Thursday and you might think that nothing can happen tomorrow, but Friday would change everything. The moral of the story was that you had to keep doing your best. Stay focused, keep doing your best. And that's all that mattered. I feel the key was to be honest with everyone: the audience, the people, the film industry, the directors, the critics and everyone in between. Do your best and leave everything else until Friday.
When you compare the peak of your career to today's times, how have things changed? Is the working atmosphere completely different? Is there still cutthroat competition?
It's not about competition anymore. I think it's a wonderful time to be an actor today. There are so many different roles out there in the industry today. There are so many interesting scripts on offer. People are making movies, shows, and all kinds of content. It's a very interesting moment because the quest is about being an artist and not being a star. This is how I look at change.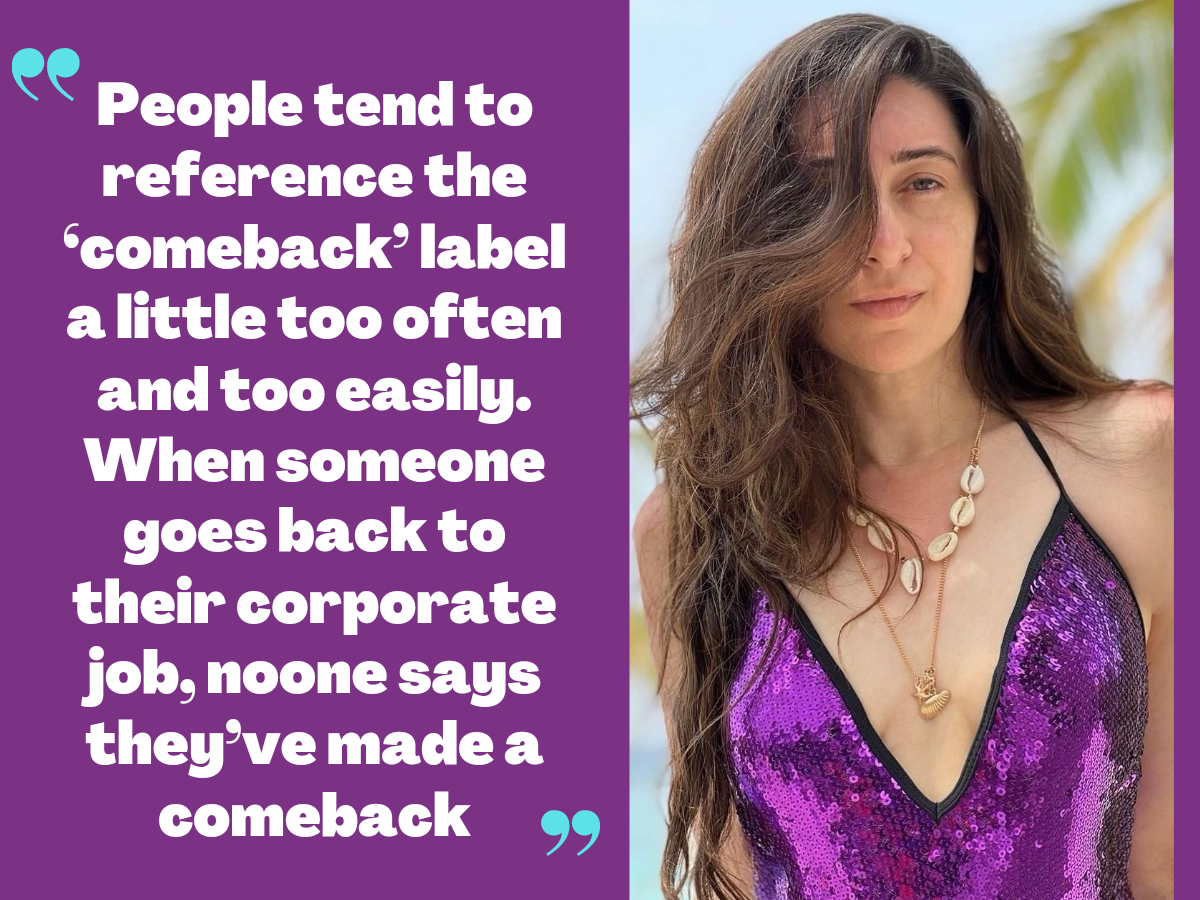 We've been told you don't like the term return. Why the aversion to that thought?
My God. The word return, honestly, should be wrapped up and broken down. We don't keep doing it to us actors. You tell me, when someone comes back to the office after a few years, is he going back to the corporate world? He or she has just returned to work. And people behave normally with that person. I think it should be the same with actors, whether they are men or women. But especially for females. People tend to refer to the "comeback" label a little too often and too easily.
You made your official comeback with Dangerous Ishhq in 2012.
More than 10 years have passed. Let's not do that. Let's not call it a return. They don't even do that in Hollywood. They never say a particular actor is returning. They just say that a former actor is working on a new movie now and that it's great and awesome. So, I think we should treat it like that as well.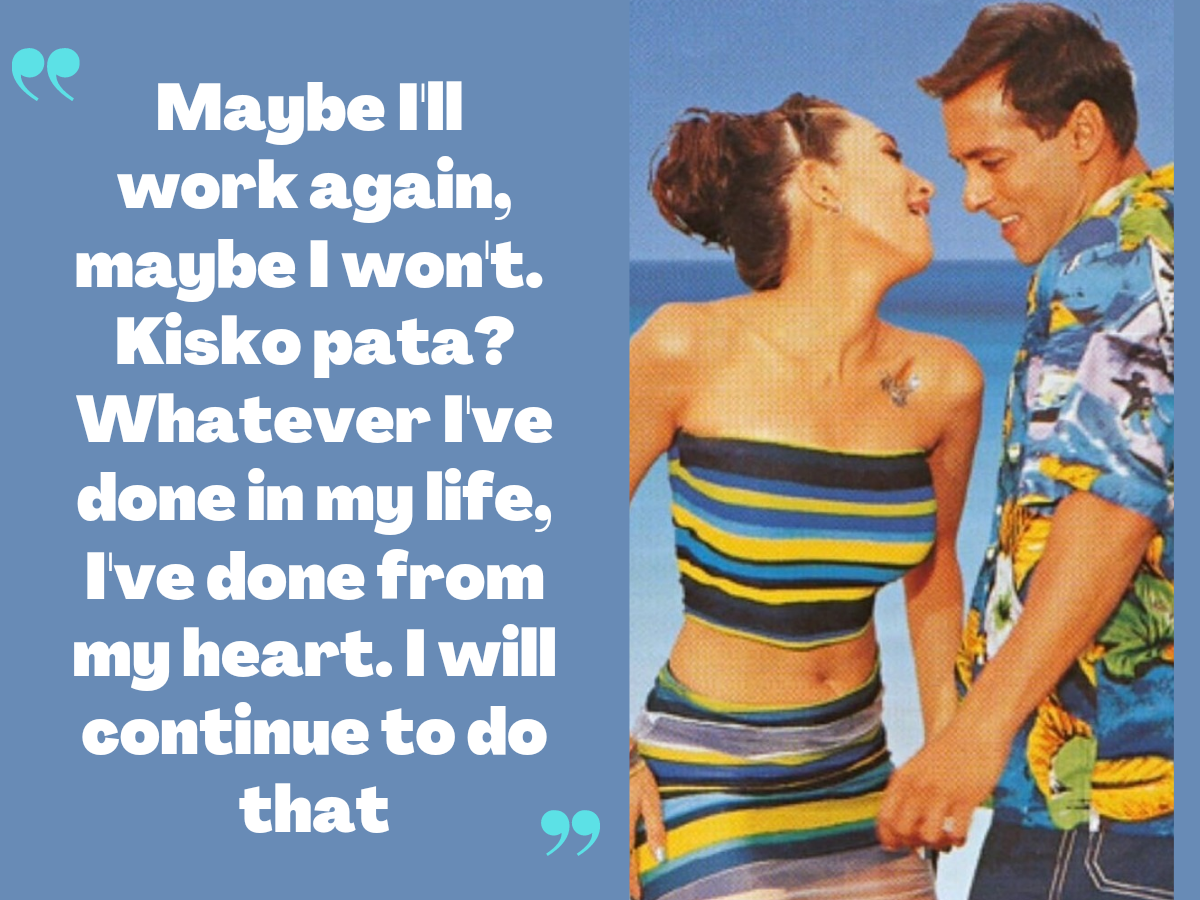 After Dangerous Ishq, over the past 10+ years, do you think you should have done more in terms of volume of work? Did you have to sign more projects?
Honestly, it wasn't my choice. My children were small. I wanted to be home. I started working at an unusually young age. I was working right out of school, literally. And I had done so many movies one after another. I worked four shifts a day and three shifts a day for several years. I would have 8 to 10 releases every year. Thankfully, most of them have been successful. But the thing was, I had been working a lot and I think I reached some sort of exhaustion. And then it was my choice not to continue. I didn't want to leave my home and get hurt. I didn't want to go to an outdoor place for 100 days. It was my choice to take it easy.
Have you ever felt the need to get back into the spotlight?
I was very happy to be away. People keep asking me, 'How did it feel to be out of the public eye?' I loved that period. I just want to relax and do things at home. I missed being with my family, I missed doing things that young children do. So, I got all that back and enjoyed that stage. I am very happy to be out of the spotlight.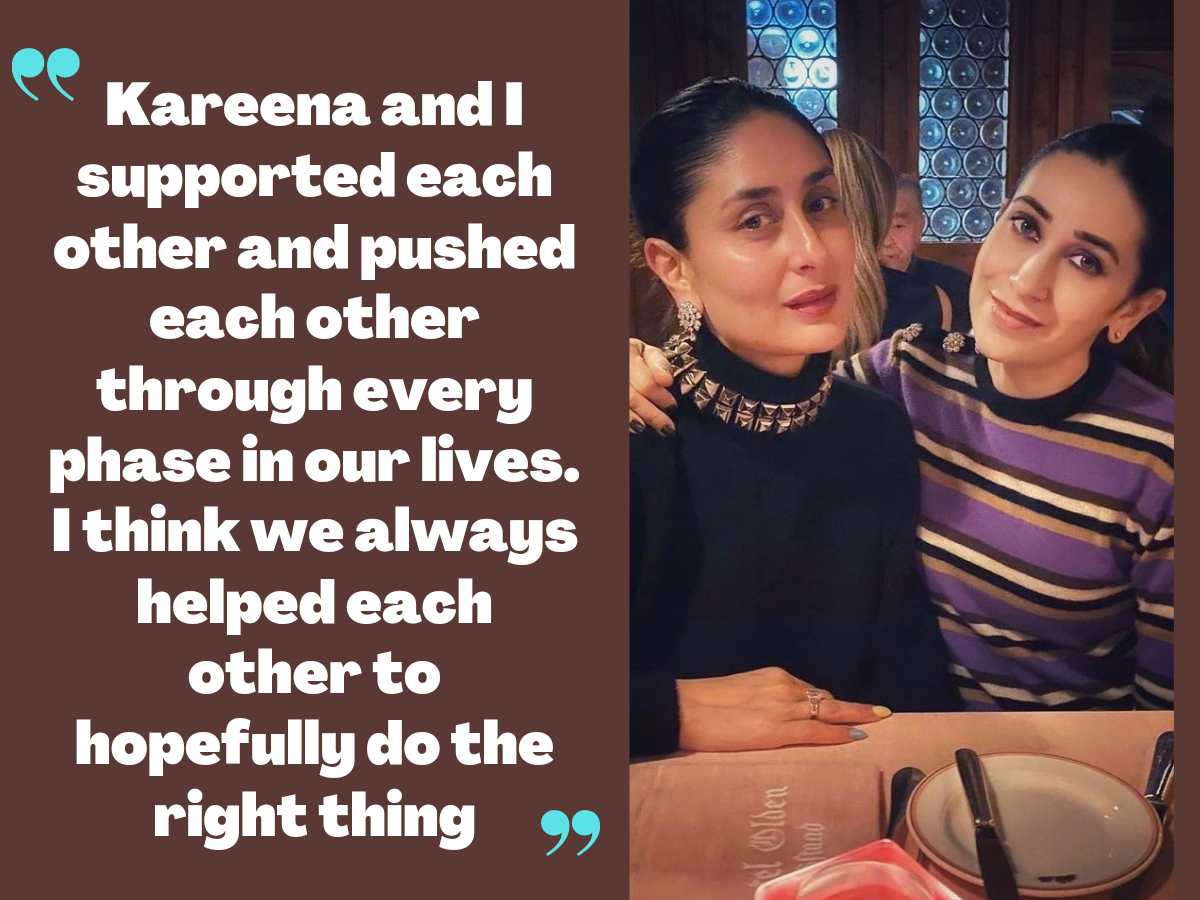 Would you like to go back to routine in the future? Or do you prefer to take it easy?
As much as I love being on a set, today I need to be really motivated to go and shoot. Put it this way, today, when I'm offered a role like that in Brown, I'm like, 'Oh my God, I've got to go do this.' I need that level of motivation to go to work. If you're asking, what happens next? My answer would be, maybe I'll work again, maybe not. Kiskopata. I work from my heart. Whatever I've done in my life, I've done it with my heart. I will continue to do it.
How much do your children Samaira and Kiaan influence your work decisions right now?
Honestly, I think they're happy that I'm back on set. I think they know mom has been home for quite a while. And now, as they're growing up, they're like, 'Mom, you should work too.' I think they are very supportive in this regard. They are definitely happy to see me out of the house.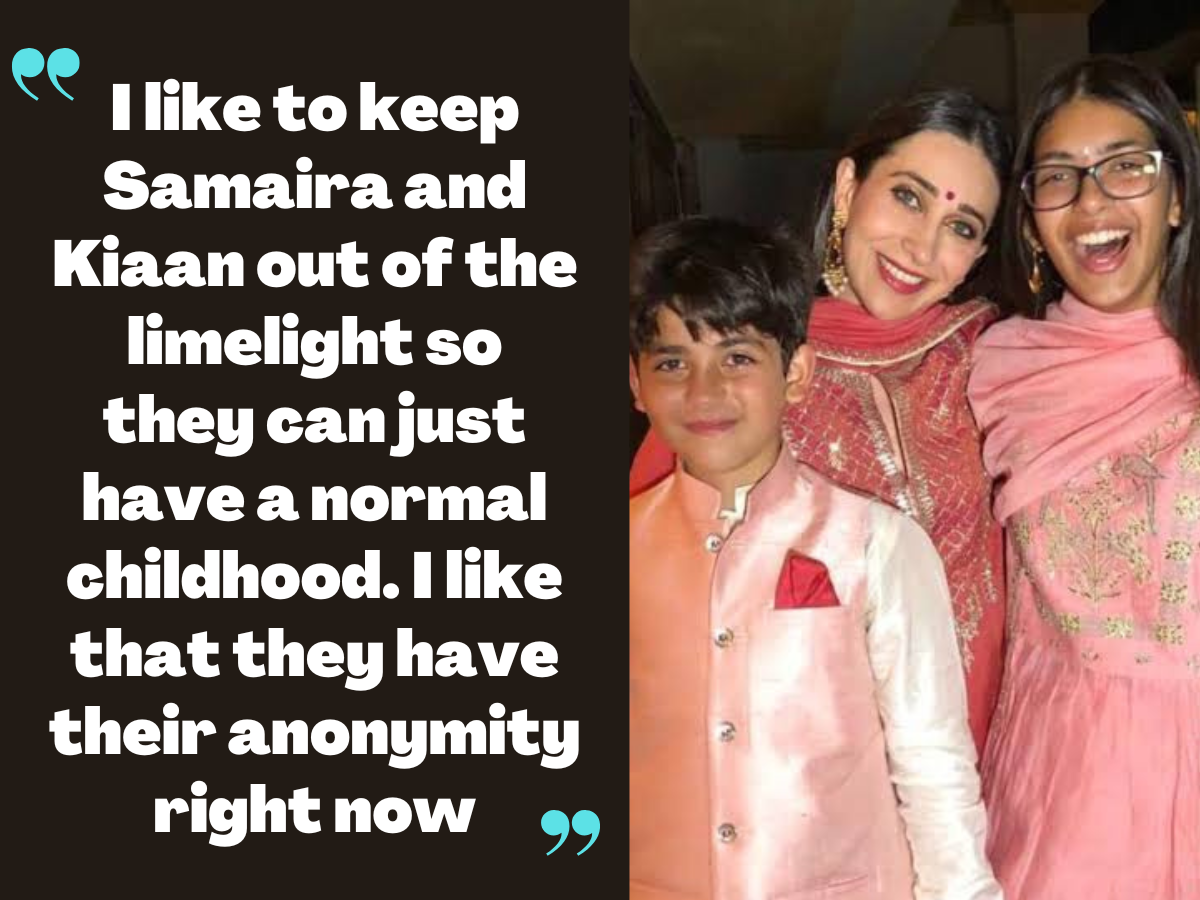 Has one of them already decided if he will follow in his mother's footsteps?
No, I think they are too young. I like to keep them out of the spotlight so they can have a normal childhood. I think that is very important to me as a parent. I like that they have their anonymity right now.