Ongoing affairs aside, the events in the Great Hall of the People of China are truly an awe-inspiring sight.
Everything is executed to perfection, from the synchronized tea party to the delegates' applause and even the pages turned in unison.
The National People's Assembly (NPC) is an annual event that, in theory, decides policy and occasionally makes changes to the constitution.
But amid spectacle and ceremony, this year has been largely about the continued entrenchment of one-man power, the president. Xi Jinping.
During this session, he was confirmed for an unprecedented third term as president after removing the traditional two-term limit.
He also managed to confirm a cabinet of loyal allies, including Li Qiang, the new second-in-command, a former protege and architect of the brutal and destructive Shanghai Lockdown.
Gone are almost any voices considered to have slightly different opinions or approaches.
And it was his program that was pushed everywhere.
Changes, for example, that continue efforts to shift power away from professional "officials" and increasingly into the hands of Communist Party cadres and Xi supporters.
Learn more:
China's military must become 'Great Wall of Steel', says President Xi Jinping
But perhaps one of the most enduring themes of this year's NPC was China's resolve amid an increasingly tense standoff with the West and America especially.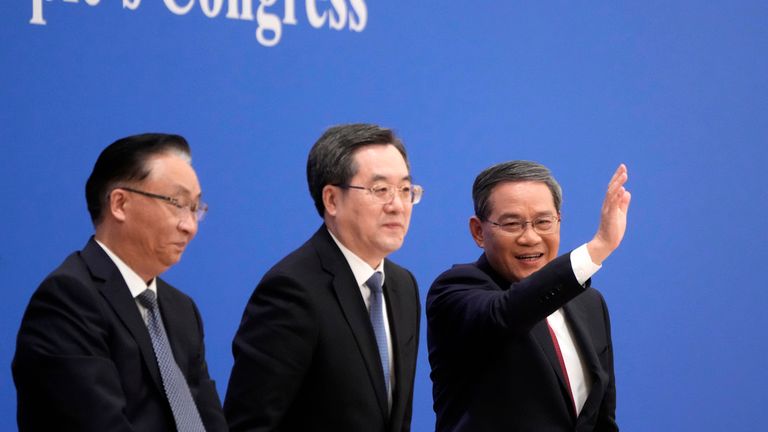 Earlier in the week, Xi, with unusual bluntness, spoke of the West's "complete containment, encirclement and suppression of China".
During the closing ceremony, he described how the army must be a "great wall of steel" against these forces. And the new foreign secretary has made it clear that unless America "restrains" its provocation, "conflict and confrontation" will follow.
There is no doubt that the heightened rhetoric is deliberate and part of Xi's increasingly assertive vision for China on the world stage.
It feels like the drawing of the battle lines is accelerating, and it's getting harder and harder to see how either side can back down.