Intelligence reports indicate nearly 700,000 migrants are in Libya awaiting an opportunity to depart by sea to Italy, a lawmaker from Prime Minister Giorgia Meloni's far-right party said Sunday, but a United Nations official for the migration called the number not credible.
Tommaso Foti, parliamentary group leader of the Brothers of Italy party, told TV channel Tgcom24 that Italy's intelligence services estimated that 685,000 migrants in Libya, many of them in detention camps, were eager to cross the central Mediterranean on smugglers' boats. .
Separately, 30 migrants are reported missing and 17 were rescued about 100 nautical miles off the Libyan coast after their boat capsized while a commercial vessel was trying to pick them up, the Italian coastguard said Sunday night.
3 BOATS, 1,300 MIGRANTS "IN DANGER" OFF ITALIAN COASTS, Authorities Say
Stressing that the capsizing occurred outside Italy's search and rescue area of ​​responsibility, the Coast Guard said several other merchant vessels were helping to search for the boat's missing passengers.
The humanitarian group Alarm Phone notified the Italian national coordination center and the Libyan and Maltese authorities on Saturday that the boat with 47 people on board needed assistance.
The Libyan authorities, citing the "lack of availability of naval assets", contacted the Rome-based Maritime Aid Coordination Center, which sent a satellite message on the emergency to all vessels in the area, according to the statement of the Italian coast guard.
He said the commercial speedboat that embarked the 17 survivors was bound for Italy but would first stop in Malta to disembark two people in urgent need of medical treatment. A Libyan Coast Guard spokesman did not respond to a request for comment
Meloni hopes a meeting of the European Union later this month will yield concrete solidarity from fellow leaders of EU nations in dealing with the large numbers of migrants and asylum-seekers arriving in countries on the Mediterranean shore, including Greece, Cyprus, Malta and Spain, as well as Italy.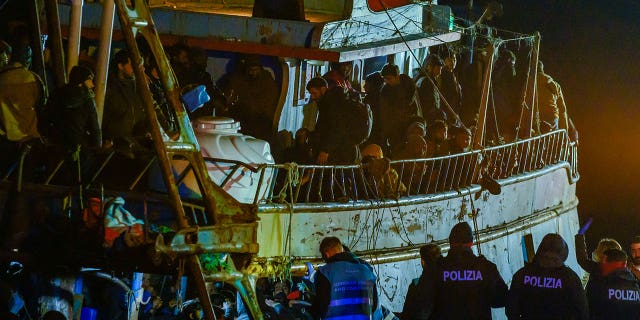 "Europe cannot look the other way," Foti said.
While the intelligence services assessment drew alarming headlines in Italy, an International Organization for Migration spokesman warned that the figure appears to confuse the high end of the estimated number of migrants in Libya with those who were actually trying to make their way from there. to Europe.
"This number seems to be an estimate, which we also give, of the total presence in Libya," Flavio Di Giacomo told the Associated Press in Rome.
But of that number "only a small part wants to leave and only a small part manages to leave" for Europe, said Di Giacomo. For example, many migrants to Libya come from Niger and Chad, two African nations on Libya's southern border, and eventually return to their homelands, he said.
The Italian intelligence estimate "is the latest in a long series of alarms that we have seen in the last 10, 12 years, which have turned out to be wrong," said Di Giacomo. "That number doesn't seem to be absolutely credible."
ITALIAN STADIUM FILLED WITH MIGRANT COFFINS AFTER SHIPWRECK KILLED DOZENS
About 105,000 migrants reached Italy by sea in 2022.
From the beginning of this year to March 10, around 17,600 have arrived, of which a few thousand have landed in Italian ports in recent days. That's about triple the number for the same time period in each of the previous two years, though the COVID-19 pandemic may have resulted in fewer trips.
On Sunday, three more bodies were found from a Feb. 26 shipwreck just off the Italian peninsula, bringing the death toll from that disaster to 79, Italy's state TV said. A wooden boat that had set sail from Turkey ran into a sandbar in rough seas off a beach in Calabria, the tip of the Italian peninsula.
There were 80 survivors and an undetermined number of people were believed to be missing and presumed dead.
Meloni's government has rejected criticisms that the coastguard should have been dispatched to rescue the boat's passengers when the vessel was first sighted off the coast.
CLICK HERE TO GET THE FOX NEWS APP
For years, Italy has tried with limited success to get Libya to stop the launches of unsafe fishing boats and dinghies towards the Italian coast by human traffickers. Italian governments have trained and equipped the Libyan coast guard.
But the traffickers behind the smuggling networks continue to operate in Libya amidst feuding political factions and militants.
The International Organization for Migration and humanitarian groups say passengers whose ships are rejected by the Libyan coastguard are often returned to detention camps, where they are at risk of abuse, including torture, until their families pick up enough money to allow migrants to leave again by sea.
Meloni's government has made it more difficult for humanitarian organizations operating rescue vessels to carry out many rescues in the waters off Libya, by enacting regulations that force vessels to disembark migrants in northern Italian ports, delaying their return to sea.
Although many migrants have actually left Libya on smugglers' boats, "it is a worrying humanitarian flow because people are dying at sea," said IOM spokesman Di Giacomo.
The United Nations migration agency estimates that around 300 people have died, or are missing and presumed dead, this year after attempting to cross the perilous central Mediterranean route.