Rep. George Santos, RN.Y., introduced legislation this week that would require the president of the United States to undergo annual testing that assesses overall intellect, memory and other mental capacities — echoing calls from others who say the advanced age of many politicians means it's time to consider mental stress tests.
Under Santos' bill, annual assessments on the president would measure general intellect, reading and comprehension, attention and concentration, processing speed, learning and memory, reasoning, executive functions, visuospatial skills, motor speed and dexterity, mood and personality, and memory retention .
"Regardless of political affiliation, this should be a common sense and bipartisan agreement that when a man or a woman becomes president, they submit to an annual cognitive evaluation," Santos said this week. "Physical examination results are publicly released throughout their time in office, and a thorough cognitive assessment should also be included."
JILL BIDEN DISMISSES NIKKI HALEY'S PROPOSAL FOR MENTAL COMPETENCY TESTS
Santos said under his bill, the failure of a president to comply with the law would result in a ban on funding for any official travel done by the president until the tests are completed.
The idea of ​​mental competence tests for older presidents gained notoriety last month, when GOP candidate Nikki Haley, 51, said politicians over the age of 75 should subject themselves to a mental evaluation. Drawing the line there would cover two others who are already running or expected to run for the White House—President Biden, who is 80, and GOP candidate Donald Trump, who is 76.
"In the America I see, the permanent politician will finally retire," Haley said in February. "We'll have term limits for Congress and mandatory mental competency tests for politicians over 75 years old."
Last month, Rep. Scott DesJarlais, R-Tenn., called for an amendment to the Constitution requiring a mental competence test for all presidents regardless of age.
NIKKI HALEY CALLS FOR POLITICIANS OVER 75 TO FACE 'MENTAL COMPETENCY TESTS'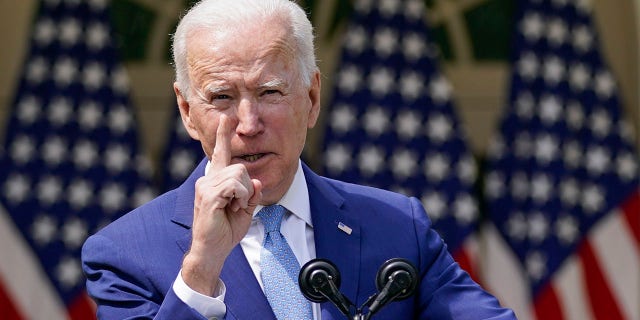 Biden in particular has been under constant scrutiny for making gaffes during public remarks. But others, such as 89-year-old Sen. Dianne Feinstein, D-Calif., has also been under the microscope. Last month, Feinstein appeared to forget how she voted on a judicial nominee just moments earlier.
Haley's idea of ​​mental competence tests for elder politicians was rejected this month by First Lady Jill Biden, who called the idea "ridiculous" and said she and Biden would "never even discuss anything like that."
"How many 30-year-olds could travel to Poland, get on the train, go nine more hours, go to Ukraine, meet with President (Volodymyr) Zelenskyy?" Jill Biden asked. "So, look at the man. Look at what he's doing. Look at what he continues to do each and every day."
PENCE DISAGREES WITH HALEY ON COMPETENCY TESTS: 'AMERICAN PEOPLE CAN SORT THAT OUT'
Another possible presidential contender, former Vice President Mike Pence, said he also opposes the idea of ​​a mental competence test, even though he is young enough not to need one under Haley's plan.
"No, I think the American people can sort that out," said Pence, 63. "I really do."
CLICK HERE TO GET THE FOX NEWS APP
Santos is facing an investigation by the House Ethics Committee for lying about his background while running for the House, including his education and work history. Santos has recused himself from House committees while the investigation is ongoing.