Two children are suspected of killing a 12-year-old girl in Germany in a case that has shocked the country.
The victim, identified only as Louise for confidentiality reasons, was found stabbed to death near a bike path in a forest on Sunday following a massive police search.
Her parents had raised the alarm when she disappeared a day earlier after visiting a friend.
The suspects – aged 12 and 13 – confessed to the murder in the western town of Freudenberg, police say.
Citing the suspects' ages, officials declined to provide further details about their identity, gender, motive or whether they knew the victim from school, according to The Associated Press.
However, Reuters said prosecutor Mario Mannweiler called the suspects girls.
Mr Mannweiler told reporters that 'we have to assume the crime was committed by two children in (the victim's) circle of acquaintances'.
He also said Louise, of Freudenberg, died of stab wounds but no weapon was found.
There was no evidence that anyone else was involved in the incident or that a sexual assault took place, Mannweiler added.
Police say Louise had multiple stab wounds and died of blood loss.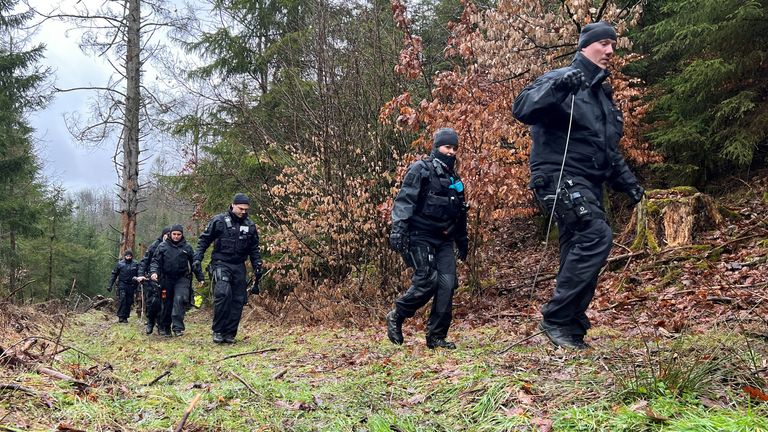 The suspect has not reached the age of criminal responsibility, which is 14 in Germany.
They were not arrested but placed in police custody in a youth aid office.
The inhabitants of the small town, about 80 km east of Cologne, were in shock and the flags were flying at half mast.
The governor of the state of North Rhine-Westphalia, which includes Freudenberg, said he was appalled by the murder.
"North Rhine-Westphalia is in mourning," said Hendrik Wuest.
"It is incomprehensible and unbearable that children are capable of such horrible acts."
He vowed authorities would do their utmost to establish the cause and circumstances surrounding the death.