After killing hundreds and thousands of displaced people as it swept through Mozambique and Malawi since late last week, Cyclone Freddy has dissipated onto the mainland, although flooding remains a threat in both countries, a regional monitoring center said Wednesday.
The cyclone killed at least 225 people in the southern region of Malawi, including Blantyre, the country's financial centre, according to local authorities. Another 88,000 people are displaced. In neighboring Mozambique, officials say at least 20 people have died since the storm slammed into the port city of Quelimane on Saturday night. More than 45,000 people are still locked up in shelters, with around 1,300 square kilometers still under water, according to the EU's Copernicus satellite system.
"There are many casualties: injured, missing or dead and the number will only increase in the coming days," said Guilherme Botelho, emergency project coordinator in Blantyre for Doctors Without Borders. Malawi, which has been battling a cholera epidemic, is at risk of a resurgence of the disease, Botelho said, "especially as vaccination coverage in Blantyre is very poor."
CYCLONE FREDDY CROSSES SOUTHERN AFRICA KILLING HUNDREDS, DEATH TOTAL EXPECTED TO RISE
The aid organization has suspended its awareness programs to protect its staff from flash floods and landslides, but is supporting cyclone relief at a local hospital.
Freddy was originally expected to return to the sea on Wednesday but has since abated and is no longer classified as a tropical cyclone, the United Nations weather monitoring center in Réunion said.
But even with the cyclone dissipating, "the emergency won't be over for many communities as rain from upland areas continues to flood downstream areas in the coming days," said Lucy Mwangi, national director for Malawi at the organization. humanitarian Concern Worldwide.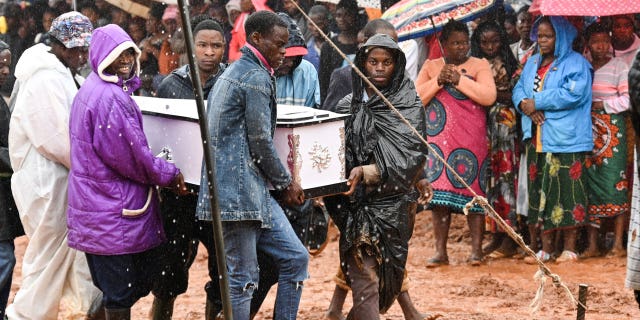 "Even rich countries that are advanced democracies would not have lived up to the level of destruction this cyclone has wrought," said Kim Yi Dionne, a political scientist at the University of California Riverside. Freddy amassed more energy during its journey across the Indian Ocean than an entire US hurricane season.
Yi Dionne said the extent of the damage is despite Malawi's disaster agency preparing and planning "for the challenges that arise from our contemporary climate crisis".
Scientists say climate change caused by mostly industrialized nations putting greenhouse gases into the air has worsened cyclone activity, making them more intense and more frequent. The recent end of La Nina, which affects weather around the world, has also increased cyclone activity in the region.
African nations, which contribute only about 4 percent of planet-warming emissions, are "once again paying the ultimate price for climate change, including their own lives," said Lynn Chiripamberi, who leads the humanitarian program of Southern Africa by Oxfam.
Cyclone Freddy has wreaked havoc in southern Africa since late February, affecting Mozambique as well as the islands of Madagascar and Réunion last month.
CYCLONE FREDDY CROSSES SOUTHERN AFRICA AT LEAST 44 DEAD IN MOZAMBIQUE, MALAWI
"Freddy's is a pretty exceptional weather phenomenon," Anne-Claire Fontan, chief scientist for tropical cyclones at the World Meteorological Organization, told the Associated Press. Its longevity, the distance it traveled, the number of times it escalated, and the amount of energy it built up over time was extraordinary, she said.
He added that his second visit to Mozambique "is explained by the presence of two competing driving influences. It's not uncommon."
CLICK HERE TO GET THE FOX NEWS APP
Freddy first developed near Australia in early February. The United Nations meteorological agency has convened a panel of experts to determine whether it has broken the record for the longest cyclone on record in history, set by Hurricane John by 31 days in 1994.