The number of convicted criminal illegal immigrants deported by Immigration and Customs Enforcement (ICE) has dropped significantly during the Biden administration, according to data released by the administration, and officials are dramatically lowering targets for years to come.
In its Congressional Budget Justification for fiscal 2024, DHS provided a budget overview for ICE and included information about the numbers for the return and removal of "noncitizens who have a prior criminal conviction from the United States by ICE Enforcement and Removal Operations (ERO). "
In fiscal 2020, the last full year of the Trump administration, the agency aimed to deport 151,000 convicted criminal illegal immigrants, and deported just over 100,000. In fiscal 2021, the target was 97,440 and just 39,149 were removed. By 2022, the first full fiscal year of the Biden administration, the target had dropped to 91,500 and just over 38,000 had been deported.
The agency has now lowered the targets for fiscal 2023 and 2024 to just 29,393 deportations for each year.
ICE DEPORTATIONS REMAINED WELL BELOW TRUMP-ERA LEVELS IN FY 2022, AMID HISTORIC BORDER CRISIS
In an explanatory note, ICE said it is taking "every action possible to reduce factors that detract from removal performance, including constant efforts to obtain increased levels of cooperation from foreign countries and increasing the frequency of transport for detainees where possible."
The agency suggested that hiring more deportation officers and attorneys to improve docket management could help reduce "roadblocks and inefficiencies" before suggesting that policy changes by the Biden administration as well as the COVID-19 pandemic have been responsible for the drop in numbers.
"However, it is important to note that significantly low removal numbers is more the result of environmental factors and policy environment than operational performance," it said. It argued that criminal removals dropped during the COVID-19 pandemic but are now trending upward in the final quarters of fiscal 2023.
HOUSE REPUBLICANS CALL FOR DOJ TO INVESTIGATE RED CROSS GUIDES GIVEN TO US-BOUND MIGRANTS
The Biden administration initially tried to put a moratorium on ICE deportations when it entered office but was blocked by a federal judge. It later imposed new restrictions on ICE agents that limited them to arresting and deporting three types of illegal immigrants: recent border crossers, national security threats and public safety threats. Those priorities were also blocked last year as part of a lawsuit that is before the Supreme Court.
The new policies coincided with a sharp decrease in deportations, although arrests dropped but then increased. The agency attributed the fluctuation to ICE resources being diverted to assist Customs and Border Protection (CBP) at the besieged southern border.
The continued targeting of fewer than 30,000 criminal illegal immigrants, down from targets of around 150,000 during the Trump administration, is likely only to fuel criticism from immigration hawks over the Biden administration's policies.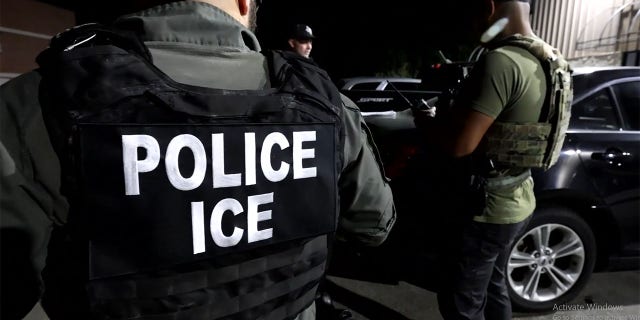 "Under the Biden administration, immigration enforcement has taken a back seat to open borders policymaking, and this offensive FY24 budget is yet another example," Joe Edlow, a former senior DHS official during the Trump administration, told Fox News Digital.
"The stark contrast of removal process target numbers (and meeting or exceeding them) when compared to the Trump administration makes it clear that public safety doesn't factor into Biden's radical immigration agenda. With over 400,000 convicted criminal aliens in the non-detained docket , why is the agency charged with enforcing immigration laws hoping to remove less than 30,000 of them?" he said. "It is time for congressional appropriators to make sure ICE enforces the law and restores a semblance of integrity to interior enforcement."
FORMER TRUMP OFFICIALS SKEPTICAL OF BIDEN ADMIN'S REPORTED PLAN TO RESUME MIGRANT FAMILY DETENTION
Further into the budget request, the agency said it will reduce the average detained daily population of adults (ADP) by 9,000 from an ADP of 34,000 in fiscal 2023 to approximately 25,000. ICE claimed that the lower levels of detention would still allow ICE to do its job.
"Funding an ADP of 25,000 maintains ICE's ability to effectively manage its current detainee population flows," it said. "ICE retains the ability to apprehend, detain and remove noncitizens that present a threat to national security, border security and public safety."
The agency is also planning to scale down its use of Alternatives to Detention (ATD), which monitors migrants primarily through a phone app and other methods such as ankle bracelets. The program has expanded dramatically in the last few years during the ongoing border crisis, which has seen hundreds of thousands of migrants released into the US each year.
The change envisioned by the administration sees the reduction of ATD daily population from 170,000 in fiscal 2023 to just 74,056.
In its justification, ICE says, in addition to the ATD monitoring, the program also helps provide an array of services to migrants in the program that include screenings, therapy, education and "repatriation support services."
CLICK HERE TO GET THE FOX NEWS APP
The scaling back of detention by ICE comes as the Title 42 public health order, which allows for the rapid expulsion of migrants due to the COVID-19 pandemic at the border, is due to expire in May.
Amid concerns of a new surge in migration, the Biden administration has proposed measures limiting asylum claims and has also reportedly mulled re-establishing family detention.
Its practice of releasing migrants using a combination of ATD and humanitarian parole was dealt a blow last week when it was blocked by a federal judge in response to a lawsuit from Florida.