A Russian plane was intercepted by British RAF and German fighter jets after being identified near NATO airspace.
Two Typhoon jets – one British and one German – responded to the Russian aircraft after failing to communicate with Estonian air traffic control near the NATO country's airspace.
The MoD said it was 'routine' NATO assignment.
Confirming this, an RAF Bomber Squadron Typhoon pilot, who was not named by the MOD, said: "As a fighter pilot it was routine business, although I flew alongside from a German colleague."
The pilot said he identified and watched the Russian plane as it "passed close to NATO airspace".
Since he had not contacted air traffic control, they intercepted him to make sure they knew "who they were [were] And [to] maintaining flight safety for all airspace users".
It is the first time that British and German air forces have joined forces to patrol the airspace of Estonia, which shares a border with Russia and is part of NATO.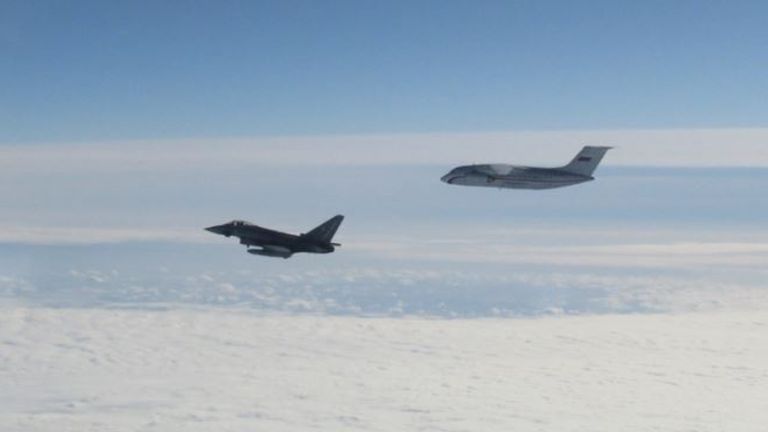 It follows tensions between the military alliance and Russia as Vladimir Putin invasion of Ukraine rages.
Armed Forces Minister James Heappey said: "NATO continues to be the bedrock of our collective security.
"This joint British and German deployment to the Baltics clearly demonstrates our collective determination to defy any potential threat to NATO's borders, while demonstrating our combined strength."
This interception comes after a A Russian fighter jet collided with an American drone causing a diplomatic row between the two nations.
US forces accused the plane of "recklessly" crashing into his drone, causing it to crash into the Black Sea.
Russia has denied any involvement, with a senior official calling the episode a "provocation".
Russia "does not want a confrontation" with the United States

The incident demonstrated the heightened risk of a direct confrontation between the two superpowers due to the war in Ukraine.