The head of Lebanese central bank was again charged with corruption on Wednesday, this time after failing to appear for questioning before a European legal team visiting Beirut in a money laundering investigation linked to the governor, officials said.
Governor Riad Salameh, his brother Raja Salameh and an associate, Marianne Hoayek, were charged with corruption and sentenced to arrest, according to judicial officials. Their assets have also been frozen.
The case is separate from other ongoing legal proceedings against Salameh in Lebanon. In late February, Beirut prosecutor Raja Hamoush charged the three with corruption, including embezzlement of public funds, forgery, illicit enrichment, money laundering and violation of tax laws.
LEBANON'S CURRENCY HITS RECORD LOW AS THE COUNTRY'S BANKS GO ON STRIKE AGAIN
Judge Helena Iskandar, who represents the Lebanese state at questioning in the European inquiry, filed charges Wednesday against the governor and the other two, officials said. They spoke on condition of anonymity to discuss the case.
The European delegation – with representatives from France, Germany and Luxembourg – spent about two hours at the Palace of Justice in Beirut waiting for Salameh. The Europeans had to question Salameh through another Lebanese judge, who acted as an intermediary. According to Lebanese law, they cannot question Salameh directly.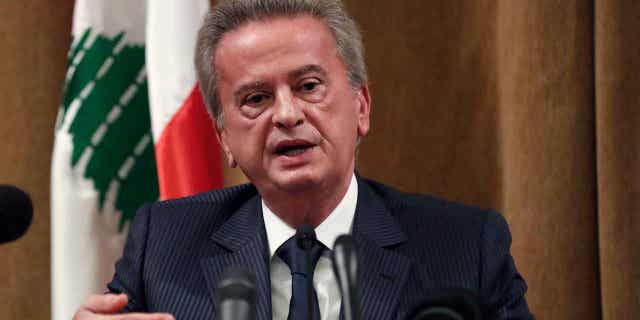 THE GOVERNOR OF THE CENTRAL BANK OF LEBANON AND 2 OTHERS ACCUSED OF CORRUPTION FOR IN-DEPTH OF PUBLIC FUNDS
Salameh's lawyer showed up and petitioned that his client not be questioned by foreign judicial officials. The request was rejected by the Public Prosecutor's Office and a new session was scheduled for Thursday. It was unclear whether Salameh would show up at that time.
It was the European delegation's second visit to Beirut after a trip in January, when they questioned nine people, including current and former central bank officials, as well as the heads of several banks in the crisis-hit Mediterranean country.
CLICK HERE TO GET THE FOX NEWS APP
The European delegation is investigating the laundering of around 330 million dollars. The questioning was to last until Friday, court officials said.
Lebanon is grappling with the worst economic and financial crisis in its modern history. The economic meltdown, which began in October 2019 and rooted in decades of corruption and mismanagement by the country's political class, has plunged more than 75 percent of the tiny nation's population of 6 million into poverty.