Lance Reddick, best known for his role in The Wire, has died at the age of 60.
A spokesperson for the US actor said he "died suddenly this morning of natural causes".
They added, "Lance will be greatly missed. Please respect his family's privacy at this time."
Reddick was best known for his role in the crime drama The Wire which ran for five seasons between 2002 and 2008.
The show was set in Baltimore, Reddick's hometown, and he played police lieutenant Cedric Daniels, who was excruciatingly trapped in the messy politics of the city's police department.
Reddick appeared in all 60 episodes alongside stars including Dominic West, Idris Elba, Wendell Pierce and Michael K Williams.
Pierce said Reddick's death was "a sudden, unexpected, sharp and aching pain to our artistic family" and praised him as "a man of great strength and grace" as well as being "the epitome of elegance ".
Most recently, Reddick starred in the John Wick film franchise alongside star Keanu Reeves. He has played hotel concierge Charon in all four films, with the latest one due out in the UK next week.
He often wore a sharp suit or uniform in his acting roles, portraying tall, taciturn, and elegant men of distinction.
"I'm an artist at heart. I feel like I'm very good at what I do. When I went to drama school, I knew I was at least as talented as the other students, but because I was a black man and I wasn't pretty, I knew that I should have worked hard to be the best I was going to be and to get noticed," he told the Los Angeles Times in 2009.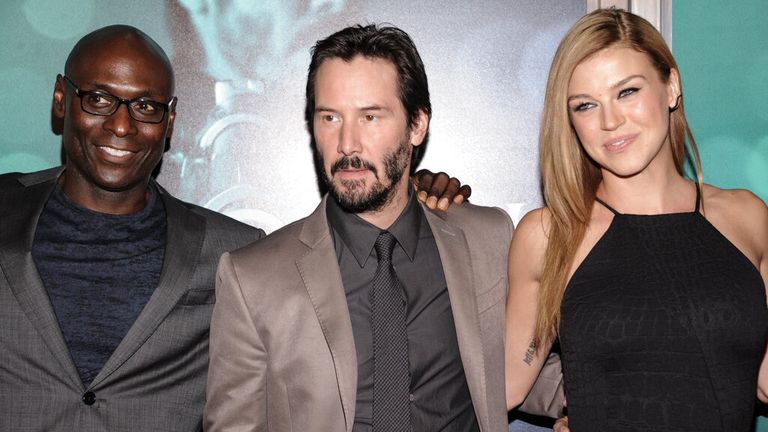 Tributes have flowed across social media from friends and fans following news of his death, with director James Gunn calling Reddick "an incredibly nice guy and an incredibly talented actor" in a tweet.
Actor Michael Warburton described him as a "hellish actor".
Screenwriter BJ Colangelo tweeted that Reddick "improved every single project just by being there."
Born and raised in Baltimore, Reddick graduated from the drama school of Yale University who enjoyed a taste of stardom after school landing guest or recurring roles on CSI: Miami and Law & Order: Special Victims Unit, as well as appearing in several films including The Siege and Great Expectations.
Among his upcoming projects are the 20th Century remake of White Men Can't Jump and Shirley, the Netflix biopic of former Congresswoman Shirley Chisholm.
In 2021, Reddick earned a SAG Award nomination for his role in Regina King's film One Night In Miami.
It was also in 2021 that her The Wire co-star, Michael K Williams, was found dead at the age of 54. The New York City coroner later ruled that he died of acute drug intoxication.