More than 1,000 Passport Office staff across the UK will strike for five weeks in an escalation of a dispute over pay, jobs and conditions.
Members of the Public and Commercial Services (PCS) union working at passport offices in Durham, Glasgow, Liverpool, Newport, Peterborough and Southport will walk out from 3 April to 5 May.
Those in Belfast will strike from 7 April to 5 May.
The union said the action is a "significant escalation" in the long-running dispute, as it warned the strike will have a "significant impact" on the delivery of passports as summer approaches.
Read more: Who is striking and when?
Members are asking for a 10% pay rise as well as job security, changes to their pensions and protected redundancy terms.
But the government has said demands from civil servants would cost £2.4bn and are unaffordable.
PCS general secretary Mark Serwotka said: "This escalation of our action has come about because, in sharp contrast with other parts of the public sector, ministers have failed to hold any meaningful talks with us, despite two massive strikes and sustained, targeted action lasting six months.
"Their approach is further evidence they're treating their own workforce worse than anyone else.
"They've had six months to resolve this dispute but for six months have refused to improve their 2% imposed pay rise, and failed to address our members' other issues of concern.
"They seem to think if they ignore our members, they'll go away. But how can our members ignore the cost of living crisis when 40,000 civil servants are using foodbanks and 45,000 of them are claiming the benefits they administer themselves?
"It's a national scandal and a stain on this government's reputation that so many of its own workforce are living in poverty."
Strike campaign to last 'through summer'


Read more:
NHS unions reach pay deal after 5% increase offer
Pints, child support and pensions: Budget 2023 at a glance
Passport Office staff have come under increasing pressure following a "record number of applications" in 2022 after COVID restrictions were lifted in the UK and abroad, the Home Office said.
A total of 360,000 people had to wait longer than 10 weeks to receive their passports last year.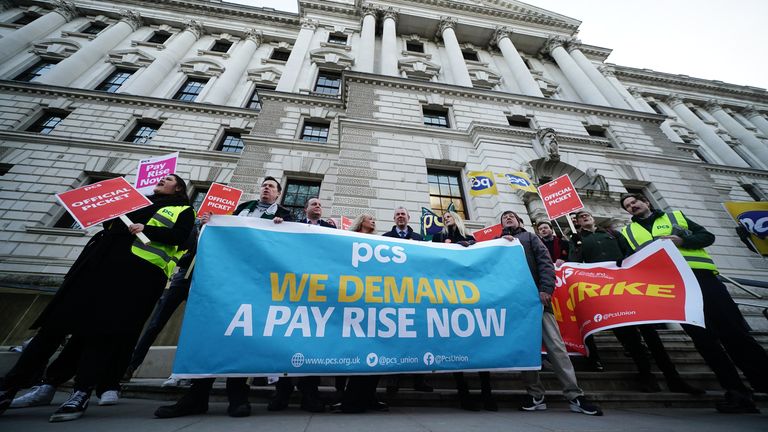 And a report by the government's spending watchdog, the National Audit Office, warned the Passport Office should "prepare for similar levels of demand" in 2023, with up to 10 million applications expected.
Asked about the fresh round of strikes, a Downing Street spokesperson said the PM is "disappointed" the action is going ahead and the government will do "everything we can" to mitigate the impact.
They added that there are no plans to change the official 10-week waiting time for passports that was introduced in 2021 to cater to a surge in demand following the pandemic.
On February 1, Passport Office staff joined about 100,000 civil servants represented by the PCS as part of industrial action affecting 124 government departments.
Click to subscribe to the Sky News Daily wherever you get your podcasts
About 133,000 civil servants also walked out on Wednesday in the largest day of strikes since this current wave started last year.