Residents of a small Australian town are holding their noses to the stench of millions of dead fish that have washed up in recent weeks, clogging up a major river.
Residents of the town of Menindee in New South Wales have complained of a terrible smell of dead fish. One resident, a local wildlife photographer, told the Associated Press that he "almost had to wear a mask."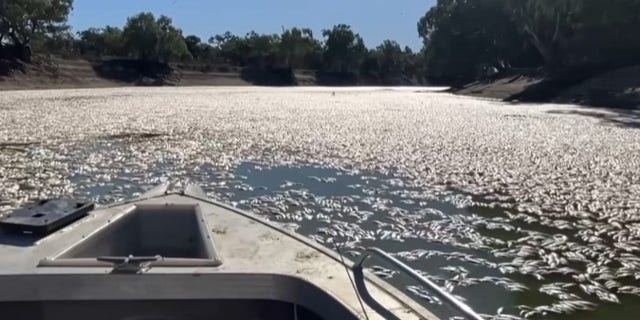 "I was worried about my health. That water right at the top goes down to our pumping station for the city. People north of Menindee say there's cod and smallmouth bass floating down the river everywhere," he said.
The New South Wales Department of Primary Industries believes depleted oxygen levels and receding floodwaters are the likely cause of mass fish deaths. The situation is made worse by the fact that fish need more oxygen due to the warmer weather.
SCIENTISTS RENEW ANCIENT 'ZOMBI VIRUSES' IN SIBERIAN PERMAFROST THAT INFECT AMOEBA CELLS
Mass killings of fish have also been reported in recent weeks on the Darling-Baaka River, where tens of thousands of fish were found in the same spot in late February. There have been several reports of dead fish downstream towards Pooncarie, near the borders of South Australia and the states of Victoria.
Authorities have set up an emergency operations center to coordinate a massive cleanup and provide clean water to residents. State agencies have also begun releasing higher-quality water wherever possible to raise dissolved oxygen levels in the area.
"We just started cleaning up, and then this happened, and it's like you're walking through a dried-up mess and then you get this putrid smell," said Menindee resident Jan Dening. "It's a terrible, awful smell to see all those dead fish."
CLICK HERE TO GET THE FOX NEWS APP
The development comes just weeks after Florida's southwest coast suffered a flare-up of toxic red algae, leading residents to complain of stinging eyes and skin as thousands of dead fish washed up along the shores.
Sarah Rumpf of Fox New and The Associated Press contributed to this report.