Secular cultural artifacts that had been smuggled illegally from Cambodia were welcomed home on Friday during a celebration led by Prime Minister Hun Sen, who thanked them for their return and appealed for more efforts to recover such stolen treasures.
Many, if not all, of the items displayed in government offices on Friday had been looted from Cambodia during times of war and instability, including in the 1970s, when the country was under the brutal rule of the communist Khmer Rouge. Through unscrupulous art dealers, they made their way into the hands of private collectors and museums around the world.
A statement from the Ministry of Culture and Fine Arts described the returned artifacts as embodying the "invaluable cultural heritage and souls of generations of Khmer ancestors".
CENTURIES OF CAMBODIAN JEWELRY COLLECTION RETURNS TO THE SOUTHEAST ASIAN COUNTRY
The statement credited the return of the articles to "tremendous cooperation and support" from public and private institutions, national and international experts, and close relations with other countries through bilateral, multilateral and international institutions, including UNESCO, l 'United Nations Cultural Agency.
He also identified cooperation between the Cambodian and US governments. Many of the items returned thus far are from the United States.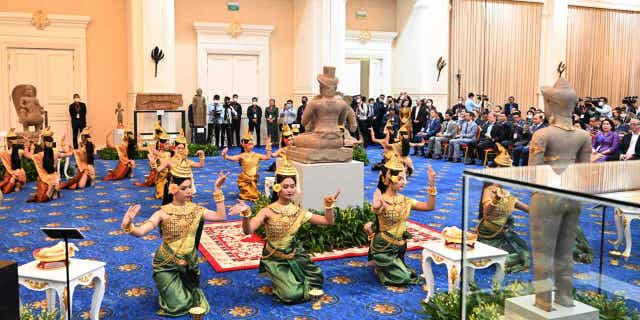 Items returned included important Hindu and Buddhist statues, as well as ancient jewelry from the ancient empire of Angkor.
CAMBODIAN PRIME MINISTER HUN SEN SUGGESTS HE WILL RESIGN WHEN NEW GOVERNMENT COMES IN
In February, a spectacular collection of jewelery was returned to Cambodia from the estate of antiquities collector and dealer Douglas Latchford, who was accused of buying and selling looted artefacts. The 77 jewels included crowns, necklaces, bracelets, belts, earrings and amulets. US prosecutors in 2019 indicted him on charges related to alleged trafficking in stolen and looted Cambodian antiquities. Latchford, who died in 2020, had denied any involvement in the smuggling.
In a speech to an invited audience that included US Ambassador W. Patrick Murphy, Hun Sen said some Cambodian sculptures are still missing and preserved in foreign countries, and appealed for their return in a spirit of goodwill. He said his government is determined to use all means at its disposal to protect those stolen artifacts, including negotiations and lawsuits.
CLICK HERE TO GET THE FOX NEWS APP
"The United States joins Cambodians in celebrating the return of looted artifacts to their rightful home in the Kingdom," read a US embassy statement.
"(asterisk) For 20 years, the United States has worked to protect, preserve and honor Cambodia's rich cultural heritage with local partners, American academic institutions and non-profit organizations," he said. "Through a long-standing US-Cambodia cultural property agreement, the United States has facilitated the restitution of more than 100 priceless antiquities."