Prince William made a secret trip to Poland to "personally thank" Polish and British troops supporting Ukraine.
The Prince of Wales visited military bases in Rzeszow, just 60 miles from the border with Ukraine – the closest senior member of the royal family has come to war.
For security reasons, the visit was kept secret until the prince left the base.
Prince William met Poland's Defense Minister and troops from the Polish Territorial Defense Force to learn about their support for Ukraine, praising their 'passion' and 'determination to defend our shared freedoms ".
Reflecting on the country's humanitarian response, he wrote about the "inspiring humanity" offered by the Polish people.
"You opened your hearts as much as your homes," he said.
The prince also met with British soldiers based in the region, asking them about their experiences working in Poland and support Ukraine.
The city of Rzeszow has become a logistical gateway to Ukraine and is where most Western weapons arrive before being sent across the border into Ukraine.
Billions of pounds of arms and ammunition have passed through the US-led hub since the start of the Russian invasion.
Prince William is also visiting Warsaw and a shelter that helps Ukrainian families who have fled the war.
The centre, on the front line of the humanitarian crisis, is a refuge for 300 Ukrainian women and children.
As part of the two-day trip, Prince William will lay a wreath at the Tomb of the Unknown Soldier in Warsaw. It is a gesture echoing the visit of the late Queen and Duke of Edinburgh, who laid a wreath there in 1996.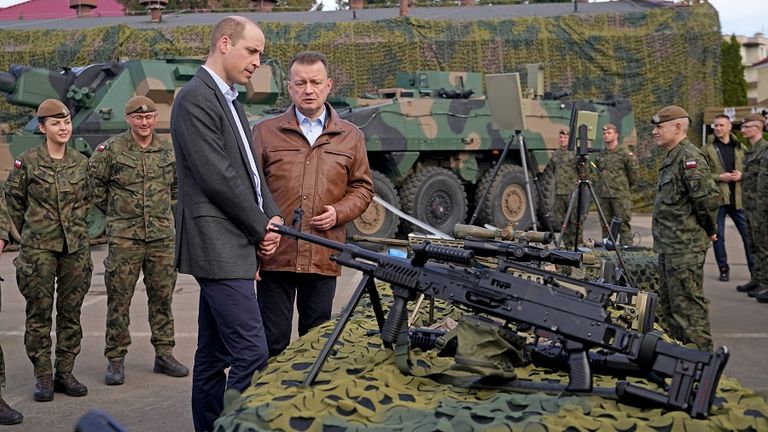 Learn more:
Kate braves the snow during an exercise with the Irish Guards
William and Kate celebrate St. Patrick's Day
The Prince of Wales is also due to meet Polish President Andrzej Duda at the Presidential Palace, and said he would use the meeting to express the "deep relationship" shared between the two countries.
The visit, planned by the government, is designed to show solidarity with the troops supporting Ukraine. It also sends a strong message to Russia in the week the Chinese president visited the Kremlin.
Although members of the royal family cannot get directly involved in politics, their "soft power" has significant influence.
In February, the king hosted Ukrainian President Volodymyr Zelenskyy at Buckingham Palace during his surprise visit to the UK.