Delhi police were involved in scuffles with Indian Olympic wrestlers during a #MeToo protest in the Indian capital.
Wrestlers claim they were assaulted and abused by police on Wednesday night when they attempted to bring rollaway beds to their protest sit-in, where they are demonstrating against the wrestling federation president after he was charged of sexual assault.
They have been camping out in the open for 12 days and heavy rain has flooded their protest site.
The wrestlers claimed that there were no female police officers and that they had been assaulted by officers, including one who was drunk.
Delhi police denied the allegations, saying no force was used and five officers were injured in the scuffle.
Delhi Police Deputy Commissioner Pranav Tayal said: "A sufficient number of female officers were on duty during the night. During a medical examination, no police officer was found to be intoxicated.
"Five police officers were injured in the scuffle.
"No force was used by the police against the protesters.
"Regarding a protester's injury, he left hospital against medical advice and has yet to make a statement to police."
Olympic wrestlers say they were made to 'suffer'
Rio Olympic bronze medalist Sakshi Malik was caught up in the struggle with police and was seen collapsing.
A young wrestler named Dushyant Phogat was bleeding from the head, while another was rushed to hospital.
Vinesh Phogat, a multiple world champion and the first female wrestler from India to win a gold medal at the Commonwealth Games and the Asian Games, said: "The way they hurt us, I wouldn't want any athlete to win a medal for the country."
Tokyo Olympic medalist Bajrang Punia said: "If this is how the wrestlers will be treated, what will we do with the medals? We will live a normal life instead and return all the medals and awards to the government.
"You've insulted us enough already, there's nothing left."
The wrestlers called on people to join them in their plight.
A leader of the fight accused of sexual harassment
This is the second time in three months that they have staged protests against the chairman of the Indian Wrestling Federation, Brij Bhushan Sharan Singh, a powerful politician representing the ruling Hindu nationalist party, the Bharatiya Janata.
Mr Singh was charged with sexually abusing and harassing six women and a girl.
He denies the allegations.
Protesters withdrew their previous protest when the government set up a special committee to look into the charges, but they say nothing happened.
It was only when protesters took to India's Supreme Court that Delhi police filed two complaints against Mr Singh, including under the strict Protection of Children from Sexual Offenses Act (POCSO) .
"It's a shame"
So far, Mr. Singh has not been questioned or arrested by the police.
Mr Singh said: "First they asked for my resignation as head of the federation. I said that would mean accepting the charges against me.
"Resignation is not serious, but I will not do it as a criminal. I am not a criminal."
The wrestlers were supported by agricultural organizations and opposition political parties.
Deepender Hooda, an opposition Congress party leader, told Sky News: "It is a shame what is happening with our wrestlers, we are with them in their struggle."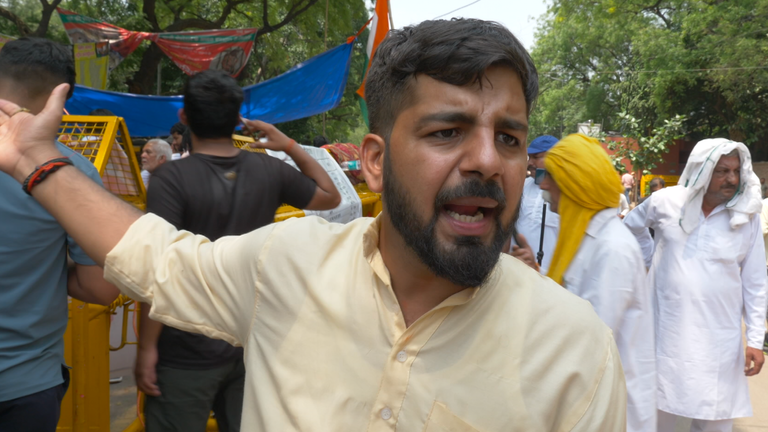 "We will fight this battle until the last breath"
One of the protesters, Atul Tewari, showed a boot print on his shirt and told Sky News: "I was kicked by a police officer, is that what they mean by protect our girls and women?
"Big name wrestlers who have brought medals and honors to our country are treated like this."
He added: "Until this man (Mr Singh) is arrested and put in jail, we will carry on.
"We will fight this battle until the last breath, it is a fight for the honor of our women."
The Indian Ministry of Sports stripped the Indian Wrestling Federation of all administrative powers.
He admitted to structural shortcomings and a lack of internal complaints mechanisms for sexual harassment, which are mandated by law.