Spanish Prime Minister Pedro Sánchez on Thursday gave his full support to Colombian President Gustavo Petro's peace plan aimed at reaching a ceasefire with the guerrilla organization the National Liberation Army (ELN).
Speaking after talks with Petro, who is on a state visit to Spain, Sánchez said he communicated Spain's commitment "to support its ambitious plan and its courageous project for total peace" in Colombia.
Spain is a third party to Colombia's ongoing talks with the ELN, a communist-inspired military force that has remained active since the 2017 dissolution of the FARC, a larger group that has spent decades in conflict with the government.
SCULPTURE OF THE CONTROVERSIAL EX KING OF SPAIN PUZZLES TOURISTS
Colombia and the ELN began talks in November, shortly after Petro, a former rebel, was elected Colombia's first leftist president.
Petro called the talks a milestone in his effort to resolve a conflict that dates back to the 1960s.
Last week, ELN militants killed nine Colombian soldiers in an attack, complicating negotiations. Talks resumed on Tuesday in Havana.
Petro said that depending on how talks go and progress on establishing a lasting ceasefire, Spain may be able to help convince the European Union to consider deleting the ELN from the lists of terrorists.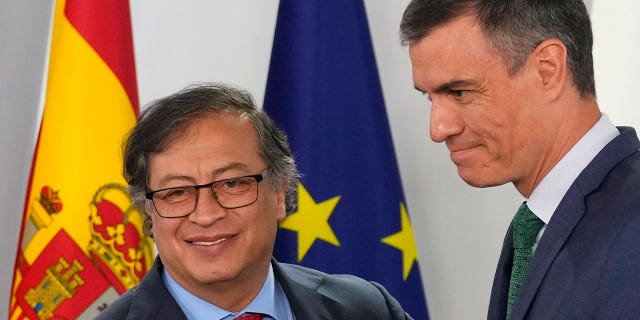 He said this could help the ELN "acquire a genuinely political status, obviously maintaining ever more secure negotiations towards the definitive abandonment of violence".
Sánchez, a socialist, said the two also discussed the summit between the EU and Latin American countries in July in Brussels.
The summit will come in the first days of Spain taking over the rotating presidency of the EU, a semester in which Madrid aims to revitalize Europe's relationship with Latin America.
COLOMBIA WILL VOTE TO BAN BULLFIGHTING IN THE NEXT WEEKS
Petro said it was important that the summit "is not just another meeting, but rather a milestone, a phase change in the economic and political relations between the two regions."
During the visit, Spain and Colombia also signed a number of agreements in areas such as railway infrastructure, aeronautics, digital connectivity, crime cooperation and education.
Sánchez said Spain would make $1.1 billion available to finance projects involving Spanish companies in Colombia.
CLICK HERE TO GET THE FOX NEWS APP
The two also discussed the need to step up the global fight against climate change. Sánchez said the battle was "a priority for both governments" and welcomed Colombia's decision to join the International Alliance for Drought Resilience.
The alliance, promoted by Spain and Senegal at last November's COP27 meeting in Egypt, now has more than 30 national members and works to move from crisis management to drought preparedness.
Spain is in the midst of a prolonged drought after a record 2022.