Italian Foreign Minister Antonio Tajani abruptly canceled a trip to Paris on Thursday, calling remarks by the French Interior Minister criticizing the Italian prime minister's migration policy "unacceptable".
Italy had asked for clarifications on French minister Gerald Darmanin's remarks on RMC radio, blaming Italian premier Giorgia Meloni for the increase in the number of migrants, especially minors, at the Franco-Italian border.
Darmanin told the broadcaster that Meloni "is not able to solve the migratory problems for which she was elected". She also accused her of "lying to the population", a "vice" she said was shared by the far right.
NAPLES FANS HOPE FOR CELEBRATION AS THE SQUAD TRY TO CLAIM FIRST SERIE A TITLE IN OVER 3 DECADES
The remark was both a jab at Meloni and French far-right leader Marine Le Pen, noting that Meloni was elected by Le Pen's "friends". The chairman of the Le Pen National Gathering had visited the border area on Wednesday, ostensibly to revive the migration issue.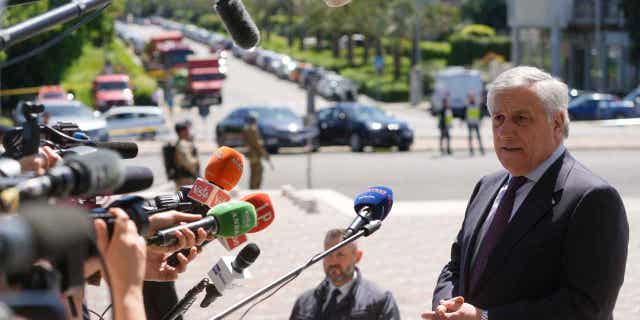 ITALY RETURNS ILLEGALLY EXPORTED 2,000-YEAR-OLD BLADE TO TURKEY
Darmanin's comments came as Tajani prepared to fly to Paris to meet his French counterpart. The Italian foreign minister said the "offences" launched by the minister against the Italian government were not "in the spirit in which shared European challenges should be addressed".
The French foreign ministry backtracked on Darmanin's remarks, saying Franco-Italian ties are "founded on mutual respect, between our two countries and between our leaders". The statement states that the French government wants to work with Italy on the issue of migration, particularly in the central Mediterranean, in a spirit of solidarity, with reference to Tunisia.
CLICK HERE TO GET THE FOX NEWS APP
Italy and France have clashed over migration policing since Meloni took office last year as Italy's first postwar far-right leader. His government has introduced hardline policies on migration, including standoffs with humanitarian relief vessels. Tensions rose last fall after Italy forced France to accept the Ocean Viking with 234 migrants on board, after Italy refused the port for weeks.