Prince Harry has returned to California after catching a British Airways flight just hours after his father's historic coronation ended.
The Duke of Sussex arrived at Los Angeles International Airport at approximately 7.30pm local time on Saturday (3.30am UK time) to be reunited with his son on his birthday.
Prince Archie turned four on Saturday and spent the day with his mother, the Duchess of Sussexat their home in the United States.
British Airways flight attendants confirmed to the Palestinian Authority news agency that Harry had been on the flight but said they were not authorized to discuss the details of his journey.
The duke's appearance at the coronation marked his first public appearance alongside royalty since making claims about his family in his controversial memoir Spare.
He was seated in the third row for the coronation of King Charles next to Prince Andrewwho walked away from public life after a disastrous Newsnight interview in November 2019 in which he discussed his friendship with pedophile financier Jeffrey Epstein.
Harry and Andrew were seated two rows behind Prince William.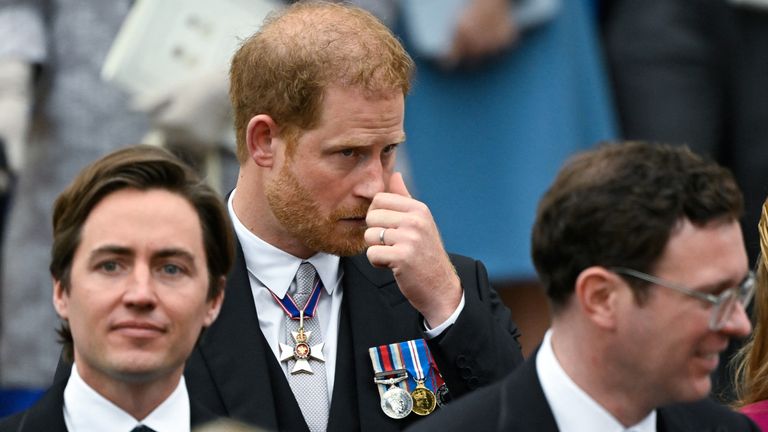 Harry chatted with his cousin Princess Beatrice and her husband Edoardo Mapelli Mozzi as he entered church in the drizzling UK rain on Saturday.
He also nodded and smiled at the guests as he followed them, walking alone down the aisle of the abbey.
It is understood that the duke was wearing what he was asked to wear, which consisted of a dark morning suit and tie, his Afghanistan and Jubilee medals pinned to his jacket, and a Royal Order star and neck decoration Victorian.
Read more coronation news:
Some of the best coronation day photos
How to watch the coronation concert
Liverpool fans boo the national anthem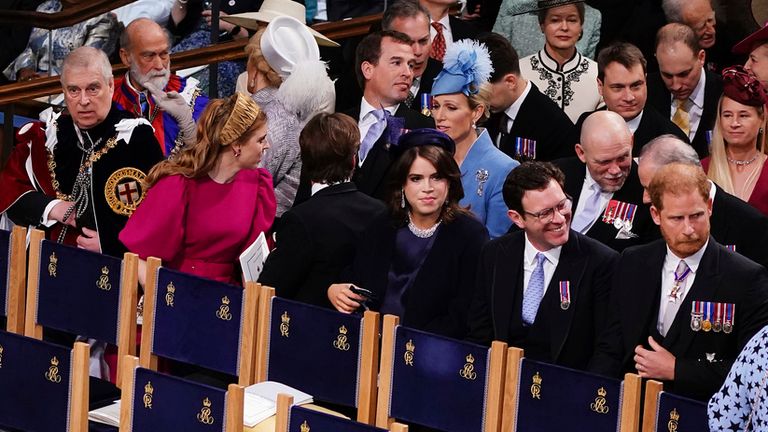 During the service, as the congregation paid their respects to the King, Harry was seen, along with the other royals around him, uttering the words: "God save King Charles. Long live King Charles. May the King live forever."
His abrupt return to the US meant he did not appear on the Buckingham Palace balcony for the day's finale, with the palace previously confirming he had no formal role at the event.
Prince Andrew was also absent from the balcony.