Russia has launched dozens of drone strikes across Ukraine on the eve of a holiday celebrating the defeat of Nazi Germany.
The mayor of Kyiv said Russia fired 60 Iranian-made suicide drones at Ukrainian targets, including 36 in the capital.
All drones were shot down but debris hit apartments and other buildings, injuring at least five people in Kyiv.
Russian army "blackmailed and humiliated" according to Ukraine
A food warehouse was also set on fire by a missile in the Black Sea city of Odessa, where officials said three people were injured.
Air raid alerts sounded over approximately two-thirds of Ukraine for hours, with local media saying explosions sounded in the southern Kherson region and southeastern Zaporizhzhia.
Meanwhile, Russian artillery shelling on Monday injured eight people, including a nine-year-old boy, in two villages in the Kherson region of southern Ukraine, regional officials said.
Russia's attack comes on the eve of Victory Day on May 9, celebrating the defeat of Nazi Germany.
But in a symbolic break with Moscow, Ukraine moved the holiday to May 8 – when Western countries celebrate Victory in Europe Day.
The difference in the dates of celebration is due to the surrender of the German army in 1945 which takes effect on May 8 in Berlin but on May 9 in Moscow.
The night strikes are the largest drone swarm to date in a new Russian air campaign that began ten days ago.
kyiv said Moscow was also making a last-ditch push to capture the eastern town of Bakhmut ahead of the May 9 holiday.
"Recalling the heroism of millions of Ukrainians in this war against Nazism, we see the same heroism in the actions of our soldiers today," said Volodymyr Zelenskyy, who addressed the nation from a hill overlooking Kiev.
"Unfortunately, evil has returned. Just as evil rushed into our towns and villages then, it does now. As it killed our people then, it does now.
"And all the old evil that modern Russia brings back will be defeated, just as Nazism was defeated."
Learn more:
War news for the Russians hidden in a video game
Is there a dead end – or is it the calm before the storm?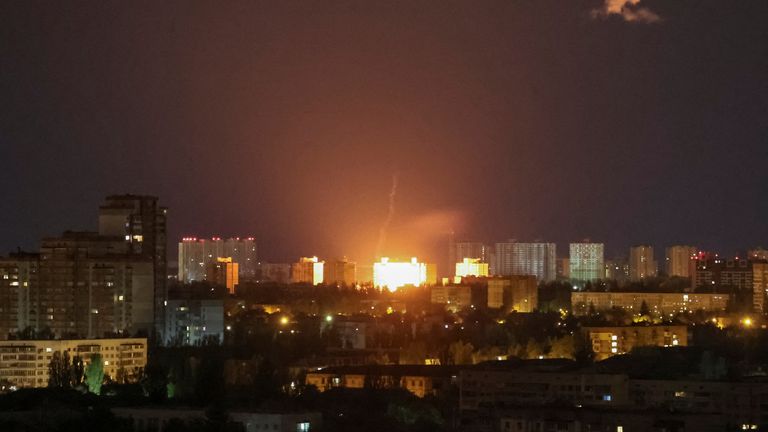 Moscow is preparing for Tuesday's Victory Day parade, the most important day on Russia's calendar under Putin, who is using the 1945 Soviet triumph over Nazi Germany to justify his invasion of Ukraine.
Russia has halted some of the major military celebrations, which Western countries say are due to security concerns and in part because Moscow lost so much military hardware in a winter offensive in Ukraine that saw combat in the most intense soil in Europe since World War II. .
Russian Foreign Ministry spokeswoman Maria Zakharova said that by changing the date, Mr Zelensky had betrayed the memory of Ukrainians who fought the Nazis.
"What's worse than an enemy? A traitor. That's Zelenskyy, the 21st century embodiment of Judas," she said.