Tom Cruise has taken multi-tasking to a whole new level, appearing to film his coronation concert skit and his MTV Movie & TV award acceptance speech in the same sky-high footage.
Both of the star's cameo appearances appeared on shows broadcast Sunday night, with the King's concert takes place live from Windsor Castleand the MTV Movie & TV Awards by switching from a live show in Santa Monica, California to a pre-taped show on the same night.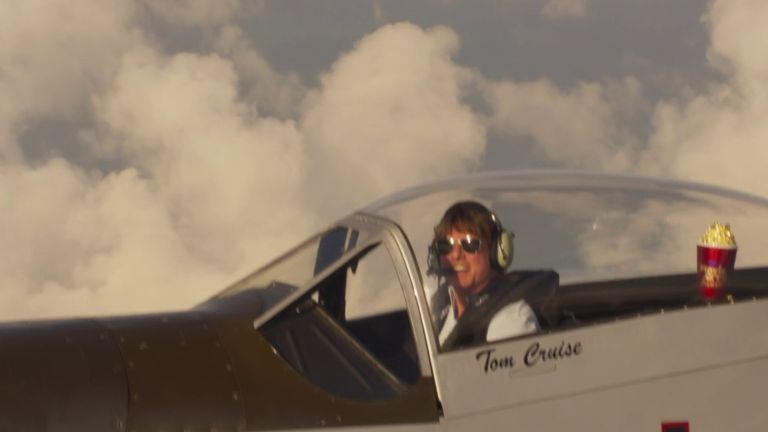 Cruise he delivered his pre-recorded air messages while at the controls of his Top Gun Warbird aircraft, wearing the same light blue top, aviator sunglasses, headphones and green headphones.
Messages aside, the only difference in the clips was the prop added to the backseat for her MTV award acceptance speech — her Golden Popcorn Trophy for Best Performance in a Motion Picture for the hit sequel to The Movie. last year Top Gun: Maverick.
Telling movie fans "there's no better feeling" than to keep them entertained, she went on to plug in her upcoming film Mission: Impossible, which is set for release this summer.
In Cruise's brief royal message from the same cockpit, he highlighted the King's qualification as a pilot, saying, "Pilot to pilot, Your Majesty, you can be my wingman at any time."
Cruise then waved and steered the plane away from the camera at speed in the coronation concert clip.
The actor is an accomplished aviator and was referring to the King's experience in the Royal Navy and RAF where he learned to fly both planes and helicopters.
Highlights of the coronation concert

Former James Bond star Pierce Brosnan he also highlighted the "action man" side of the Monarch during the concert.
Speaking in a pre-filmed video, Brosnan said the king has developed a "myriad of man-of-action skills" over the years, as old footage of him skiing, windsurfing and flying played.
Adventurer Bear Grylls also reminded viewers that the King "even went through Royal Marines commando training, one of the toughest programs in the world."
To know more:
William speaks of pride in his 'Pa' at the coronation concert
King and Queen 'deeply touched' by nation's celebration
William and Kate to meet volunteers for the Big Help Out initiative
The Queen 'keeps an eye on us fondly'

The monarch served in the armed forces between 1971 and 1976 and is now the commander-in-chief of the UK's armed forces, with staff giving him a rousing three cheers in the palace gardens on Saturday.
It's not the first time Hollywood star Cruise has shown up for the royal family.
She presented a segment at the Queen's Platinum Jubilee show in Windsor last May and has met the royals many times during her career.
on Sunday coronation concert in Windsor saw the King and Queen join a crowd of 20,000 to watch stars like Lionel Richie, Katy Perry and Take That.