The United Nations' top human rights body on Thursday adopted a resolution that drew attention to the rise in civilian deaths and rights abuses in Sudan since a bloody conflict between the two top generals erupted last month of the African country.
Violence in Sudan has so far killed more than 600 people, including civilians, and displaced hundreds of thousands. The fighting has also spread to other regions, especially the restive province of Darfur.
The Human Rights Council – made up of 47 UN member states – narrowly passed the resolution with 18 states voting in favor of the resolution, 15 against and 14 other nations abstaining. The resolution aims to further examine human rights violations occurring in Sudan since 15 April.
DOZENS OF ANIMALS AT SUDAN ZOO FEARED DEAD AS STREET BATTLES RENDER CAPITOL CITY INACCESSIBLE
The fighting in Sudan has erupted following a power struggle between Sudanese army chief General Abdel Fattah Burhan and rival General Mohamed Hamdan Dagalo, who commands the powerful paramilitary rapid support forces.
Arab and African nations, including Sudan, figure largely among the 15 countries that have rejected the move by the United Nations, citing it as a potential obstacle to ongoing peace talks.
Algerian representative Faouzia Boumaiza-Mebarki said the resolution could send a negative message to "opposite parties" and derail ongoing talks between the military and RSF in Saudi Arabia. Similarly, the Chinese ambassador said the country and its warring parties should be "free from external pressure".
Meanwhile, most Western countries voted in favor, with Europe and the United States co-sponsoring the draft resolution.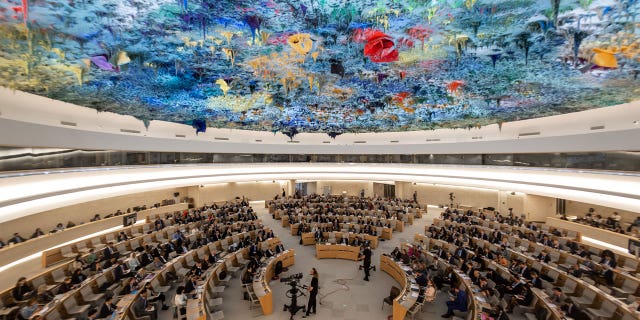 During the opening speech of the session, the United Nations High Commissioner for Human Rights Volker Turk accused both forces of violating international humanitarian law.
Turk accused the Sudanese army of launching attacks in densely populated areas and the RSF of taking control of "numerous buildings" in the capital, Khartoum, to be used as "bases of operations, evicting residents and launching attacks".
The United Nations has expressed concern over the plight of civilians caught in the crossfire and concerns over food security and aid deliveries, and has urged support for neighboring countries hosting people fleeing the ongoing violence.
CLICK HERE TO GET THE FOX NEWS APP
"We have also received several reports of alleged sexual assaults by men in uniform, as well as allegations of unlawful killings and enforced disappearances," Turk said.
Echoing Turk's remarks, US Ambassador to the United Nations Human Rights Council Michèle Taylor condemned the attacks on hospitals and health workers. Amid the fighting, numerous hospitals across Khartoum were damaged and forced to close.
Separately, dozens of independent experts working with the UN rights office released a joint statement on Thursday, citing reports that "civilians of all ages are experiencing various human rights violations" in Sudan, including sexual violence , gender-based violence, looting and shortages of food, water and health care.