Pakistan's information minister has defended Imran Khan's arrest the day the Supreme Court ruled it illegal.
In an exclusive interview with Sky News, Marriyum Aurangzeb said: "A person who has defied the court, who does not follow the law, who avoids the courts and who thinks he is untouchable and cannot be questioned, must be dealt with how every citizen is treated."
But Mr KhanThe arrest of was far from ordinary – paramilitary troops took him from court for corruption and unleashed a wave of murderous anger against the powerful Pakistani army.
Ms Aurangzeb rejected claims that sudden arrest was a political attempt to silence the former prime minister who enjoys strong support across Pakistan after launching a comeback and surviving an assassination attempt.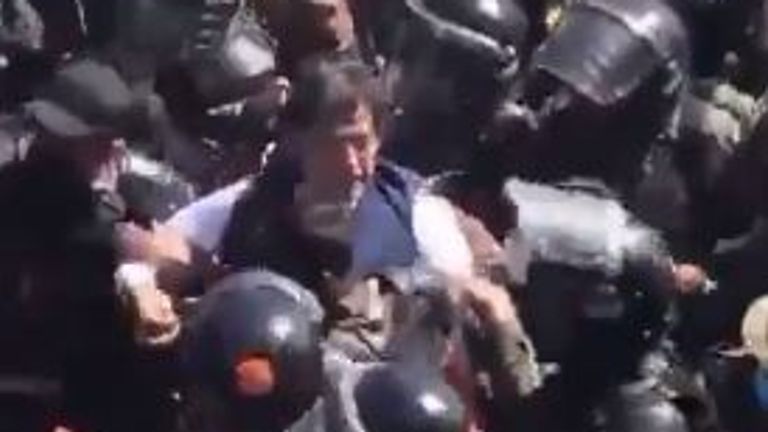 "If we wanted to shut him down or shut him up because of his popularity, we wouldn't have waited 14 months," she said.
The information minister also rejected claims that the government wants to prevent Mr Khan from running in this year's elections.
"Why would we want to do that? Why would a democratic government want to do this? she says.
Although, she claimed, Mr Khan did so when he was in charge, "arresting political leaders, jailing them and silencing them within the first month of their coming to power".
Learn more:
Imran Khan was released after a Pakistani court ruled his arrest unlawful
The motorcade carries Imran Khan
Why the unrest in Pakistan matters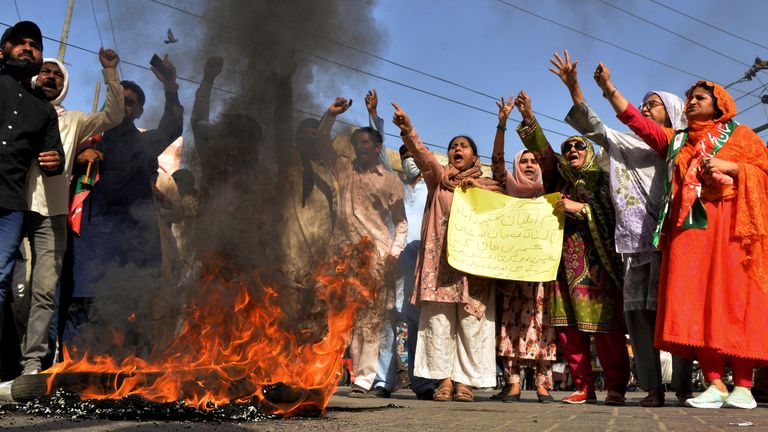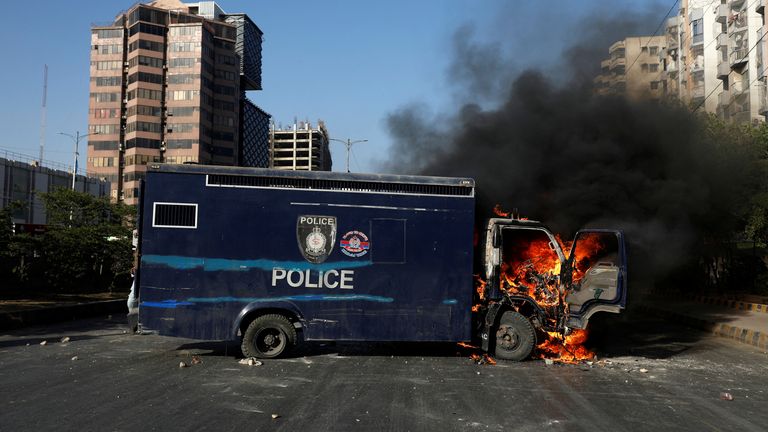 The unrest has spread to several cities in Pakistan with unprecedented scenes of angry mobs breaking into military properties.
Some military homes were also burnt down, challenging a powerful and often revered army.
Ms Aurangzeb dismissed the idea that anyone was demonstrating democratically and accused members of Mr Khan's Pakistan Tehreek-e-Insaf (PTI) party of "burning down ambulances… bridges, the metro, stations, hospitals and mosques".
The police, she said, on the other hand, showed restraint, alongside the military, with "responsible restraint and withdrawal" across the country.
She said it was now up to the High Court to decide whether or not to grant Mr Khan bail, a court which has already ruled his arrest lawful.
Mr Khan is due to appear in the High Court in Islamabad this morning from 10am local time (6am UK time).
Why the unrest in Pakistan matters

This sets the stage for another dramatic chapter in Imran Khan's story.
But no matter what, he still faces multiple corruption and contempt of court charges and the threat of another potentially divisive arrest looms.