White House press secretary Karine Jean-Pierre was asked Friday why President Biden has not delivered a direct message to the tens of thousands of migrants causing chaos at the southern border with the end of Title 42.
Customs and Border Protection officials have reported record numbers of apprehensions, with over 10,000 migrants a day caught this week. This historic surge in illegal immigration was prompted by the end of Title 42, the public health order that allows for the rapid expulsion of migrants at the southern border due to the COVID-19 pandemic, which expired on Thursday night.
Biden administration officials have repeatedly warned migrants that the border is not open and that those who cross the border illegally will not be eligible to make asylum claims. "I want to be very clear: our borders are not open. People who cross our border unlawfully and without a legal basis to remain will be promptly processed and removed," Homeland Security Secretary Mayorkas said Thursday.
But so far neither the president nor Vice President Kamala Harris has spoken to the people risking their lives on the dangerous trek to the United States.
BIDEN ADMIN TELLS AMERICANS TO BRACE FOR BORDER CHAOS AS TITLE 42 ENDS, MIGRANTS SURGE
"I think hearing from Secretary Mayorkas is a powerful messenger," Jean-Pierre told reporters Friday when asked about the president's comparative silence. "He was at the border. He was here for more than 50 minutes taking all of your questions. He's been on TV doing kind of a round-robin today and other days as well this week. And he's been very clear what the message is to migrants who are coming."
The Biden administration has repeatedly touted a wide-ranging plan to deal with the crisis that includes stiffening Title 8 penalties, an asylum rule to make those who enter illegally ineligible for asylum; cooperation with Mexico; and a surge of resources and personnel to the border. Jean-Pierre has said this will enable authorities to "humanely manage the border through enforcement, deterrence and diplomacy."
"We've been very clear. We want a system that's humane, that's orderly," Jean-Pierre said. She added that while Biden is "using the tools in front of him" to handle the border situation, the president believes Congress must act as well.
On Wednesday, Jean-Pierre said that Republicans in Congress "literally refuse to act" on immigration, even as the House of Representatives voted on a sweeping plan to secure the border — one that Biden has vowed to veto.
FEDERAL JUDGE BLOCKS BIDEN ADMIN FROM RELEASING MIGRANTS WITHOUT COURT DATES AS TITLE 42 EXPIRES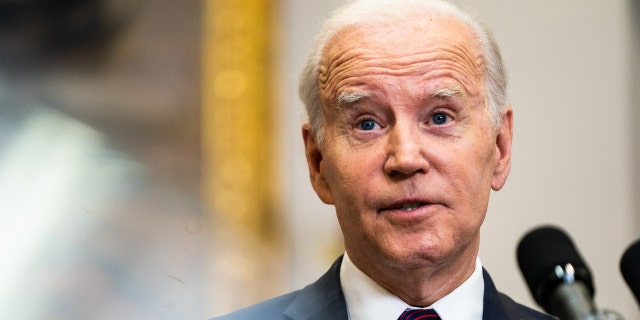 Republicans' Secure the Border Act would restart border wall construction and significantly increase the number of Border Patrol agents. It would also that would enshrine the Trump-era Migrant Protection Protocols (MPP) and Asylum Cooperative Agreements (ACAs), change laws related to unaccompanied children and restrict the use by the federal government of humanitarian parole.
The legislation, which is the result of work from the House Judiciary, Homeland Security and Foreign Affairs committees, would expand the type of crimes that make someone ineligible for asylum, limit the eligibility to those who arrive at ports of entry, would mandate a system similar to the E-Verify employment eligibility verification system and would create additional penalties for visa overstay.
The White House views the Republican bill as a non-starter, asserting it would "make things worse, not better."
"Because this bill does very little to actually increase border security while doing a great deal to trample on the Nation's core values ​​and international obligations, it should be rejected," the White House said in a statement.
HOUSE PASSES GOP PACKAGE TO BOLSTER BORDER SECURITY, OVERHAUL ASYLUM PROCESS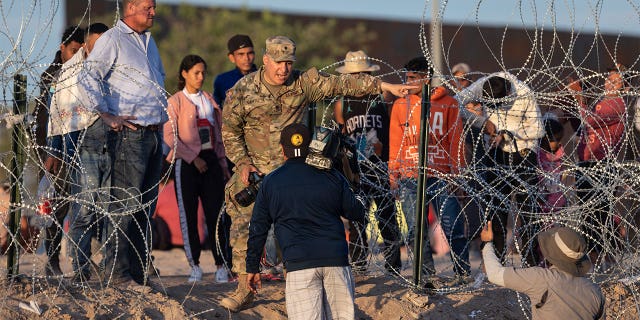 Biden told reporters Tuesday that the border situation is "going to be chaotic for a while."
On Wednesday he called on Congress to "fully fund the border security effort."
Mayorkas has echoed the president's admonitions to Congress to fix what he's called a "broken" immigration system.
CLICK HERE TO GET THE FOX NEWS APP
Additionally, he has also been issuing stern warnings to migrants thinking of coming across. In a video posted as Title 42 ended, Mayorkas said "we are ready to process and swiftly remove people without a legal basis to remain in the US"
However, that message has been undercut by the revelation that Border Patrol is planning to release migrants onto the streets without court dates to relief overcrowded facilities. These plans are now central to legal challenge filed against the administration by Florida Attorney General Ashley Moody.
Fox News' Adam Shaw contributed to this report.