A British expat accused of murdering her terminally ill wife in Cyprus has told a court she 'cried and begged' him to help her end her life.
David Hunter, 75, said his partner Janice, who had blood cancer, begged him for "five or six weeks" before he finally agreed to grant her wish.
The retired miner fought back tears as he told the Paphos District Court on Monday: "I didn't want to do it. I said no."
But Hunter said he relented after she got "hysterical" and told her, "I can't go on."
The woman's "shame" at the deterioration of her condition
Janice, 74, died of asphyxiation in December 2021 at the couple's home near the resort town of Paphos.
Hunter, from Ashington in Northumberland, said the couple had been together for 57 years and described their marriage as "perfect".
But he said his wife had been housebound for the last three years of her life as her condition deteriorated.
Hunter told the court she felt 'ashamed' of having to wear nappies, had been unable to take care of herself and had lost weight after struggling to eat during his final weeks, when the couple slept together downstairs.
"I felt so helpless and desperate that I couldn't do anything for her," Hunter said.
"For five or six weeks before she died, she was asking me to help her. She was asking me for more every day.
"Last week she was crying and begging me. Every day she was asking me a little more intensely to do it.
"Last week… she said, 'I can't go on. This life is not for me. We just go to the hospital and stay home. I have no quality of life, and I totally miss this, I can't go on.
"She started to get hysterical – so I said, 'Yes, I'll help you'."
Read more from Sky News:
Turkish elections on the razor's edge
Deadly cyclone hits Bangladesh and Myanmar
UK promises hundreds of attack drones to Ukraine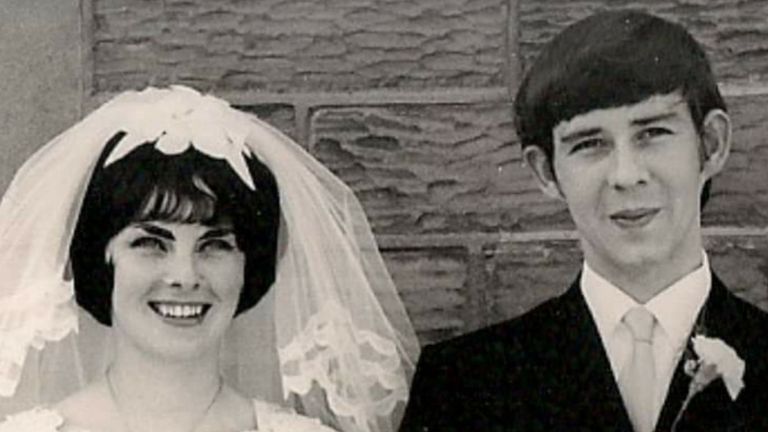 "She didn't try to stop me"
Hunter told the court he didn't remember much of the day his wife died.
He recalled: "I went to make a cup of coffee and she started crying."
He said his wife "didn't try to stop me" from killing her.
Hunter told the court he attempted suicide after Janice died.
When police arrived for questioning after the attempt, he told officers he was "not interested in anything".
During his cross-examination, public prosecutor Andreas Hadjikyrou said: "I told you that you decided to kill her and that there was no common consent and that you had to decide which day to kill her. ."
Hunter replied, "No. I never intended to kill her. I had hoped for eight or nine days that she would get better, that she would change her mind.
"She was lying down. She was in pain, in pain. I would do anything to help her.
"The last thing on my mind was taking his life. The last thing."
The trial continues.
Anyone feeling emotionally distressed or suicidal can call the Samaritans for help on 116 123 or email [email protected] in the UK. In the United States, call your local Samaritans branch or 1 (800) 273-TALK