The second leg of this season's UEFA Champions League semi-finals is just around the corner. While the first draw between Manchester City and Real Madrid is teetering on the razor's edge, the Milan derby is heavily in Inter's favor after their 2-0 victory against Milan in the first leg.
Inter didn't play Champions League final since 2010, when they won the title. Before that their last appearance was in 1972. Now they are on the verge of the final this season.
But the main clash continues to be the draw between City and Real. Pep Guardiola's men will play the second leg at home this time, unlike last season when they faced Real at the Bernabeu at this stage of the competition. Madrid beat City in the second leg at the Bernabeu 3-1 and 6-5 on aggregate to eventually win the title, beating Liverpool 1-0 in the final. Carlo Ancelotti's men will still be tough, even if they haven't won a game in their last 4 away matches at the Etihad Stadium.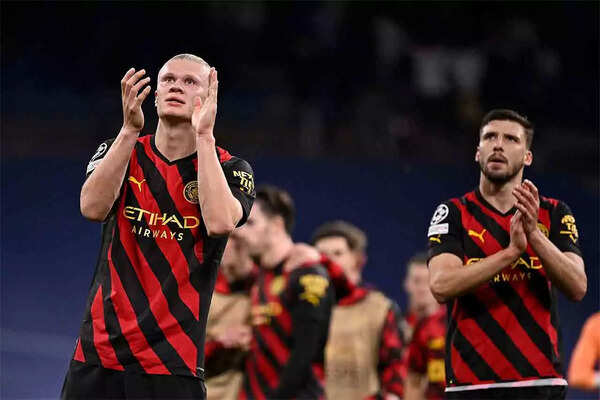 (Photo by AFP)
Ahead of the semi-final second leg, TimesofIndia.com spoke to former Manchester City, Liverpool and Bolton Wanderers player, and now football pundit, Mark Seagraves on what fans can expect in the two second legs.
Extracts….
The second leg of the City-Real semi-final will be played in Manchester, unlike last season when the second leg was played at the Bernabeu. Do you think this gives City an advantage? They will be the happier of the two teams with a score of 1-1 in what for them was the away game…
Yes, Guardiola said he wants the public to stand behind his team. I think if you look at what happened last year (Real beat City in the second leg at the Bernabeu 3-1 and 6-5 on aggregate), it won't happen again this year. This is something that Guardiola will tell the players and the players should know anyway, that will never happen again. They have put themselves in a brilliant position. A goal away at the Bernabeu and an equalizer in the first leg is exactly what they wanted. Forget about winning, they would have liked to have won it but this was a great result, especially coming from behind and so they will take him to Manchester and obviously play their game. They will not change their form for Real. They will play the way they play. They will play a 4 – 2-3-1 defense. Going forward they will put Stones in midfield, so they can have a full back if you want in Stones and Rodri and Gundogan can go on. I've seen Manchester City a lot this year and I think they've changed the way they play. While they still have a lot of possession, they aren't possession-based like they used to be. Now they have the opportunity to insert themselves behind the teams, with passes behind defenders or by widening the field and entering the box. They have Haaland and that has been a plus for them this year. But having said all that, he's going to be the one who gets it wrong and it won't be a big mistake. It could be a little sliding pass that gets cut out or a half meter out of position or whatever it is and that's going to change this game. There are too many match winners, too many world class players on the pitch – if you look at the quality – it's mouth watering. If you look at the stats, Manchester City have had 6 shots on goal and Real only 3 at home. Now, that will probably change. Man City will be tight, because they don't want to concede an early goal and obviously the same with Real Madrid. That's what the game will need – one goal early and it will really take off. We know Real Madrid can bounce back from adversity. We saw him in so many games last year and know they have the quality to hurt teams and likewise if you look at the way Man City have played in Premier League – wow, it's going to be a great night.
Real have not won at the Etihad in their last 4 visits. One of City's main areas of interest is ball possession and pressing. But Ancelotti's defense looks good enough to keep them out. As expected, Rudiger enters for the disqualified Militao. There was no goal for Haaland, which is really an anomaly these days, isn't it? In view of the second leg, how do you see Manchester City pressing against the Real defence?
You know what: if the pressure was on in the first leg, it will be amplified 10 times in the second leg. Both managers have extensive experience. Both have won the Champions League. Ancelotti has won it more than anyone else. He knows the time of day, Guardiola knows the time of day. He (Ancelotti) has a squad of 11 players in whom he believes and they are all quality players. They will cancel each other out. Whether it's Militao in defense or that Rudiger stays in his place. What both sides showed – John Stones, has revolutionized. Both teams have quality players. I was a midfielder and we won 1-0 and the centre-forward did nothing during the match and then the ball headed him and went inside. with my head, I blow my nose and it's the center forward who takes all the glory. Both goalkeepers are also first class keepers – we saw Courtois in the final last year too. I think it will be a bit of a war of attrition. They are so good they will cancel each other out. Players will play with freedom, but with that heavy neck thing of "let's not get beaten." Manchester City were killed by Real last year but it won't happen again. Like you said, they've come back and weathered the storm and that shows a lot of character. You know that all the players on the pitch are going to play to a certain standard, which is an 8 or a 9 or a 10 out of 10. They won't drop below that. Hopefully he (Ancelotti) will play Camavinga at left back again and we can see that pairing of him and Vinicus Jr. and (Kyle) Walker's experience. This should have been the final, like you said, but it's not. It's the semi-final, Manchester City are in a great position. They are at home. They all have memories from last year and I think that should be the advantage for them.
The hardest question now, perhaps the hardest question. Your prediction for the final score of this tie and who will win?
It will be very tight. But, because they are at home and have the fans behind them, they have all the memories of last year in their heads – you won't do that again – I think Manchester City will win 2-1 in the match. 2-1 in the match and obviously 3-2 on aggregate. I just think they (Man City) will have enough. And it's going to be, as I said, one chance or one effort or one mistake or one misstep and that's all it's going to be.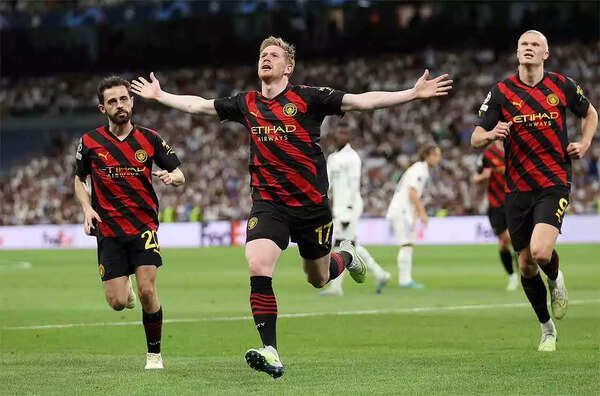 (Photo by Julian Finney/Getty Images)
Moving on to the other semi-final, AC Milan was the choice for most pundits for this match, so what Inter did (Inter beat AC Milan 2-0 in the first leg), surprised most people. It is in fact the first Milan derby in the Champions League semifinal for the first time in 20 years. The last time it happened, Milan had won and obviously won the title, beating Juventus. Paulo Maldini was the man of the match in the final. Many members of those teams were in the stands, watching the final, along with someone like Novak Djokovic. What would be your prediction on the score for this match, the second leg?
Obviously if a team goes into the match with a 2-0 lead you would think they will win the match so I would say Inter Milan. But I think Milan will win the match, but I think they will win 1-0 and I don't think they will go through. I think all the damage was done by those two initial goals that went on goal (Inter scored 2 goals in the 8th and 11th minute of the match through Edin Dzeko and Henrikh Mkhiteriyan)
So essentially Mark Seagraves chooses Manchester City and Inter Milan as two finalists for this season. And who would he go with as the ultimate winner?
Oh well, there's only one winner isn't there? Manchester City, yes, of course. The semifinal is unfortunately the final right? Real Madrid vs Manchester City – I'd like to think that would have been the final. And it's not a lack of respect for Inter because if you look at their squad and the players they have available, they're also a fantastic team. But I just think that a Manchester City 11 in form and an Inter Milan 11 in form – there is only one winner.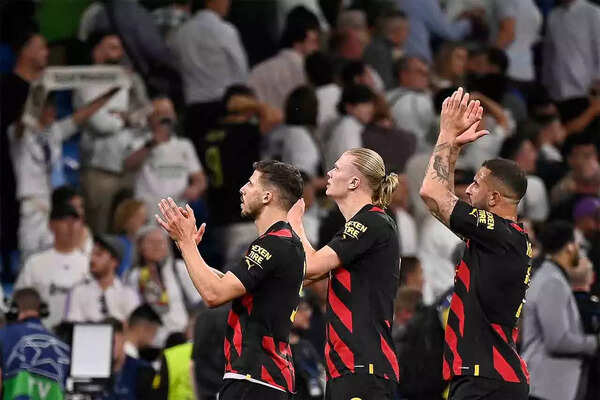 (Photo by AFP)