A man with a metal baseball bat attacked two employees of a politician's office in the United States.
Democratic Congressman Gerry Connolly said the man walked into his northern Virginia office on Monday morning, demanded it, then hit two female workers with the bat.
One of the victims, an intern on her first day on the job, was hit in the side, while another, an outreach director, was hit in the head.
Fairfax City Police said officers arrived minutes after the attack and arrested the man.
Mr. Connolly, who is in his eighth term in Congress, was not in his office at the time.
The injuries sustained by the two staff members were not life threatening.
He said the suspect was known to law enforcement, adding:[The suspect] never threatened us, so it was unprovoked, unexpected and inexplicable.
"I have no reason to believe his motivation was political, but it's possible that the kind of toxic political environment we live in, you know, triggered it, and I just hope we all take a little more it's time to be careful of what we say and how we say it."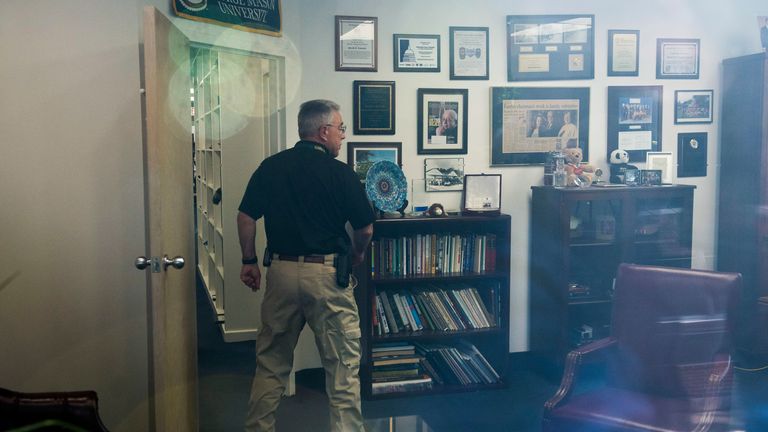 Police have named suspect Xuan-Kha Tran Pham, 49, of Fairfax.
He is being held without bail on a charge of aggravated assault and battery.
He is also believed to have been involved in another attack earlier the same day, in which a woman was approached while sitting in her parked car.
The assailant asked the woman if she was white, then hit the windshield of her car with a bat before fleeing, police said. The woman was not injured.
Video taken by a neighbor's camera showed a man chasing a woman with a bat at the location where police say the previous incident took place.
Xuan-Kha's father, Hy Pham, told the Washington Post that his son had schizophrenia and suffered from mental illness since his late teens.
He had tried to get mental health care for his son, but was unsuccessful, he said.
Last year, the US Capitol Police investigated about 7,500 cases of potential threats against members of Congress.
In 2021, the number was around 10,000, more than double the number surveyed four years earlier.
Last October, a man broke into the San Francisco home of then House Speaker Nancy Pelosi, demanding to speak to her before attacking her husband with a hammer.